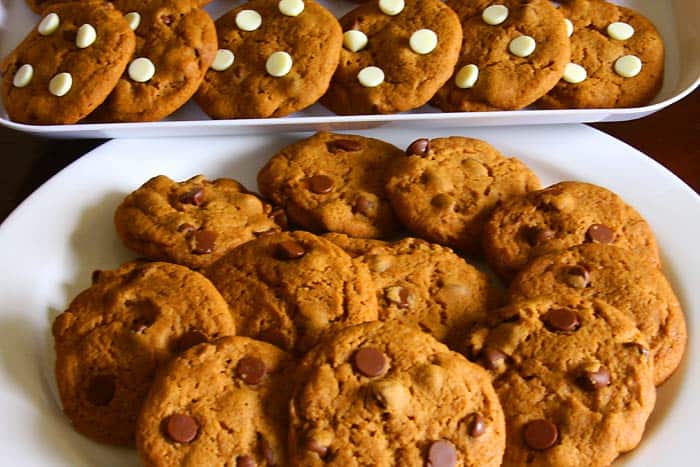 My mom has the habit of drinking a hot malt at bedtime. So I used to buy Ovaltine Classic regularly when she was with us. When she left for India, the bottle of malt remained untouched because the kids weren't fond of it neither was I.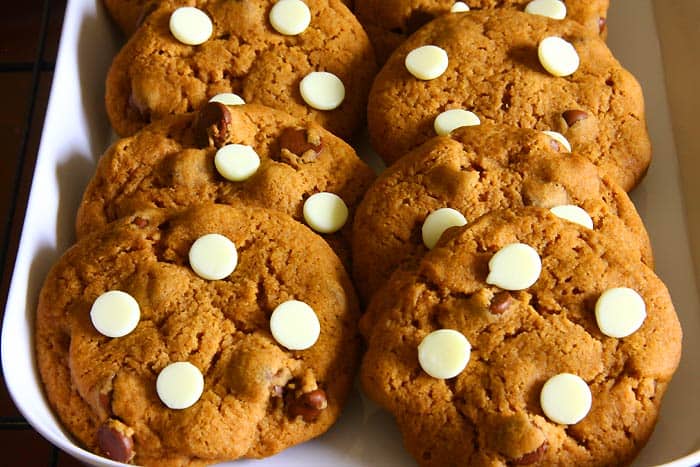 That's when I started looking for ways to use the malt milk powder and found this interesting chocolate cookies recipe in my favorite recipes website, Taste of Home.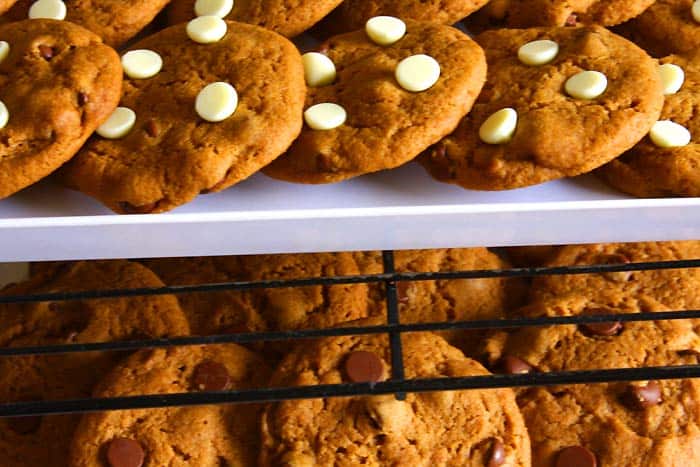 After reading the reviews, I understood that it was a good recipe but needed some changes with respect to the quantity of flour and malt mix because the cookies were spreading too thin. So I considered that and made some changes to make it egg-free, and that's how this perfect malted chocolate chip cookie recipe was created.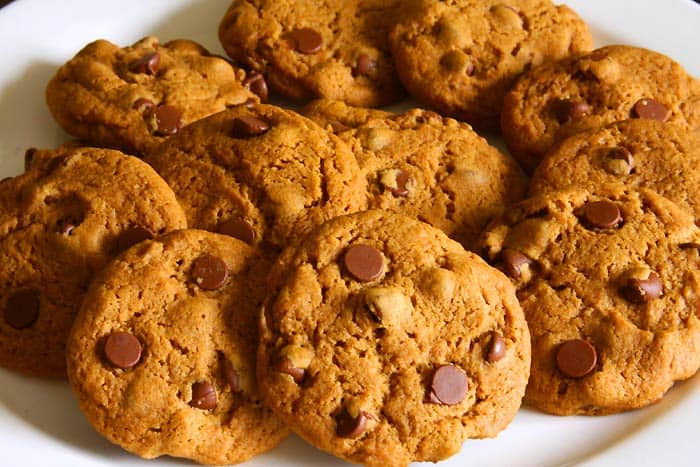 I also wanted a bigger batch of cookies than the original recipe, so I adjusted the recipe accordingly and ended up baking 5 dozen cookies against the 1 and 1/2 dozen cookies.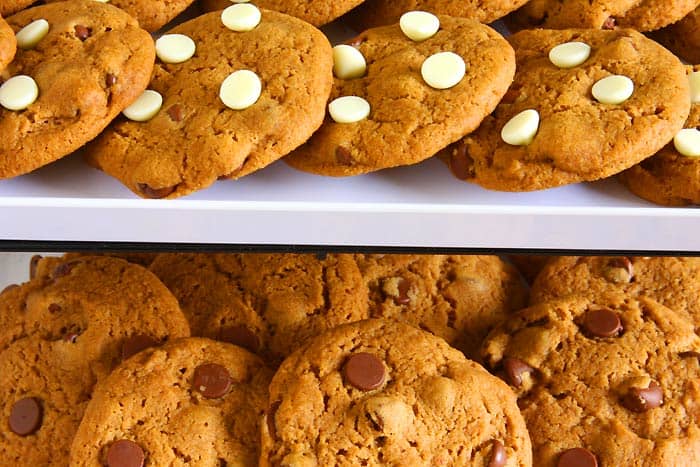 How To Make Chocolate Malted Cookies?
Here are step-by-step instructions on how to make egg-free chocolate malted cookies from scratch: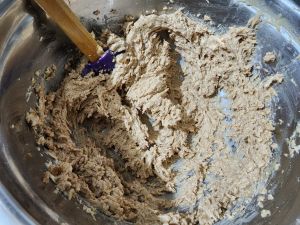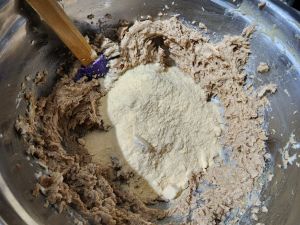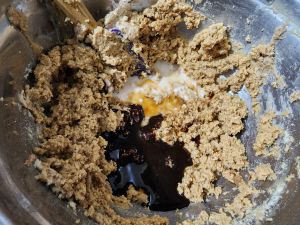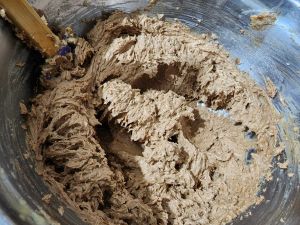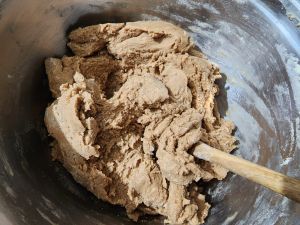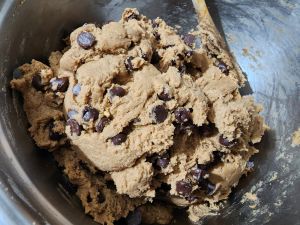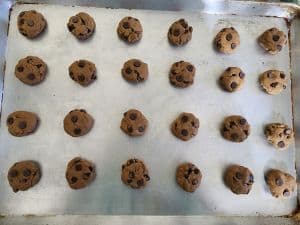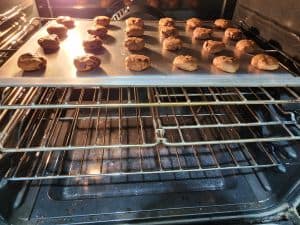 | | | |
| --- | --- | --- |
| Eggless Chocolate Malted Cookies Recipe | | |
| Prep Time | Cook Time | Makes |
| --- | --- | --- |
| 40 Mins | 14 to 16 Mins | 65 Cookies |
| Author | Category | Method |
| Madhuram | Cookies | Baking |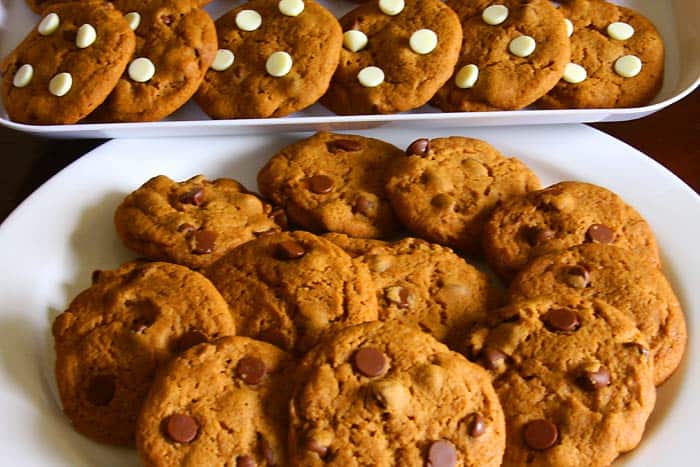 Chocolate chip cookies are a hit in any form. This malted variety of chocolate chip cookies is even more chewy and tasty than the classic. Do give it a try.

Ingredients:
Part 1:
1 and 1/2 cups

butter

2 cups

brown sugar

1 and 1/4 cups

malted milk powder (Ovaltine classic)

4 tablespoons

chocolate syrup

1 and 1/2 teaspoons

vanilla extract

3 teaspoons

Ener-G egg replacer

3 tablespoons

water
Part 2:
3 and 1/2 cups

all-purpose flour (See My Notes)

1 and 1/2 teaspoons

baking soda

1/2 teaspoon

salt

2 cups

chocolate chips (See My Notes)
Procedure:
Preheat oven to 350F/180C. In a small bowl whisk together the EnerG egg replacer and water and set aside.
In a large bowl, beat the butter and brown sugar until light and creamy.
Add the malted milk powder, chocolate syrup, and Ener-G mix to this mixture and beat well.
Stir in the flour, baking soda, and salt to the creamed mixture and mix them together.
Add the chocolate chips and mix evenly.
Scoop out a tablespoon of dough and place it on the cookie sheet. You may choose to put a few chocolate pieces onto the dropped cookie dough so that the cookies look neat with chocolate chips sticking out evenly throughout the cookies. (Sometimes I do this after the cookies come out of the oven while it's still warm).
Bake the cookies for 14-16 minutes. Remove from the oven and place it on a cooling rack for the cookies to cool completely before storing them in an air-tight container.
Taste:
These malted chocolate chip cookies are soft and chewy, just like how we love them at home. The original recipe uses shortening. I guess those cookies will be more on the crunchy/crispy side.
My Notes:
When I was reading the reviews for the original recipe on the Taste of Home website I saw that many of them had noted that the cookie was too flat so they suggested adding more flour. So that's what I have done. The cookies turned out to look pretty.
Also, I always recommend that you do a test batch of 4-5 cookies to see how the cookie spreads or doesn't spread and make some changes so you don't mess up an entire batch.
I liked studding in chocolate chips to give the cookies a fancy look like chocolate chips are evenly spread everywhere. Either do it before baking or right after the cookies are out of the oven while it's still warm.
Use shortening for making crispy cookies. The water content in the butter makes the cookies more on the soft side, but I prefer butter for that texture, and it's a natural ingredient and not hydrogenated, unlike shortening.
Nutrition Facts
Eggless Chocolate Malted Cookies
Amount Per Serving
% Daily Value*
Potassium 10mg0%
Total Carbohydrates
14.7g
5%
* Percent Daily Values are based on a 2000 calorie diet.


Try this recipe, click a pic and hashtag it #egglesscooking - Proudly showcase your creations on Instagram, Facebook & Twitter!