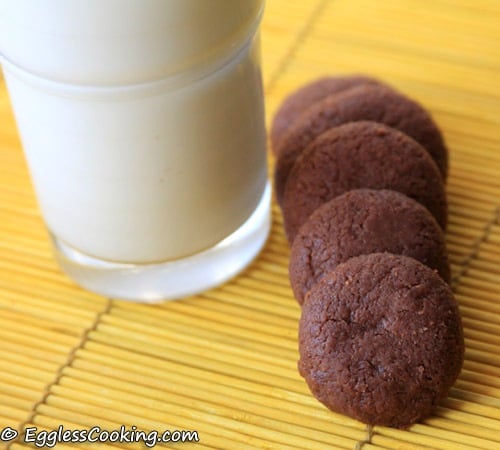 Shortbread cookies is one of the favorite cookies that I like to bake quite often because it uses very little ingredients and is very easy to bake. Not to forget the amazing taste and texture. It just uses butter, flour and sugar and optional add-ons. No leavening agent like baking powder and/or baking soda. The cookies get a rich buttery flavor and have a crispy texture. To make chocolate shortbread cookies the only additional ingredient is unsweetened cocoa powder.

| | | |
| --- | --- | --- |
| Chocolate Shortbread Cookies Recipe | | |
| Prep Time | Cook Time | Makes |
| --- | --- | --- |
| 15 Mins | 25 Mins | 60 Cookies |
| Author | Category | Method |
| Madhuram | Cookies | Baking |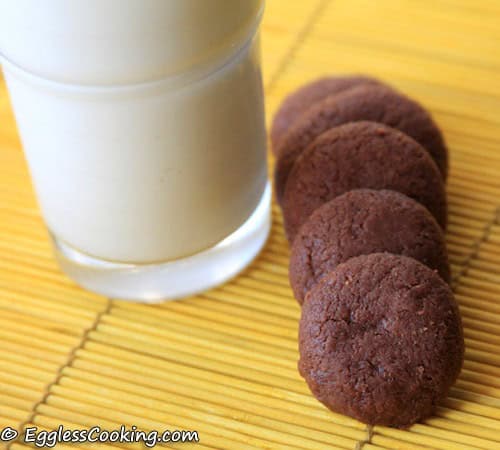 Chocolate Shortbread Cookies
4.7

from

10

reviews
Are you wondering how to make chocolate shortbread cookies? Don't worry because this is a simple chocolate shortbread recipe that is easy to make and tastes absolutely delicious.

Ingredients:
2 cups

All Purpose Flour

1/4 cup plus little

Unsweetened Cocoa Powder (For Dusting)

1/4 teaspoon

Salt

1 cup/2 Sticks

Unsalted Butter, At Room Temperature

3/4 cup

Sugar

1 teaspoon

Vanilla Extract (Optional)
Procedure:
In a medium bowl sift together flour, cocoa and salt.
In a large bowl add the butter and beat on medium speed for 5 minutes until fluffy.
Add sugar and beat about 2 minutes, until very light in color and fluffy, occasionally scraping down the sides of the bowl with a spatula. Add vanilla if using.
Add the flour mixture and combine on low speed, until flour is just incorporated and dough sticks together when squeezed with fingers.
Form dough into a flattened disk; wrap in plastic. Chill until firm, at least 1 hour.
Preheat oven to 325F for 15 minutes. Line 2 baking sheets with parchment paper. I greased it lightly with the butter wrapper itself.
Use a spoon to form the dough into balls and place on the prepared baking sheet. I chilled it for 2 hours and the dough became so hard I was not able to scoop the dough. I had to pinch the dough and roll it in between my palms.
Bake until firm, 20 to 25 minutes, rotating halfway through (that is, moving the baking sheet in the top row to the bottom row and the vice versa) My cookies were ready around 23 minutes.
Cool completely on a wire rack. Dust with cocoa powder just before serving. (I didn't do this)
My Notes:
These chocolate shortbread cookies can be stored in an airtight container at room temperature up to 1 week.

Try this recipe, click a pic and hashtag it #egglesscooking - Proudly showcase your creations on Instagram, Facebook & Twitter!

If you want to bake vanilla flavored shortbread cookies you can try one the following recipes: Cranberry shortbread cookies or pistachio shortbread cookies.
If you are looking for an easy chocolate shortbread cookie recipe then you are in the right place. This recipe for eggless chocolate shortbread cookies is from a Martha Stewart book. I think it's called "Cookies".
I noted it long time back so don't remember it. These are basic beginner's level cookies. These chocolate shortbread cookies have a crumbly texture with a buttery smell and taste. I wanted to bake a big batch of cookies and a simple recipe. So this chocolate shortbread cookie recipe fits the bill. The yield mentioned in the recipe was 3 dozen but I got 5 dozen chocolate shortbread cookies.
I would say that this the best chocolate shortbread recipe. To make it even better you may also add chopped walnuts to the cookie dough. These chocolate shortbread cookies are perfect for Christmas cookie swap because it makes a huge batch and also a wonderful Valentine's Day treat. What are you waiting for? Now that you have the recipe for chocolate shortbread cookies, get baking already!