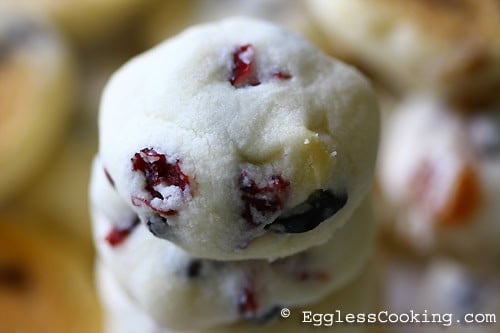 | | | |
| --- | --- | --- |
| Cranberry Shortbread Cookies Recipe | | |
| Prep Time | Cook Time | Makes |
| --- | --- | --- |
| 25 Mins | 18 Mins | 45 Cookies |
| Author | Category | Method |
| Madhuram | Cookies | Baking |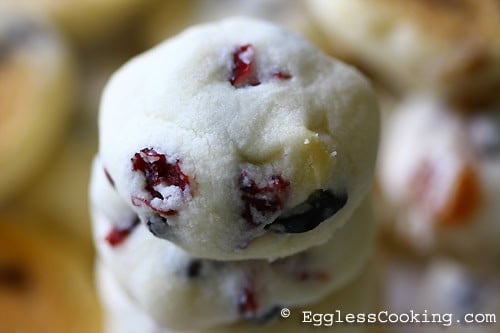 "I'm-So-Dainty" Cranberry Shortbread Cookies
4.5

from

4

reviews
These dainty cranberry shortbread cookies have a "melt-in-your-mouth" texture, tastes delicious and it's a feast to the eyes as well.

Ingredients:
2 Cups

All Purpose Flour

1/4 Cup

Cornstarch

1/4 Teaspoon

Salt

1 Cup

Softened Butter

3/4 Cup

Confectioner's Sugar

1 Teaspoon

Vanilla Extract

1/2 Cup

Dried Cranberries

1/2 Cup

Dried Blueberries

1/3 Cup

white Chocolate Chips

1/3 Cup

Semi Sweet Chocolate Chips
Procedure:
Preheat oven to 350F/180C for 15 minutes. Line cookie sheet(s) with parchment paper.
In a bowl combine together the flour, salt and cornstarch. Set aside.
In another large bowl, beat butter, sugar and vanilla using an electric mixer on medium speed, until light and creamy. This may take about 4-5 minutes.
On low speed, gradually add flour mixture, beating until blended. Using your hands, knead to form a smooth dough.

Now divide the dough into half and place it in two different bowls.

To one part of the dough add the cranberries and white chocolate chips. Knead well.
To the other half dough, add the blueberries and semi-sweet chocolate chips and knead well.

Scoop out tablespoonfuls of dough and drop it about 2 inches apart on prepared cookie sheet. You may choose to flatten the dough very lightly or just give it a quick roll and leave it as it is.
Bake in the oven for 13-18 minutes or until lightly browned around edges. Note that these cookies do not spread. Mine were done in 16 minutes.
Cool for 5 minutes on sheet, then transfer to a rack and cool completely.
Taste:
Like I have mentioned before these cranberry shortbread cookies were so delicious and had a crumbly texture. The dried fruits gave it a nice chew too. 1/2 cup of sugar was used in the original recipe. That's what I used in my first batch and we felt that the cookies could have been a little sweeter. So I increased it to 3/4th cup for the next batch and that's what I have mentioned in the recipe here.
My Notes:
These cookies don't spread unlike your regular cookies. So while it was baking I was a bit worried seeing that they remained intact. I dropped the dough on the baking sheet, thinking that it would flatten. So I did not flatten it thinking it would spread too much. But for all the 16 minutes it stood there just like a lump.
I couldn't wait for the cookies to cool to see how it tasted and when I did taste it I was completely satisfied. The texture was great and it was yummy too.
The original recipe mentioned powdered sugar. I'm not sure if the author wanted to powder granulated sugar in a food processor/blender or use confectioner's sugar. Since I had the latter in hand, I decided to use that itself. So I'm wondering if we powder the sugar and use 1/2 cup of it as mentioned in the original recipe, will the cookies turn out sweeter than using 1/2 cup of confectioner's sugar. Anyways this is not a big deal because the cookies are awesome even with less sugar.
If you are baking these for a party, arrange a big platter with mini muffin paper liners (there are a variety of colors and designs, choose one which would match your theme) and serve 2 cookies on each liner. The presentation looks so sophisticated.
I have a very big cookie sheet (21×16 inch). So I was able to bake all the cookies in one go. If you are going to use 2 cookies sheets, one on the top rack and the next on the bottom, don't forget to switch sheets halfway, so that the cookies bake evenly.

Try this recipe, click a pic and hashtag it #egglesscooking - Proudly showcase your creations on Instagram, Facebook & Twitter!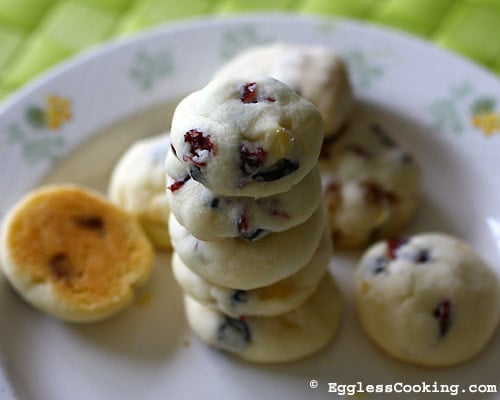 Shortbread is a type of unleavened cookie, which means that baking powder, baking soda, even eggs is not used while baking these cookies. These cookies are crumbly and this texture is made possible because of the high fat content of the butter used. I found this recipe for cranberry shortbread cookies in Jill Snider's Cookies. I have tried a couple of recipes from that book and all of them have turned out very good.
This shortbread recipe is my most favorite in that book. Hopefully I get a chance to try the other recipes I have bookmarked too. Also check-out the egg-free chocolate shortbread cookies that I did a while ago.
I had to bake a big batch of cookies for a get-together and I was so glad that I chose this recipe. I made few changes based on the tips suggested in the original recipe. Dried cranberries and white chocolate chips were used in the recipe and the author had suggested that dried blueberries and semi sweet chocolate chips can also be used.
While going through the procedure I got another idea. I decided to halve the dough, mix in cranberries and milk chocolate chips to one part and blueberries and semi sweet chocolate chips to the other half. I had to bake another batch too and for that I used diced apricots and milk chocolate chips. These shortbread cookies were a huge hit in the party.