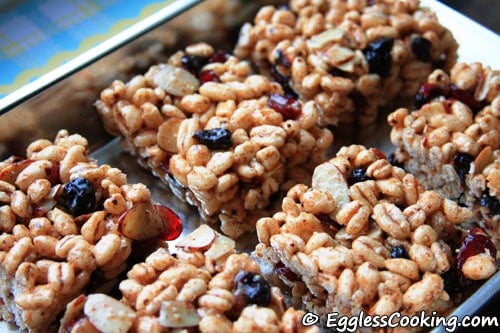 I'm a mother of a preschooler and like many others of his age he is also picky when it comes to food. Earlier I didn't have any problem at all with him during mealtime. He used to eat a lot of veggies, rice, chapathis and fruits etc. But not anymore. So these days I'm hunting for healthy and tasty recipes which appeal kids. While browsing the "Vegetarian Times – Fast and Easy" book I found many such recipes.
The crispy breakfast bar recipe, especially caught my attention because these were "no bake" bars which can be prepared in a jiffy and are healthy too. These are crunchy chewy bars. They get fiber and iron from whole-grain puffed cereal and protein from almond butter and almonds. The original recipe does not have almonds, but I added it to give the extra crunchiness and protein boost.
Following the basic method, one can come up with a couple of variations, like using peanut butter and peanuts, chocolate chips, etc to mention a few. A variety of whole-grain puffed cereals are available in the grocery stores these days. I saw puffed millet and other puffed cereals too.
The prep time is only 15 minutes, which includes the time to take out the stuff you need from your pantry and you have to freeze the mixture for 30 minutes. So in 45 minutes you have a healthy treat ready, without any elbow grease.
So how does it taste? As I have mentioned earlier, my son "the picky eater" loved it so much, he ate 2 pieces as soon as he got home from school. We adults also liked it very much. Actually it's a fancy "Pori Urundai" (puffed rice balls) with almond butter, raisins and honey instead of the jaggery syrup we Indians use.

| | | |
| --- | --- | --- |
| Vegan Breakfast Bars Recipe | | |
| Prep Time | Cook Time | Makes |
| --- | --- | --- |
| 15 Mins | Freeze:30 Mins | 15 Bars |
| Author | Category | Method |
| Madhuram | Bars | Baking |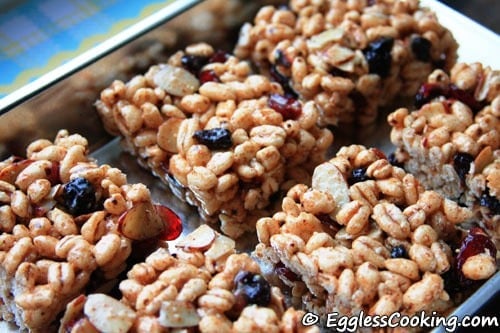 A very easy to prepare vegan breakfast bar recipe, which does not involve baking.

Ingredients:
7 Cups

Whole Grain Puffed Cereal (I Used The Store Brand Puffed Wheat Cereal)

3/4 Cup

Dried Cranberries

3/4 Cup

Raisins Or Dried Blueberries (I Used Raisins)

3/4 Cup

Sliced Almonds Toasted (Not Mentioned In The Recipe But I Added It)

1 Teaspoon

Ground Cinnamon (I Omitted It)

3/4 Cup

Brown Rice Syrup Or Honey (I Used Honey)

3/4 Cup

Almond Butter

2 Tablespoons

Soy Margarine/Unsalted Butter (I Used Earth Balance Vegan Butter)
Procedure:
Stir together cereal, dried fruit, nuts and cinnamon (if using) in large bowl.
Put syrup, almond butter and soy margarine (whichever you are using) in large, microwave-safe measuring cup.
Microwave 1 and 1/2 minutes on high, or until hot and margarine has melted.
Stir well, then pour over cereal mixture.
Stir to coat.
Dampen hands with cold water.
Press cereal mixture firmly into 9×9 inch baking pan (I didn't have this, so I used 13×9 inch nonstick baking pan), re-wetting hands if necessary to keep mixture from sticking.
Freeze 30 minutes. I covered the pan with plastic wrap before putting it in the freezer.
Cut into 15 bars, and store in refrigerator up to 5 days.
My Notes:
For toasting almonds, heat a frying pan on the stove and add the sliced almonds, toss it for a couple of seconds. Be careful not to burn the almonds.
If you are not into organic stuff, you can find almond butter very cheap in Trader Joe's. The organic brand is also cheaper there when compared to the price in the regular grocery store. The grocery store near my house carries only Nature's Promise Organic Almond Butter which is $12, but the organic butter in Trader Joe's is only $8 and if you choose to buy the inorganic it's only $4.59. That's a considerable amount of savings for me. You can also make your own almond butter.

Try this recipe, click a pic and hashtag it #egglesscooking - Proudly showcase your creations on Instagram, Facebook & Twitter!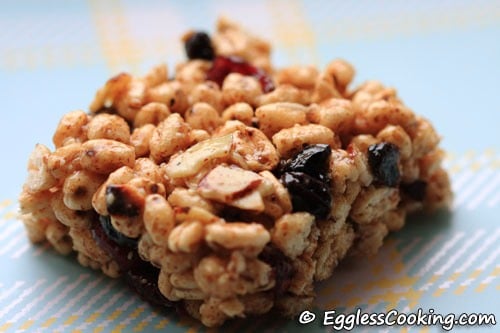 This is my entry for:
1. Suganya's Vegan Ventures.
2. DK's AWED – Amercian.
3. Pallavi's Sunday Snacks – Fix It.