My eldest son loves granola. I used to buy the big box in Costco because, in other places, it is way too expensive. Then finally, one day, it occurred to me that I should start making granola at home because it is one of the easiest things to make. Also, we can control the ingredients and make them healthy and less sugary.
There are so many recipes available online, and I came up with this recipe that I have been making for almost 4 years. It's simple, has no fancy ingredients, and is tasty. Have it with your favorite fruit and yogurt for a healthy breakfast or snack.
You can also check out my chocolate peanut butter granola recipe if you are in the mood for a sweet treat.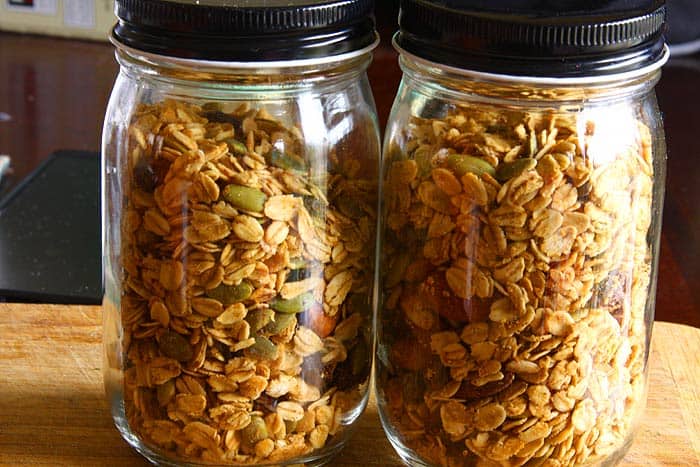 | | | |
| --- | --- | --- |
| Vegan Maple Almond Granola Recipe | | |
| Prep Time | Cook Time | Makes |
| --- | --- | --- |
| 10 Mins | 50 Mins | 11 Cups |
| Author | Category | Method |
| Madhuram | Food | Cooking |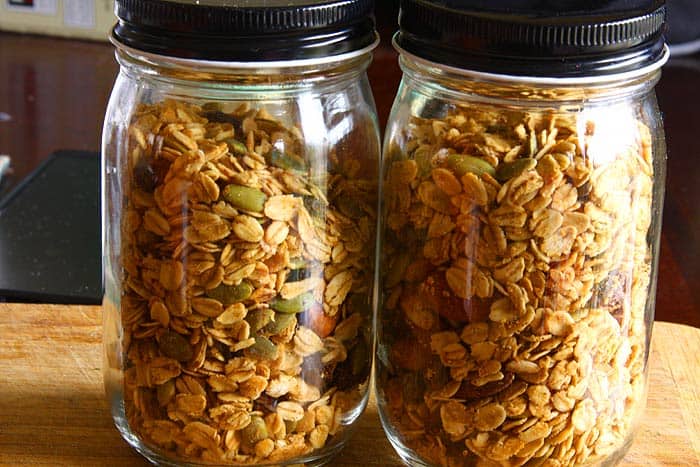 This vegan maple almond granola is very easy to make and tasty too. Perfect for gift giving, especially during the holiday season. You can't go wrong with homemade granola.

Ingredients:
PART 1:
7 cups

rolled oats

2 cups

whole almonds

1 cup

pumpkin seeds

1 cup

dried cranberries/raisins
PART 2:
1/2 cup

coconut oil

3/4 cup

maple syrup

2 teaspoons

vanilla extract

1 teaspoon

maple extract

1 teaspoon

ground cinnamon

1/2 teaspoon

salt
Procedure:
Preheat oven to 325F/160C.
In a large bowl, mix together the ingredients listed in Part 1 except for the dried fruit (See MY Notes), and set aside.
In a small microwave-safe bowl, add the coconut oil and heat it up for 30 seconds if the coconut oil is in a solid state. This step can be omitted if the coconut oil is in a liquid state already.
To the oil, add the maple syrup and other ingredients listed in Part 2 and stir well.
Pour the liquid onto the oats and nuts mixture and mix well until the liquid is well coated throughout the oats mix.
Spread it on a large pan either lined with parchment paper or lightly greased with non-stick cooking spray.
Bake for about 50 minutes, stirring once or twice in between.
At this point, remove the baking sheet from the oven and add the dried fruit that you are using, be it cranberries or raisins, to the granola, mix well, and leave it on the counter to cool completely before storing the granola in an air-tight container. Do not transfer the granola to a container; close it immediately because the oats and almonds won't be crunchy. You have to let it cool down.
Taste:
This homemade vegan granola has the perfect taste, sweetness, and texture. We like our granola not lumpy, so this is just right for us. Also, the sweetness. If you want it sweeter, you may increase the quantity of maple syrup.
My Notes:
Do not add the dried cranberries/raisins to the oat mixture at the start and bake it for 50 minutes because it will make the dried fruit even drier and chewy; sometimes it will get burnt too and leave a bitter after taste spoiling the entire granola. So add it after removing the baking sheet from the oven; that heat is enough to soften the dried fruit to the right texture.
I can't stress enough about letting the granola cool completely before transferring it to an air-tight container. This step is very essential to retain the crunchy texture of the oats and almonds.
I have tried using brown sugar alone to sweeten the granola and also a combination of maple syrup and brown sugar too, and what I have noticed is it won't stick well to the oats unless and otherwise we increase the quantity of a liquid ingredient, be it the oil or maple syrup which I don't prefer. So I started using just maple syrup.
You can use melted butter instead of coconut oil if you don't care about making vegan granola.
Also, the choice of add-ons is endless. Shredded coconut, any other type of nuts, dried fruits, and seeds can also be added. Please experiment.
Nutrition Facts
Vegan Maple Almond Granola
Amount Per Serving
% Daily Value*
Potassium 123mg3%
Total Carbohydrates
21.6g
8%
* Percent Daily Values are based on a 2000 calorie diet.


Try this recipe, click a pic and hashtag it #egglesscooking - Proudly showcase your creations on Instagram, Facebook & Twitter!