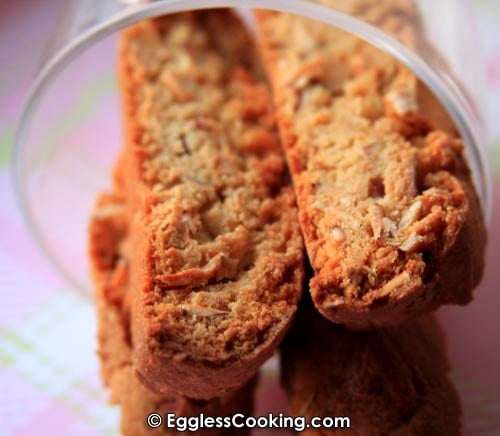 Two weeks back I borrowed Vegan Italiano book by Donna Klein from the library in order to send a couple of entries to DK's AWED – Italy and Dee's Herb Mania – Basil.  But due to some reason or the other I was not able to open the book until yesterday.  The book has everything from appetizers, soups, salads, one pot meals to decadent desserts.  I don't know why, but I always start from the last in any book/magazine (not fiction though).  Once I also heard an astrologer mention that "Mithuna" (Gemini) rasi people tend to do that.  While doing so I found this simple almond biscotti recipe using applesauce.  The amount of fat/oil used in the recipe also caught my attention.  It requires just 1.5 tablespoons of canola oil!

| | | |
| --- | --- | --- |
| Eggless Almond Biscottis Recipe | | |
| Prep Time | Cook Time | Makes |
| --- | --- | --- |
| 15 Mins | 18 Mins + Cooling Time | 15 Biscottis |
| Author | Category | Method |
| Madhuram | Biscottis | Baking |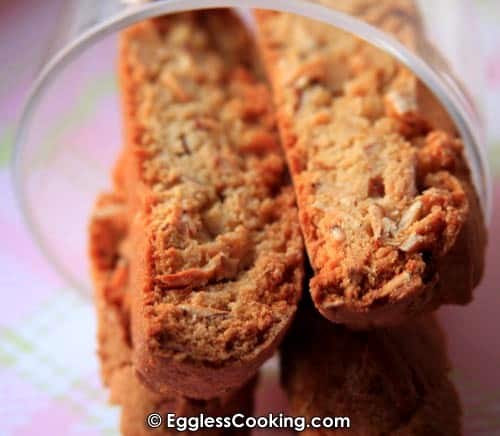 A very simple recipe to bake eggless almond biscottis using whole wheat flour and applesauce.

Ingredients:
3/4 Cup

Whole Wheat Flour (See My Notes)

3/4 Cup

Unbleached All Purpose Flour

1/2 Tablespoon

Baking Powder

1/4 Teaspoon

Salt

3/4 Cup

Sugar (See My Notes)

6 Tablespoons

Sweetened Applesauce

1.5 Tablespoons

Canola Oil

1/2 Teaspoon

Pure Vanilla Extract

1/2 Teaspoon

Pure Almond Extract (I Made It 1/4 Teaspoon)

3/4 Cup

Slivered Almonds
Procedure:
Preheat the oven to 350F (175C) for 15 minutes.
Line a standard size baking sheet with foil or parchment and set aside.
In a large bowl, mix together the flours, baking powder, and salt until thoroughly combined.
In a medium bowl whisk together the sugar, applesauce, oil and extracts.
Add the sugar mixture and almonds to the flour mixture, stirring to combine.
Finish mixing with your hands until thoroughly combined.
With floured hands, shape the dough into 1 log about 3 inch wide and 3/4 inch in thickness and transfer to prepared baking sheet. (See My Notes)
Bake on the center rack 25 minutes or until firm to the touch.
Remove the baking sheet from the oven and let cool 15 minutes.
Decrease the oven temperature to 300F(150C).
Using a sharp knife carefully cut the cooled log crosswise into 1/2 inch wide slices.
Remove the foil and place the slices, cut-side down, on the baking sheet.
Bake about 7 to 10 minutes, or until bottoms are just golden.
Turn the slices over and bake to 5 to 8 minutes, or until bottoms are golden.
Using a spatula, transfer to a wire rack and let cool completely.
Store in airtight containers up to two weeks, or freeze.
My Notes:
Shaping the dough into a log: At first I floured the surface and tried making log, but transferring it to the baking sheet was a little tricky. Instead I rolled back the dough into a ball again and transferred it to the baking sheet and formed a log on the sheet itself. This was very easy.
Also slicing the baked log, requires patience, because it tends to break in the middle.
I observed that the baking time mentioned in the recipe (both for baking the log and for baking the slices) are just approximations. It took another 5-8 minutes to get the desired result.
The biscottis came out well, but I would suggest using all purpose flour itself instead of whole wheat flour and also reducing the quantity of sugar to 1/2 cup. It was very sweet to our taste, also it had an earthy flavor because of the whole wheat flour. I have made chocolate cookies using whole wheat flour earlier and my family loved it, but we felt that it did not work out for the biscottis. This eggless biscotti recipe is definitely a keeper and I will be baking it regularly using all purpose flour.

Try this recipe, click a pic and hashtag it #egglesscooking - Proudly showcase your creations on Instagram, Facebook & Twitter!