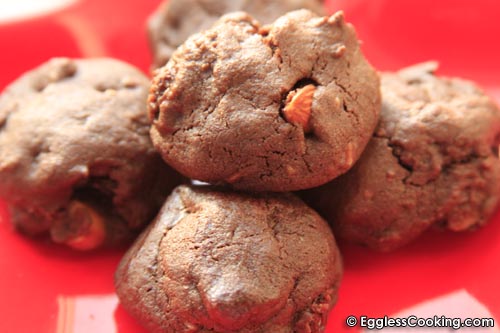 I missed DK's earlier 2 events, so this time I wanted to send at least one entry as early as possible.  This month's theme being Italian and since I'm into eggless baking, I searched for Italian cookies and found this.  Lot of versions of these cookies are available throughout the net, but I found this one to be the easiest.  These are eggless whole wheat flour cookies, with a lot of almonds and raisins.

| | | |
| --- | --- | --- |
| Eggless Italian Chocolate Cookies Recipe | | |
| Prep Time | Cook Time | Makes |
| --- | --- | --- |
| 30 Mins | 15 Mins | 53 Cookies |
| Author | Category | Method |
| Madhuram | Cookies | Baking |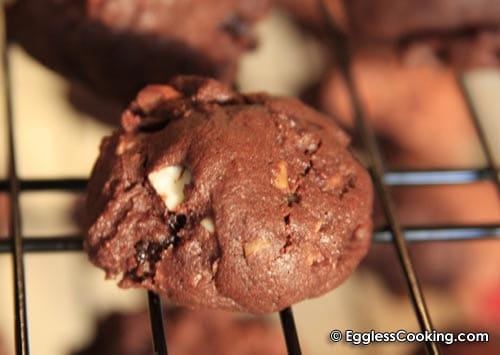 Eggless Italian Chocolate Nut Cookies
5.0

from

1

reviews
Surprise your loved ones with this simple eggless italian chocolate nut cookies. You don't have to go to Italy to enjoy these tasty bites.

Ingredients:
1/2 Cup

Margarine (I Used 1 Stick Smart Balance 50/50 Unsalted Butter Blend More Details In My Notes)

2/3 Cup

Cocoa Unsweetened (I Used Droste Dutch Processed Cocoa Powder)

2 Cups

Light Brown Sugar

1/2 Cup

Water

2 1/2 Cups

Whole Wheat Flour

1 1/2 Teaspoons

Baking Powder

2 Teaspoons

Cinnamon (I Used Vanilla Essence Instead Of These Spices)

1 Teaspoon

Cloves Or Allspice

1 Cup

Finely Chopped Almonds

1 Cup

Raisins
Procedure:
Preheat oven to 350F for 15 minutes.
Combine first four ingredients in a saucepan.
Heat slowly, stirring till the mixture resembles chocolate syrup. Let cool to room temperature.
Combine flour with baking powder and spices (if using).
Pour in chocolate syrup and work into a stiff batter. (See My Notes)
Add almonds and raisins. Raisins generally stick together, so take little flour and mix it with the raisins and separate them with your fingers, so the raisins will be spread uniformly throughout the batter.
I scooped out the dough using half tablespoon (see My Notes) and dropped it on the cookie sheet. The cookie does not spread, so leaving 1/2 inch space in between is sufficient. I was able to arrange 24 cookies in a large baking sheet.
Bake for 12 to 15 minutes.
Remove it from the oven and let it cool in the baking sheet for 5 minutes.
Then transfer it to a wire rack to cool completely.
Taste:
The cookies tasted more like chewy brownies with the perfect amount of sweetness from the combination of brown sugar and raisins.
My Notes:
Smart Balance 50/50 Unsalted Butter Blend is a blend of real butter and Smart Balance Spread. It is in a convenient stick form, which is ideal for measuring and baking. The calories measure up to be the same of regular butter (100gm per tablespoon), but this one has 28% less saturated fat than butter and 50% less cholesterol than butter. It's also an excellent source of Omega 3 and Vitamin E. It's non-hydrogenated and does not have Trans Fats.
At first I doubted the measurements, because I felt that adding the entire syrup would make the batter very watery. So I reserved 1/4th of the syrup and added the almonds and raisins. But once they were added the dough became very stiff, so I added the reserved syrup also which gave the right consistency to the dough. It was neither very stiff nor watery.
Spray the tablespoon with some non stick spray, so the dough will fall off the spoon easily. If you want perfect shaped cookies you can shape the dough into balls and arrange it on a cookie sheet or else you can simply drop it to get a nice rustic look.
The flavor of cocoa was dominant than the sweetness. I liked it very much. But if you have a very sweet tooth, you may want to increase the quantity of sugar.
I would also suggest toasting the almonds before adding it to the batter to give a nice crunch to the cookies.

Try this recipe, click a pic and hashtag it #egglesscooking - Proudly showcase your creations on Instagram, Facebook & Twitter!