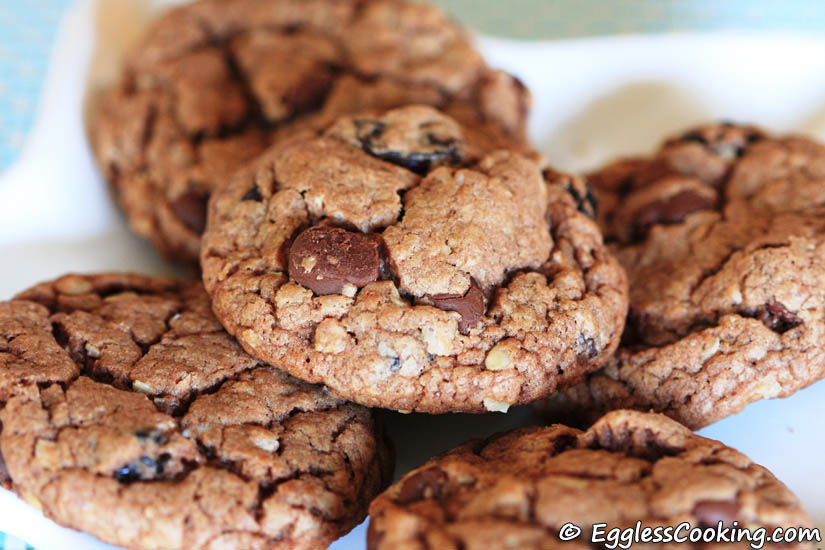 I thought of taking a "baking-break" for at least 2 weeks because of a couple of baking disasters. But I found out that I've sort of become a "baking addict". Moreover when surrounded by a lot of cookbooks it's really very hard to resist the temptation. Recently I bought "The Taste of Home Baking Book". It's a neat book with more than 700 recipes, 600 photos and also has a lot of baking tips. Earlier I have tried 2 recipes from "The Taste of Home" magazine and both of them were great success. So I was sure that the recipes from that magazine are tried and tested.
The German Chocolate Cookies recipe was so simple and I was also tempted by the description provided. It said that the cookies were chewy and have a wonderful bakery-shop flavor. I have baked eggless chocolate chip cookies earlier and it was the crispy one. Since I have a few successful recipes in the "silken tofu-cocoa combination", I wanted to try this recipe too using silken tofu. I'm very glad that I found this recipe, because the cookies turned out very well. The description given is 100% true. These eggless chocolate chip cookies are chewy definitely have a bakery-shop flavor. Also check out the edible cookie dough recipe here.

| | | |
| --- | --- | --- |
| Chewy Chocolate Chip Cookies Recipe | | |
| Prep Time | Cook Time | Makes |
| --- | --- | --- |
| 15 Mins | 11 Mins + 5 Mins Cooling | 45-50 Cookies |
| Author | Category | Method |
| Madhuram | Cookies | Baking |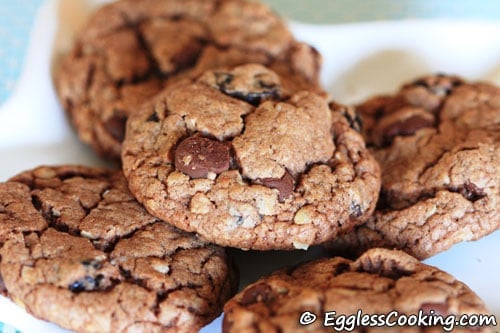 A very simple recipe to prepare eggless chewy chocolate chip cookies using store bought cake mix.

Ingredients:
1 package 18.25oz

German Chocolate Cake mix (I used Duncan Hines)

1/2 cup

Silken tofu pureed (1/4 cup for each egg to be replaced)

1/2 cup (1 stick)

Melted Butter

1/2

Quick Cooking Oats

1 cup (6 ounces)

Semisweet Chocolate Chips

1/2 cup

Raisins
Procedure:
Preheat oven at 350F/180C for 15 minutes.
Melt butter in a saucepan on stove top or in the microwave oven.
Remove the tofu from the packet and blend it in a blender until smooth. Pour it in a liquid measuring cup to measure 1/2 cup of pureed tofu.
In a large mixing bowl, combine the dry cake mix, butter, oats; mix well.
Stir in the chocolate chips and raisins.
The dough is has the consistency of chapathi dough or play dough.

Grease a tablespoon and drop the dough using it 3 inches apart onto ungreased baking sheets.

Bake for 9-11 minutes or until set.
Cool for 5 minutes before removing to wire racks.
Cool it completely on the wire rack before storing it.
My Notes:
Raisins can be replaced with chocolate chips as well. But the combination of raisins with the chocolate chips is very good.
Instead of dropping the dough on the baking sheet, you can also roll it in your hand to get perfectly shaped cookies.
I baked my cookies for 11 minutes. If using a non stick baking sheet, 10 minutes is enough. The cookies look under-cooked, but they cook on the baking sheet itself once outside the oven. So don't be tempted to put them back in the oven. After 5 minutes transfer the cookies to a wire cooling rack.
The cookies actually don't have a golden brown color. It's more of a dull cocoa powder color.
Some cake/brownie mixes have animal fat like lard. Be sure to read the ingredients list before buying.

Try this recipe, click a pic and hashtag it #egglesscooking - Proudly showcase your creations on Instagram, Facebook & Twitter!

This is my another entry to the Egg Replacement – Silken Tofu Event.