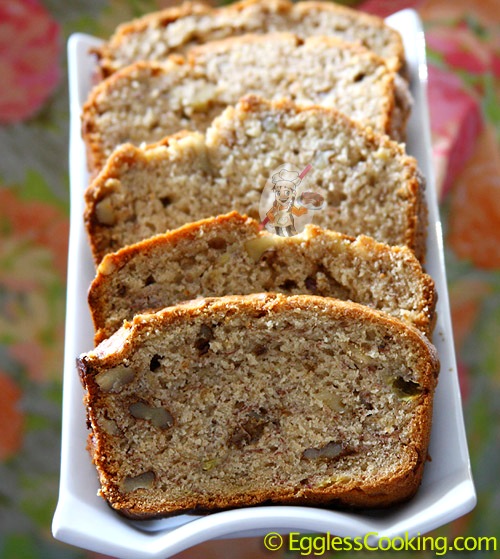 Eggless banana bread has always been in my "to-bake" list. So I was really thrilled to find this vegan banana bread recipe and I have to say that hand's down this is the best banana bread ever. It was moist, yummy and the sweetness was just right.

| | | |
| --- | --- | --- |
| Vegan Banana Bread Recipe | | |
| Prep Time | Cook Time | Makes |
| --- | --- | --- |
| 15 Mins | 1 Hrs 10 Mins | One 8x4 loaf, 12 slices. |
| Author | Category | Method |
| Madhuram | Breads | Baking |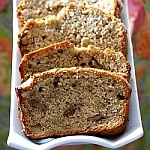 Having over ripe bananas at home? Wondering what to do? No second guessing please. You have to try this egg free, dairy free, easy vegan banana bread recipe.

Ingredients:
2 cups

All Purpose Flour

1/2 teaspoon

Baking Soda

1/2 teaspoon

Salt

1/4 teaspoon

Allspice, ground

1/2 cup

Margarine, at room temperature (I used Becel Vegan Spread)

1/2 cup

Brown Sugar

1/2 cup

White Sugar

3

Bananas, medium sized, mashed well

1/4 cup

Non Dairy Milk (I used Almond)

1 teaspoon

Apple Cider Vinegar

1 teaspoon

Vanilla Extract

1/2 cup

Walnuts, chopped
Procedure:
Combine together the non dairy milk and apple cider vinegar; set aside.
Preaheat the oven at 350F/180C for 15 minutes. Line an 8x4 inch loaf pan with parchment paper and lightly grease it with non stick cooking spray.
In a large combine together the flour, baking soda, salt and spice.
In another bowl, cream together the margarine and sugars. Then add the bananas, vanilla and milk-vinegar mixture.
Add the wet ingredients to the flour mixture. Mix in the nuts and stir until just combined.
Pour the batter in the prepared loaf pan and bake for about 60-70 minutes or until a toothpick inserted in the center of the bread comes out clean. Mine was done shortly after 60 minutes.
Remove the pan from the oven and place it on a cooling rack for about 15 minutes. Then transfer the bread from the pan to the rack and let it cool completely before slicing (preferably overnight).

Nutrition Facts
Servings: 12
Per Serving
% Daily Value*
Calories

257

Total Fat

10.8g

17%
Saturated Fat

2.6g

13%
Trans Fat

0g

Cholesterol

0mg

0%
Sodium

235mg

10%
Potassium 168mg
5%
Total Carb

37.5g

13%
Dietary Fiber

1.7g

7%
Sugars

18g

Protein

3.8g

Vitamin A 1% - Vitamin C 4%
Calcium 2% - Iron 7%

Try this recipe, click a pic and hashtag it #egglesscooking - Proudly showcase your creations on Instagram, Facebook & Twitter!
A couple of reasons and solutions for this problem.
1. Use a light-colored aluminum pan instead of dark non-stick metal pans because it absorbs heat and browns the loaf. Don't even think of using a glass pan because it's the worst. Glass acts as an insulator and will burn the bread.
2. Baking time and temperature matters. Most quick breads take anywhere between 50-75 minutes or sometimes more to bake. Such long temperatures do tend to brown the base and the top of the bread. So if you are baking in a dark pan it is suggested to bake the bread at 350F for a while and then reduce the temperature to 325F the top covered with aluminum foil for the rest of the time. This vegan banana bread bakes in 60 minutes. Since I used a light pan I didn't have to do this. The bread baked perfectly fine without any change in the temperature.
But if you are using a dark metal pan then bake at 350F for the first 30-35 minutes and then reduce the temperature to 325F, cover the pan with aluminum foil and bake until it's done.
It is natural for quick breads made with considerable quantity of fruit, especially egg free to be slightly on the denser side. When compared to many other quick bread recipes I have tried and tested this vegan banana bread is really not that dense. But do not expect it to be very light like a slice of angel food cake.
Quick breads, be it banana or any other bread has to be cooled completely before you can slice it. Preferably overnight. Do try it this way and you should be able to cut it without the bread crumbling or getting mushy. Trust me you will get neat slices without any problem.
I haven't tried it myself but one of the readers mentioned in the comments that she used rice flour instead of all-purpose flour and a little bit of extra soy milk and the bread turned out fine. Most of the gluten-free and egg free recipes use Xanathan gum for it to rise. I haven't tried Xanathan gum while baking. The reader mentioned that she didn't use it either and the bread turned out good.
Maybe you cannot omit either all-purpose flour or whole wheat flour totally but can use about 1 cup of that and for the rest any other whole grain flour or a multi-grain flour mix should be OK.
Personally I do not bake anything with bananas with just whole wheat flour. It doesn't taste good in most of the recipes. Again this is my personal preference maybe. You could try it for yourself and see if you like the taste and texture. I use whole wheat pastry flour instead. It still has the same nutritional value of whole wheat flour but doesn't affect the taste and texture too.
Using softened butter in place of margarine shouldn't be a problem, only that it won't be vegan anymore. Even ghee (clarified butter) in semi-solid state shouldn't be a problem, if you like the flavor. You won't have to make any changes to the recipe. But if you want to use oil, the recipe has to be tweaked a little bit. I'm estimating that 1/3rd cup of oil should be enough instead of 1/2 cup of butter/margarine.
Again I haven't tried it, so just guessing what would be the result based on my experience baking fat free. Fat-free doesn't work always. It's more of a trial and error experiment. Personally I wouldn't suggest baking it entirely fat free, because you might end up with a dry bread. So start with maybe 1/4 cup of unsweetened applesauce and 1/4 cup of softened butter/margarine or about 2 tablespoons of oil. See how it turns out and based on that you may decide to reduce the fat content further.
Yes buttermilk can be used instead of the non-dairy milk and vinegar combination. It's actually the vegan substitute for buttermilk. So if you don't want to bake it vegan then you can directly add buttermilk. So you don't have to use buttermilk and vinegar.
Yes you can use dairy milk instead of almond milk. If you don't have buttermilk then use dairy milk and vinegar.
Yes, any type of non dairy milk can be used. I personally prefer rice milk and almond milk. For some reasons don't like soy milk. Most of the times it gives a sticky texture.
Yes it should not be a problem. You can also use coconut palm sugar instead.
Yes you can try it. I haven't though. I'm thinking about 3/4 cup of either of the syrup should be fine instead of 1 cup of sugar.
Always use white granulated sugar and not powdered sugar while baking unless a recipe specifically calls for it.
Yes you can try, but it won't be banana bread anymore..duh! Jokes apart, you can try any other fruit of your choice keeping the measurement the same.
Yes keeping the measurement same you can use your choice of add-ons.
Yes you can. But I prefer using apple cider vinegar because it doesn't give an after taste/flavor unlike white vinegar. You can try it for yourself and see.
I think it should not be an issue. Like any other quick bread you can freeze it. Thaw it by keeping it in the fridge overnight and use it the next day.
Yes you can. Follow the same procedure like you would bake any muffin. Either grease the tin with non-stick cooking spray or line it with cupcake liners, fill 2/3rds full of batter and bake it for around 18-23 minutes maybe. Time might differ. Please test for doneness accordingly.
Yes you can bake it in a bundt cake pan, or a 13x9 inch pan. The times will definitely vary. So take care that you do not over bake it and test for doneness accordingly.
I hope so. I don't have experience baking in a gas oven but I don't see why it shouldn't work. Follow the procedure that you would normally do to bake in a gas oven and it should be fine.
I haven't baked this or any other recipe in a microwave oven because I don't have the convection type microwave oven which can be used for baking/grilling also. But if you have one please follow the instructions for baking in it and it should work.
You will have to thaw it to bring it to room temperature and then only it can be used.
Allspice is also called Jamaican pepper. The ground powder has a combined flavor of clove, cinnamon and nutmeg. So if you don't have it use cinnamon instead and it should be fine.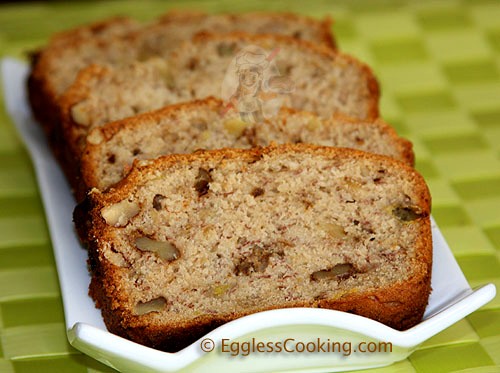 Banana is one ingredient that I end up using a lot while baking. I have baked cookies, cupcakes, muffins and so many recipes using bananas, but a simple no egg banana bread recipe was missing here. I do have a zucchini chocolate chip banana bread recipe, but hadn't baked a plain and simple egg free banana bread. Oh boy! I'm very glad that I found the vegan banana bread recipe, because this is the best banana bread recipe you will ever bake vegan or otherwise.
I would not call this a healthy vegan banana bread recipe. For that you may want to substitute the of all-purpose flour with whole wheat flour or any other whole grain flour, use some homemade applesauce or some more mashed bananas for a part of the vegan butter substitute and voila you have got a healthy banana bread without eggs.
Lately I have been reading a lot about healthy food and lifestyle and I'm shocked to know that a lot of things which we are thinking is "good for you" is actually not. It all started when I read this old blog post about oils and fats.
Jai and Bee have done an extensive research on the topic and have laid it down precisely, which makes it very easy for us to understand. After a lot of blog hopping I landed here which talks about Alkaline Diet, which is what our chiropractor has been talking too and it all makes sense. I understand that I have a long way to go but I'm glad that I have found this path and am trying to take baby steps in the right direction.
I'm pretty sure that the information I have collected so far is going to affect my baking. To clarify more on this: I understand that any refined oil which you find in the grocery aisle in plastic containers is not good for you because the oil goes through a lot of harmful chemical processing before it reaches the store. You can read more about this in detail in Jai and Bee's blog. Here I thought I was doing a smart thing by avoiding butter and using vegetable/canola oil but the fact is butter is better than these heavily processed oils. If at all we choose to use refined oils, it should be through a chemical free/heat free process, which leaves us no option other than buying organic oil which is quite expensive.
Looking back I really feel very bad for having mentioned recipes using canola/vegetable oils as healthy recipes. I'm processing all this information in my head trying to cut back on the unhealthy stuff. Now the debate I'm having with myself is whether I should throw or not throw away the vegetable oil spread, oils I already have, which will last for another month or so. I'm so confused. I have already bought extra virgin olive oil and coconut oil.
These days I'm using a lot of sesame oil too. The cooking area is covered but the baking is not. I wonder if extra virgin coconut oil will give a coconutty flavor to the baked goods. I wrote this to Jai & Bee and they say that organic refined coconut oil does not lend its flavor. I have to try this. I also read that avocado oil is good but again its very expensive. Or else I have to bake fat free and I'm not sure how well it will go. So any other option is highly appreciated.