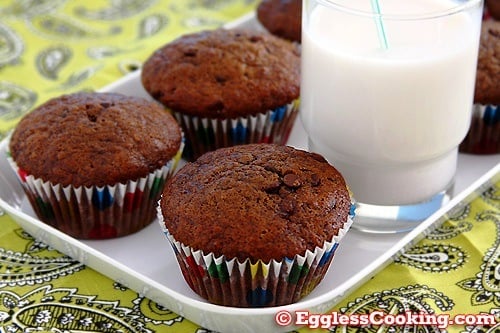 Thanks to the overripe banana, I landed on this double chocolate banana muffin recipe and it turned out awesome.
That's what I love about the Taste of Home website. The recipes turn out perfect each and every time with or without any modification. I saw the original recipe and decided to bake it as vegan double chocolate banana muffins because I already have an eggless double chocolate muffin recipe in the blog.
I took the idea of substituting a mixture of almond milk and apple cider vinegar for the 1 egg mentioned in the recipe from this vegan banana bread recipe. And the result was fantastic. I literally patted my back for this muffin recipe. It has turned out so good. Even better than my vegan chocolate banana cake. Try it for yourself and share here if you agree with me or not.

| | | |
| --- | --- | --- |
| Vegan Double Chocolate Banana Muffins Recipe | | |
| Prep Time | Cook Time | Makes |
| --- | --- | --- |
| 20 Mins | 20 Mins | 12 Regular Size Muffins |
| Author | Category | Method |
| Madhuram | Muffins | Baking |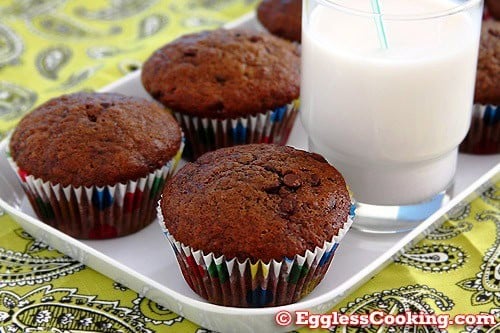 Overripe bananas should not be a problem anymore, when you have this wonderful vegan double chocolate banana muffins recipe. It's the perfect dessert to please all age groups.

Dry Ingredients:
1 and 1/2 cups

all-purpose flour

1/4 cup

cocoa

1 teaspoon

baking soda

1/4 teaspoon

baking powder

1/2 teaspoon

salt

1 cup

white sugar

1 cup

mini vegan chocolate chips
Wet Ingredients:
1 cup

mashed bananas (See My Notes)

1/4 + 1/4 cup

almond milk (See My Notes)

1 teaspoon

apple cider vinegar

1 teaspoon

vanilla extract

1/3 cup

coconut oil
Substitutions:
all-purpose flour = whole wheat pastry flour or equal parts whole wheat flour and all-purpose flour
almond milk = any non-dairy milk of your choice
apple cider vinegar = white vinegar
coconut oil = any neutral flavor oil of your choice
Procedure:
Preheat the oven to 350F/180C for 15 minutes. Line a 12 cup muffin pan with paper liners or grease it with non-stick cooking spray. Mix together 1/4 cup almond milk and vinegar; set aside for it to curdle.
In a large bowl sift together the flour, cocoa, baking soda, baking powder and salt. Stir in the sugar and make well.
In another bowl combine together the mashed bananas, curdled almond milk, vanilla extract, oil and remaining 1/4 cup milk.
Add the wet mixture to the well and mix until just combined. Stir in the chocolate chips.
Scoop out the batter among the 12 cavities. About 1/3rd cup of batter per muffin.
Bake for about 20-25 minutes or until a toothpick inserted in the center of the muffin comes out clean. Mine was done after 20 minutes.
Transfer the pan to a wire rack to cool. If using paper liner, you should be able to lift the muffins off the pan after 5 minutes. Cool it completely on a wire rack before storing it or serve it warm with a glass of milk.
Taste:
These vegan double chocolate banana muffins came out amazing. Both the taste and texture was great. It was not at all dense. It had a fluffy texture. The top of the muffins were dry when I left it on the counter but it did turn moist after I stored it in air tight container. The inside remained fluffy though. We all loved these muffins so much. The next time I'm baking these I'm definitely going to use whole wheat pastry flour.
My Notes:
The original recipe used 1 and 1/3 cups of mashed bananas. Since I had only 1 cup of it I used 1/4 cup of milk for the rest of it. So if you have got 1 and 1/3 cups of banana you will have to use just the 1/4 cup of non-dairy milk to curdle.
If you decided to use whole wheat pastry flour, I would recommend serving these muffins once it is cooled completely. I personally feel that the whole wheat flour-banana combo does not have a good taste/texture when eaten warm. Or it could be just me!
These are very sweet muffins. I would definitely cut back on the sugar or chocolate chips if I bake this again. I think 1/2 a cup of chocolate chips or 3/4th cup of sugar should be perfectly fine.
I have used Enjoy brand's mini vegan chocolate chips in this recipe.

Try this recipe, click a pic and hashtag it #egglesscooking - Proudly showcase your creations on Instagram, Facebook & Twitter!