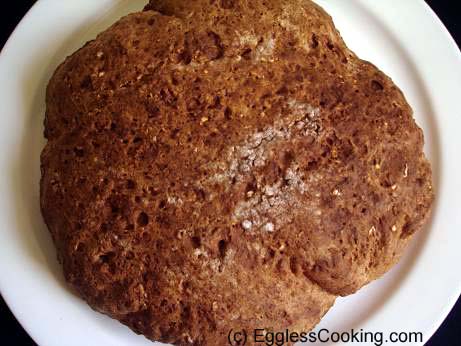 I think this will be the easiest bread I will ever bake.  There is no yeast action, no eggs or even butter.  It's as easy as mixing dough for chapathis.
Try this simple white bread recipe using yeast if you want to make a traditional soft and fluffy white bread.

| Prep Time | Cook Time | Makes |
| --- | --- | --- |
| 15 Mins | 30 Mins | 12 Slices |
| Author | Category | Method |
| Madhuram | Breads | Baking |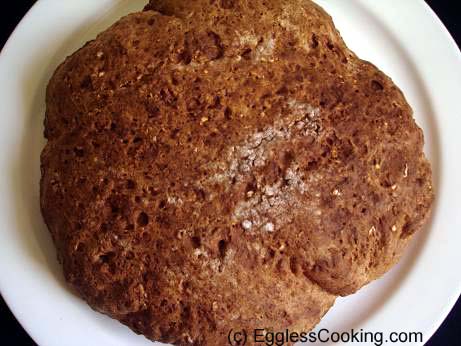 Recipe for baking irish brown bread without yeast, using buttermilk, all purpose flour and whole wheat flour.

Ingredients:
1-1/2 Cups

All Purpose Flour

1-1/2 Cups

Whole-Wheat Flour

1/2 Cup

Quick Oats

1/2 Cup

Wheat Germ

1-1/2 Teaspoon

Baking Soda

3/4 Teaspoon

Salt

1-3/4 Cups

Buttermilk

2 Tablespoons

Honey
Procedure:
Heat oven to 425°F/220C for 15 minutes. In bowl, combine all-purpose flour, whole-wheat flour, quick oats, wheat germ, baking soda, and salt.
In small bowl, mix buttermilk with honey. Add liquid ingredients to flour mixture; stir to combine.
Turn dough out onto floured surface and shape into a circle. Place on a greased baking sheet and bake for 15 minutes.
Reduce temperature to 400°F and bake 15 minutes more or until the bread sounds hollow when you tap it. Let cool 20 minutes.
Taste:
Enjoy it with your favorite jam!
My Notes:
While combining the dry ingredients, don't forget to seive the all purpose flour, whole wheat flour and baking soda to avoid uncooked lumps in the baked bread. I usually seive them, but this time I totally forgot it and found some lumps in the bread.
Similarly while adding honey to the buttermilk, keep stirring it using a whisk or fork, until the honey dissolves in the buttermilk. Since I had to take a picture, I added the honey and just left it. When I was done taking the photo, I found that the honey had stuck to the bottom of the vessel and had lumped. So I had to use my muscle to dissolve it. Also before measuring the honey, spray the tablespoon with some non stick cooking spray and then pour the honey into the spoon. By doing this the honey will easily pour out from the spoon without sticking.
Combine the dry ingredients and wet ingredients. The recipe mentions to turn the dough onto a floured surface to shape it into a circle and then transfer to a baking sheet.
The bread requires 1/2 cup of wheat germ, I guess it can be replaced with whole wheat flour itself. I also added 1 tablespoon flax seed meal.

I don't know whether I did not flour the surface well or what, this step was a bit messy and I was not able to shape it properly. So I sprayed both my hands with vegetable oil and removed the dough from the surface and transferred it to the greased baking sheet and shaped it in the baking sheet itself. This was very easy.

Bake it for 15 minutes at 425°F and for another 15 min at 400F. Let it cool for at least 30 minutes before you can cut it. The bread has a nice nutty smell and flavor.

Try this recipe, click a pic and hashtag it #egglesscooking - Proudly showcase your creations on Instagram, Facebook & Twitter!