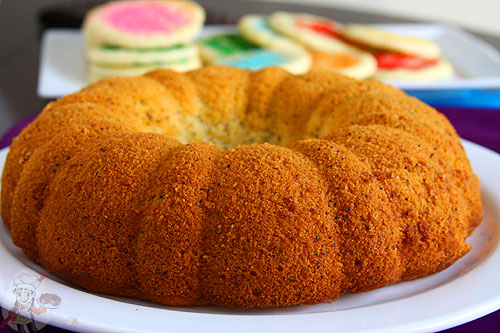 | | | |
| --- | --- | --- |
| Eggless Orange Poppy Seed Bundt Cake | | |
Preheat oven at 350F/180C for 15 minutes. Grease a bundt pan with oil/butter and sprinkle some all-purpose flour to coat the insides of the pan. Mix together the orange juice and milk; set aside.
In a large bowl, cream together the butter and sugar, until it's light and fluffy. Add the yogurt and beat well. Add the extracts too and beat again.
In another bowl mix together the flour, poppy seeds, baking powder, salt and orange zest; set aside.
To the creamed butter mixture add the flour and juice mixture alternating between each and beating after each addition.
Pour the batter into the prepared pan and tap it on the counter to break air bubbles, if any.
Bake in the oven for 60-70 minutes or until a toothpick inserted in the middle of the cake comes out clean.
Once done remove the pan from the oven and place it on the cooling rack for at least 10-15 minutes. After about 15 minutes slowly invert the pan on a plate and remove the cake from the pan and transfer it back to the rack for it to cool completely.
I have used 3/4th cup of yogurt to replace 3 eggs in the original recipe. You can do a portion of silken tofu and yogurt for even better results. Since I didn't have tofu, I used all yogurt. Preferably sour.
Neither orange juice nor zest was used. 1 and 1/2 cups of milk was used. But since I wanted to infuse orange flavor in the cake I used part juice and part milk. Had 2 oranges at home. Used juice from it and milk for the remaining portion.