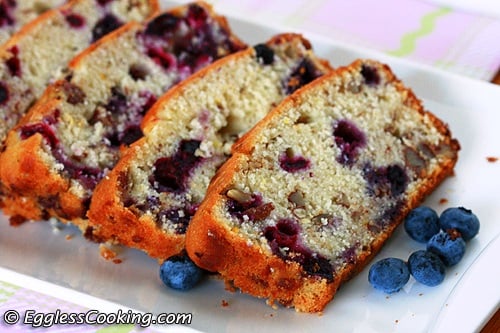 Do you have a lucky fruit or charm in baking? I think mine is blueberry. Anything I bake with blueberries comes out so well. Touch wood! Interestingly I'm not a fan of plain blueberries.
My all-time favorite recipe is the Low Fat Blueberry Almond Coffee Cake and the most tried and loved recipe from this blog by the visitors is the Vegan Blueberry Muffins.
I'm pretty sure that this Orange Blueberry Quick Bread too will make it to the list of your favorites because it is already in mine.
This orange blueberry bread recipe is my version of the lemon blueberry bread recipes I came across here and here.
Both the recipes are quite similar, so I took some hints and have come up with my version of the orange blueberry bread. I somehow prefer the mellow citrus flavor of oranges to that of lemons in baked goods. The citrus nature of orange is not as pronounced as that of lemon, but it surely exhibits its presence and compliments the end product's taste. So this orange blueberry bread is no exception to the above.
The bread was very moist, light, and fluffy. The sweetness was just right, the citrus tang from the oranges was perfect, and the pecans gave the bread a nice texture.
More than everything the house smells so good while the bread is baking. It's amazing that as little as 5 tablespoons of butter can give that pleasant aroma.
I'm also confident that this recipe minus the blueberries and nuts will make an excellent low-fat orange-flavored pound cake. I can't wait to try that version too.
Who needs a pound of butter and everything else to make a pound cake when we can get the same fantastic result with this low-fat version?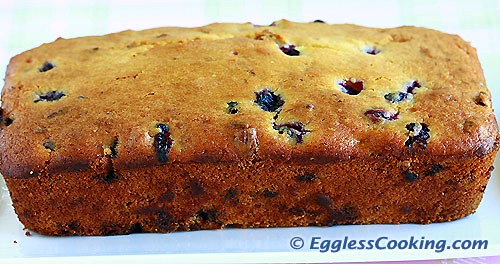 | | | |
| --- | --- | --- |
| Orange Blueberry Bread Recipe | | |
| Prep Time | Cook Time | Makes |
| --- | --- | --- |
| 15 Mins | 1 Hr 10 Mins | One loaf |
| Author | Category | Method |
| Madhuram | Breads | Baking |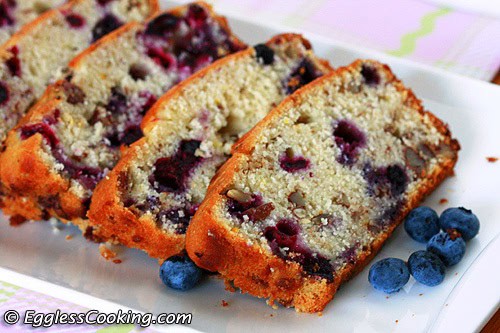 Can you believe that a light, moist and fluffy blueberry bread like this can be egg free and low-fat too? Perfect for summertime picnics, this orange-blueberry bread will definitely be a crowd pleaser.

Ingredients:
1 and 1/2 cups

All Purpose Flour

1/4 teaspoon

Baking Soda

1 and 1/4 teaspoons

Baking Powder

1/2 teaspoon

Salt

5 tablespoons

Butter, (measured and melted)

1 cup

Granulated Sugar

1/4 cup (dry measuring cup)

Homemade Applesauce or store-bought

1/4 cup (dry measuring cup)

Plain Yogurt (I used fat free)

4 tablespoons

Orange Juice (Freshly Squeezed)

1 tablespoon

Orange Zest

1/2 cup

Milk (I used 2%)

1 cup

Blueberries (Fresh or Frozen)

1/2 cup

Chopped Pecans (or nuts of your choice/optional)
Procedure:
Preheat oven to 350F/180C for 15 minutes. Coat a 9×5 inch loaf pan with non-stick cooking spray on the sides and bottom.
In a medium size bowl sift together the flour, baking powder, baking soda, and salt; keep it aside.
Whisk together the applesauce, yogurt, orange juice, and zest in a small bowl.
In a large bowl, cream the melted butter and sugar together for about 5 minutes using a handheld electric mixer. (Update: Measure the butter first and then melt it. The butter and sugar doesn't cream very much. It looks more like coarse crumbs). Add the above-wet mixture and beat well for another 2-3 minutes. The mixture will look curdled, but it's okay.
Now, add the flour and milk alternatively and beat for a couple of seconds after each addition. Add the flour in three parts and milk twice. So you would start with flour and end with flour.
Fold in the blueberries and nuts. If using frozen blueberries, do not thaw them.
Pour the batter into the prepared loaf tin and bake between 60-70 minutes or until the bread is golden brown and a toothpick inserted in the center of the bread comes out clean. Mine was done exactly at 60 minutes.
Transfer the pan to a cooling rack and let it cool for about an hour before removing the bread from the pan. I think I did not grease the bottom of the loaf pan well enough so I could remove the bread only after about 1 hour and 45 minutes. Cool it completely on the wire rack (preferably overnight) before cutting it into slices. I baked it after 8 pm, so I left it overnight and was able to get neat slices the next day morning.
My Notes:
I would suggest lining the loaf pan with parchment paper so that you can remove the bread from the pan within a span of 15-20 minutes. I usually do it for my cakes but I completely forgot while baking this bread.
Always use freshly squeezed orange juice only while baking. I have tried several brands of store-bought juice, and every brand leaves a bitter aftertaste. It totally spoils the baked good. I used the zest of 2 big oranges in this recipe.
If you are up to taking risks, why don't you try the same recipe without the berries and nuts for a low-fat orange pound cake!
Nutrition Facts
Orange Blueberry Bread
Amount Per Serving
% Daily Value*
Potassium 48mg1%
Total Carbohydrates
23.7g
9%
* Percent Daily Values are based on a 2000 calorie diet.

Try this recipe, click a pic and hashtag it #egglesscooking - Proudly showcase your creations on Instagram, Facebook & Twitter!