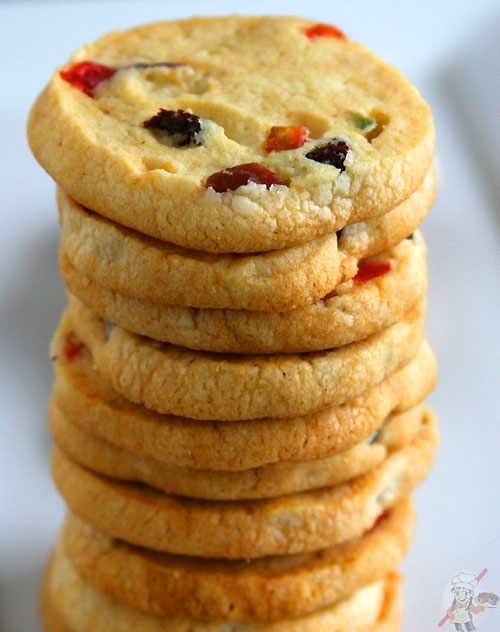 Tutti fruiti cookies has been in my "to-bake" list for quite sometime now. Finally got a chance to bake it past Christmas. I wanted to send across some cookies to my friends in Dubai. I wanted to try some new recipe, which is quite simple, which would yield a large batch, which would look good, transport well and taste good too. I had bookmarked this recipe last Christmas itself and baked it at last!
As usual the original recipe had egg in it. I substituted it with egg replacer powder. Not Ener-G this time. Found something similar here in Canada and it works out well too. I usually prefer using this substitute for cookies.
The texture comes out perfect each and every time. The same was true with these tutti fruiti cookies too. It was nice and crispy, but it does loses its crispness as days go by, I guess because of the moisture from the raisins and candied peel. Nonetheless it does taste good even then.


| | | |
| --- | --- | --- |
| Eggless Tutti Fruiti Cookies Recipe | | |
| Prep Time | Cook Time | Makes |
| --- | --- | --- |
| 2-3 Hrs | 13 Mins | 90 Cookies |
| Author | Category | Method |
| Madhuram | Cookies | Baking |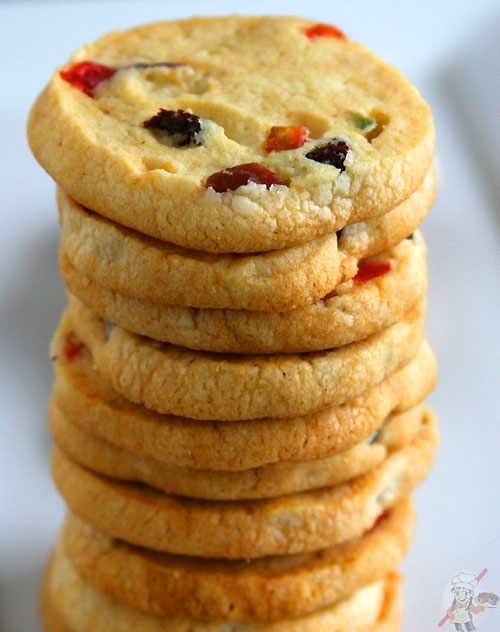 Eggless Tutti Fruiti Cookies
5.0

from

1

reviews
Slice and bake cookies, rich and buttery, loaded with raisins and candied peel, with crisp edges and chewy center will become a hit with everybody, young and old.

Ingredients:
1 and 1/2 cups

unsalted butter, softened

1 and 1/2 cups

confectioner's sugar

3/4 cup

white sugar

5 teaspoons

egg replacer powder (like Ener-G)

1/4 cup

water

3 teaspoons

vanilla extract

3 and 1/4 cups

all-purpose flour

3/4 teaspoon

baking soda

3/4 cup

raisins

1 and 1/2 cups

candied peel
Procedure:
In a large bowl cream together the butter and sugars until light and fluffy.
Add the egg replacer powder, water and vanilla extract and beat well.
Sift together flour and baking soda.
Stir into the creamed mixture.
Fold in the raisins and candied peel.
Shape the dough into 3 two inch logs, wrap it in parchment paper/plastic wrap and refrigerate for 2-3 hours or until firm. Use some all purpose flour on the cutting board while forming the logs.
Preheat oven to 350F/180C for 15 minutes.
Cut each log into 1/4-inch thick slices. Place it an inch apart on an ungreased baking sheet and bake for 12-15 minutes or until lightly browned. I baked mine for 13 minutes.
Transfer the baking sheet to a wire rack and leave it for at least 5 minutes. The cookies will harden up. Then cool the cookies completely on the wire rack before storing it in an air-tight container.
My Notes:
While cutting the logs into slices, get one log at a time from the fridge. Do not put all the logs outside because it sort of loses it's firmness and will be difficult to get neat slices. Even while cutting a log, you might have to put it again in the fridge for a couple of minutes to cut it again.
I would also some chopped walnuts or any other nuts the next time I bake it. I'm sure it would be even better than the ones without nuts.

Try this recipe, click a pic and hashtag it #egglesscooking - Proudly showcase your creations on Instagram, Facebook & Twitter!