What is Egg Replacer Powder?

It is an egg substitute which is a mix of potato and tapioca starch (no corn) and some leavening agents. Yes it is vegan, gluten-free, dairy free, yeast free, soy free, corn free, nut free. Ener-G is the most popular brand. Other brands are available in the market too and contains the same ingredients more or less. Learn more about Ener-G egg replacer here.

How to use it?

Each brand comes with instructions of its own. But in general you will have to whisk 1.5 teaspoons of the powder with 2-3 tablespoons of warm water, preferably for each egg to be replaced.

Where is it available?

These days it's available in every big chain grocery stores, stores specializing in natural/organic products like Whole Foods, Trader Joe's also carry it or get it online.

How to use the commercial egg replacer?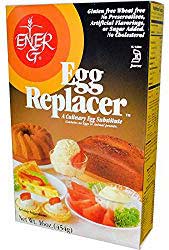 Powdered Egg Replacers are a mix of potato and tapioca starch (no corn) and some leavening agents. Some commercially available egg replacer powders are from Ener-G Foods, Bob's Red Mill, Organ, and other brands. This replacement for eggs is gluten-free too.
Whip together in a food processor or blender 1 and a half teaspoons powder and 2 tablespoons water. Sometimes 2-3 times as much powder in the same amount of water gives better results. I personally prefer Ener G Foods Egg Replacer to the other brands.
Texture/taste-wise, it is flavorless, won't affect the taste of the baked goods. Best suitable for all baked goods, especially Cookies.

Egg Replacer Recipes