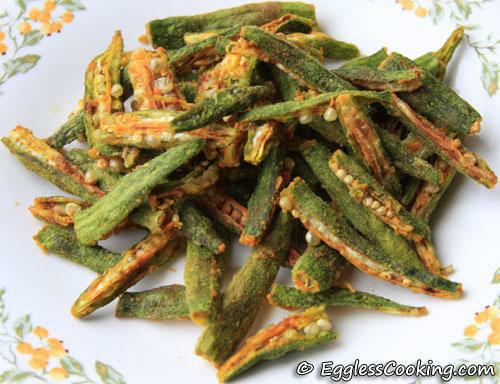 Priya has been a very enthusiastic participant in all my egg substitute events month after month. I think she has sent at least 30 entries so far. I can never match her contribution but I wanted to send at least one or two for her events.
This month she is hosting the Microwave Easy Cooking – Snack event. I really don't use the microwave oven that much. I heat water and I cook papads in it because we don't deep fry it. Initially the microwaved papads didn't suit my taste (being so used to the deep fried ones) but now have got used to it. Another little trick is I spray the appalam or the finger chips using non stick spray and then cook it for a minute in the microwave oven. This tastes really good.
I didn't know what to send for her event. Then only I remembered my mom preparing okra (ladies' finger in India) fries in the microwave oven. The original recipe is my grandmother's but she deep fries it in oil. So I decided to prepare my mom's version. I have done it with tindora (kovakkai) but not okra.
The only difficult part in this recipe is cutting the okra. You would have to cut a big batch of okra because when cooked the yield is very little. My son was relishing these fries like he would devour potato chips. It's irresistible for adults as well. I prepared this as side dish for our lunch but we snacked so much that we didn't have much to have with rice.
One disclaimer though, I don't know much about microwave oven settings. The time I have given is based on my oven. So try with small increments of time with the first batch, stir it in between and proceed further. Also note that I used 2 pounds of okra, but the measurement is given only for one batch. So use seasonings accordingly.
Who doesn't like tasty yet fat free and crunchy snacks? If you are one, then you should try this roasted chick peas recipe too the next time. You won't be disappointed.

| | | |
| --- | --- | --- |
| Fat Free Okra Fries Recipe | | |
| Prep Time | Cook Time | Makes |
| --- | --- | --- |
| 10 Mins | 10 Mins | 1 Cup |
| Author | Category | Method |
| Madhuram | Snacks/Appetizers | Baking |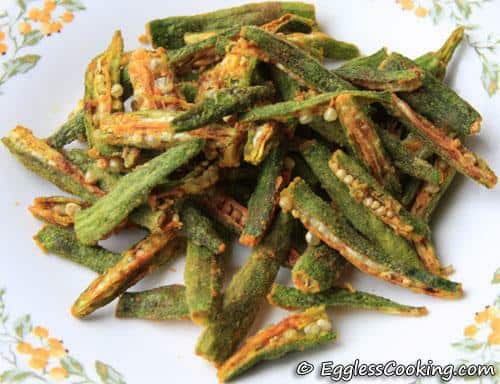 Crispy and fat free okra fries made in the microwave oven.

Ingredients:
1 and 1/2 cups

Okra, Slit Lengthwise And Then Cut Into 1 Inch Pieces

A Pinch

Turmerice Powder

1/2 teaspoon or As Per Taste

Red Chili Powder

As Per Taste

Salt

1/2 tablespoon

Besan (Chickpea Flour)

1/2 – 1 tablespoon

Rice Flour

1 – 2 teaspoons

Oil (optional)
Procedure:
Wash and dry the okra. Discard the top and bottom of the okra. Cut it lengthwise. Again split each half lengthwise. So you would have 4 finger like pieces. If the okra is big cut the pieces half midway (so 8 pieces from each okra) or use it as it is.
Transfer the okra pieces to a bowl. Add oil (if using) or sprinkle very little water so that the seasonings would stick to the okra.
Then add all the other ingredients and mix it thoroughly with your hand.
Make sure the plate in the microwave is clean and place the seasoned okra on it directly.
First I set the time for 5 minutes. Stirred it and cooked it for another 2 minutes. Be careful while stirring because the plate will be hot. Microwave oven settings vary, so chose the time considering the type of oven you are using.
From then on I increased the time by 30 seconds each time until I got the crispy texture. Don't forget to stir after every 30 seconds. I did like this thrice. Be alert or else it would get burnt.
Taste it after a standing time of 1 minute. You would be floored by the crispiness. Repeat the same for rest of the okra.
My Notes:
First I did it with oil and then tried it with water. Both taste the same if consumed immediately, but the one with water becomes a little chewy after a while.
I resisted my temptation to chow down everything to see how it fares after sometime. It stays crisp at least for 2 hours but becomes chewy later.

Try this recipe, click a pic and hashtag it #egglesscooking - Proudly showcase your creations on Instagram, Facebook & Twitter!