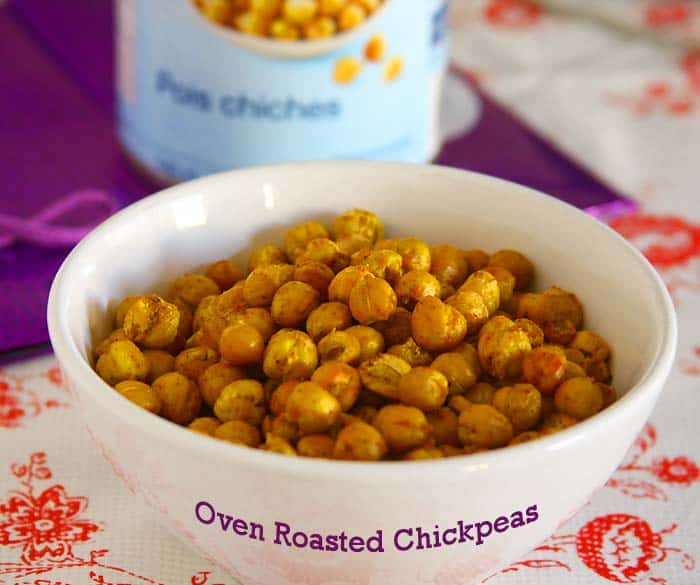 L
ong time back in one of Rachael Ray's show I saw her making roasted chickpeas by simply frying canned chickpeas on stove top and she was mentioning that it's a nice, fat-free and crispy snack. I always thought that chickpeas and green peas were deep fried in oil to get that crunchiness. I didn't know that toasted chickpeas would be has good as the deep fried ones.
I used to love these while growing up. Fried Chickpeas a.k.a. roasted garbanzo beans was my grandmother's favorite snack too but we never made it at home.
We always got it from stores. After seeing the show I also wanted to prepare the healthy roasted chickpeas but somehow did not get to it until last week. Instead of sauteeing it in a pan, I decided to roast it in the oven.
Otherwise you would have to stand nearby and keep stirring it. So I went looking for roasted chickpeas recipe. I Googled to see if somebody has already made oven roasted chickpeas and found a lot of results.
Here I thought I was the smart one, with this brilliant idea! So I was going through a lot of those roasted chickpeas recipes and found that the oven temperatures, time to roast were different in each case and the reviews of the result were also mixed.
So, I decided to follow my own method and was really surprised that it worked out very well. My kids generally like cooked chickpeas by itself, but they like these baked/roasted chickpeas no oil even better.
If you are wondering how to roast chickpeas without oil, the recipe is very simple, actually it's not a recipe at all. You have to just keep in mind the oven temperature and the time to roast it.
The amount of chickpeas you want to roast, the seasonings are truly your call. As mentioned before you can roast it in a frying pan on stove top itself.
So, finally a fat-free, oil free crispy chickpeas crunchy snack. Yes it is! It's oil-free roasted chickpeas yet with the same taste and texture as deep fried. Who doesn't like it!
This baked baked chickpeas (Garbanzo beans) is a nice snack by itself or you can use it in your salads instead of bread croutons to get that nice crunchy texture.You can also try using this roasted chick peas recipe with other cooked legumes.
Just be cautious about the oven temperature and time to roast because each legume might need alteration depending on its texture.If roasting is your favorite, then don't miss this oven roasted cauliflower and baked tofu recipe.
How to bake chickpeas without oil?
Here are the step-by-step instructions on roasting chickpeas without oil.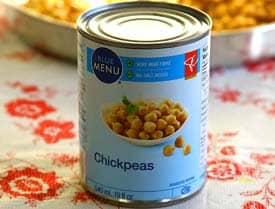 1. Take 1 Garbanzo beans can.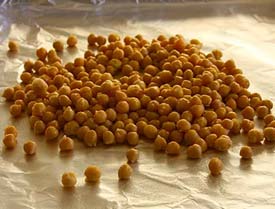 2. Spread the chickpeas on a baking sheet.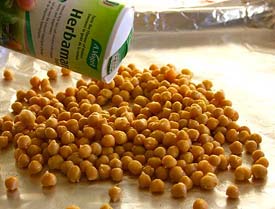 3. Add garlic powder/Herbal salt.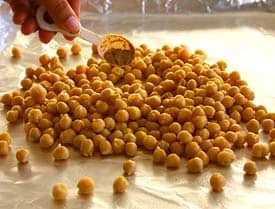 4. Add Garam masala for extra flavors.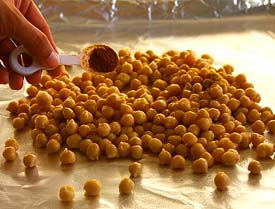 5. Add some Chilli powder as per your taste.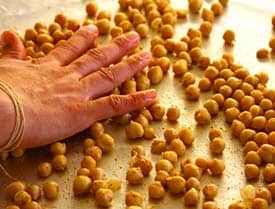 6. Mix and spread them well. Bake them for about 35-38 mins.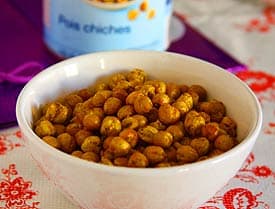 7. Crunchy, guilt-free, fat-free healthy oven-roasted chickpeas is ready!

| | | |
| --- | --- | --- |
| Oven Roasted Chickpeas Recipe | | |
| Prep Time | Cook Time | Makes |
| --- | --- | --- |
| 15 Mins | 38 Mins + 10 Mins Cooling | 5 Servings |
| Author | Category | Method |
| Madhuram | Snacks/Appetizers | Baking |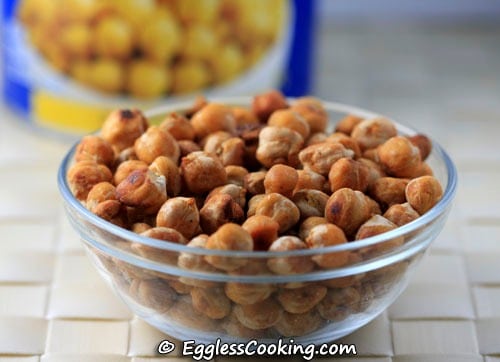 Wondering how to make oil free roasted chickpeas? No other recipe can be as simple as this oven roasted chickpeas recipe. Give a crispy makeover to the boring and mushy chickpeas by roasting it in the oven. Even kids would love this crunchy garbanzo bean snack recipe.

Ingredients:
3 and 1/2 cups

Cooked Chickpeas,

As Per Your Taste

Red Chili Powder

2 teaspoons

Garlic Powder (Optional)

As Per Your Taste

Salt
Procedure:
Here are the step by step instructions for making
roasted chickpeas
:
Preheat oven at 425F for 15 minutes.
If using canned chickpeas, open the can, drain it in a colander, rinse it with water. Dab the chickpeas with a clean kitchen towel or paper towel. Don't wipe it dry, little moisture is recommended so that the seasonings stick to the chickpeas.
Transfer the chickpeas to a large baking sheet and add the chili powder and garlic powder. I did not use salt because I was using canned chickpeas which has salt in it already. I also read in another place that adding salt initially will not quicken the process of roasting because it will release moisture. So add it after roasting or better cook the chickpeas with little salt if you are not using the canned ones.
Leave it in the oven for 35-38 minutes, stirring every 10 minutes. If you want crunchy chickpeas roast it for 38 minutes. My husband likes the crunchy-chewy texture, so 35 minutes was perfect. SO I took out some after 35 minutes and roasted the balance for another 3-4 minutes. Again keep in mind that oven temperatures vary, so check yours around 35 minutes first and then decide either to roast it further or not.
After 35 or 38 minutes, switch off the oven and leave the baking tray in the oven itself for another 10 minutes.
Fat free, guilt free roasted chickpeas are ready to be snacked on. It was so crunchy and addictive. We couldn't stop nibbling on. Anyhow I managed to save some for the next day to see if it remained crunchy even then. I stored these 'no oil roasted chickpeas' in a closed container and left it on the counter. The crunchy ones were perfect the next day too, but the chewy-crunchy ones were bit difficult to chew.
My Notes:
The only thing which I wish I done differently in this roasted chickpeas without oil was lining the baking sheet with aluminum foil. It was very difficult to get rid of the burnt chickpea marks from the sheet. (Update: See the step-by-step pictures above using the aluminum foil on the baking sheet)

Nutrition Facts
Servings: 5
Per Serving
% Daily Value*
Calories

88

Total Fat

0.7g

1%
Saturated Fat

0.2g

1%
Trans Fat

0g

Cholesterol

0mg

0%
Sodium

259mg

11%
Potassium 12mg
0%
Total Carb

14.1g

5%
Dietary Fiber

5g

20%
Sugars

1g

Protein

5.8g

Vitamin A 0% – Vitamin C 6%
Calcium 1% – Iron 7%

Try this recipe, click a pic and hashtag it #egglesscooking - Proudly showcase your creations on Instagram, Facebook & Twitter!

This recipe has been updated and republished from 2009 archives.