When I first came to know about the Jhiva for Love event, I couldn't think of anybody other than my mother and grandmother.  Amma I love you very much, but I'm going to write about avva (grandmother) here.  She is my father's mother.  She passed away last June at the age of 79.  Last year this time, I was happily describing to her about the spring blossoms here, my son's mischiefs and she was also eagerly listening to me as always.  I still can't believe that she is no more. It aches to write about her in past tense.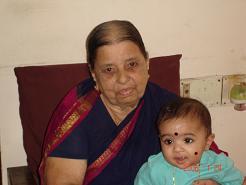 She was not orthodox and she was definitely broad minded and courageous, surprisingly for a person who was born in 1928.  The only difference we had, she was very protective of me and wouldn't allow me to go out with my friends and do the regular cool stuff.  Her rule was I shouldn't go out anywhere but all my friends, both girls and boys were welcome to our house anytime.  During the early years of my adolescence this was really frustrating.  You know how it's like right?  All your friends would go out for a movie, except you.  The next day they would discuss the previous day's happenings in detail and you will be left alone without nothing to talk.  But I did have company, one of my friend's grandparents also wouldn't allow her anywhere, so we formed a mini group within our big group and we became very close.
When I mention about my grandmother, I should definitely mention about her contemporary fashion sense.  Nobody can imagine how many dresses she used to get me, both sarees and churidhars.  She used to buy 2-4 sets at a time.  95% of the sarees I have now were bought by her.  She had such an excellent taste.  She used to select sarees for my mother too and nobody would believe that it was selected by her.  Recently she had also started giving hair cuts for my mother,  to her colleagues disbelief.  They would ask her which beauty parlor?
How can I forget to mention how skilled she was in handicrafts?  She used to do a lot of embroidery.  That's how I managed to pass the needle work subject in my school.  I was too lazy to do it and she would do it for me.  She loved working with different kinds of beads and has created masterpieces.  She used to get all worked up one month before Navarathiri (Dassera) and would start planning and creating things to keep a grand golu.  She was so creative. I definitely owe her for the little bit of creativity I have.  Did I mention that she was a very good packer?  It's no joke, she can pack so efficiently,  whether it was a small suitcase for a two days journey or any other big stuff for that matter.
Although I wish she could have lived for some more time to see my son speak fluently and converse with him, I'm happy that she had a peaceful death.  I'm really fortunate to have had a grandmother like her.  Not only that I'm also proud of my mother for being with my grandmother (her mother-in-law) all these years.  My grandmother was really fortunate to have had a daughter-in-law like her.
When I write about my relationship with my grandmother, I can't deny the fact that we (my husband and myself), are not giving that chance to my son and his grandmothers (my mother and mother-in-law).  My husband has also had his share of living with his grandparents and he cherishes those memories.  I really feel very bad about not being able to give my son that experience.   
My grandmother was also an excellent cook.  I think I have her cooking DNA in me, to some extent.  I last tasted her cooking back in 2006, when she was 78. It had not changed at all.  Her kootu (dal), sambar and koora (vegetable curry) tasted exactly the same as they tasted 20 years back.  She was especially a master in preparing sweets like lavanga latha, padhir peni and other elaborate Diwali snacks.
Out of all her recipes, 3 of them stand out, because they are simple yet tasty and unique.  It's the fire roasted tomato chutney, spring onion (scallion) and mung dal side dish for chapathis and spring onion pakoras. How I can I forget the pela pindi recipe! It's very difficult to choose a recipe but I would like to share the tomato chutney recipe here because it has become my husband's favorite too.  This chutney is a very good accompaniment for dosas and idlis.
Ingredients:
Tomatoes medium size 2-3 nos./half a can of fire roasted tomatoes.
Urad dal 2 tablespoons
Channa dal 2 tablespoons
Red chilly 1 big
Salt 1/4 teaspoon
Tamarind very little (optional)
Oil 2 teaspoons to roast the dals (preferably sesame oil)
For Tempering:
Oil 1 teaspoon (preferably sesame oil)
Mustard seeds 1 teaspoon
Procedure:
1. If you have a gas stove, roast the tomatoes over the flame directly until the skin turns black and it starts to peel. It is going to be a little messy only. Then peel off the skin and cut the tomatoes and let it cool down.  If you have an electric range like me or not interested in roasting the tomatoes over flame, you can use the canned fire roasted tomatoes instead.  I got Hunter's brand Fire roasted tomatoes diced with garlic (14.5 oz/411 gms).  In this case empty the contents of the can in a colander and drain the liquid and reserve the liquid for later use, for making rasam etc. Half a can of tomatoes is enough for the above measurement of dals.  Try to remove as much liquid as possible.
2. Meanwhile in a small saucepan add oil and after it heats add the dals and red chilly and fry until golden brown.  Transfer it to a plate and let it cool. If you use raw tamarind you can fry it with the dals.  I do not use tamarind while preparing the chutney.
3. After the dals cool, put the contents in a small mixer and pulse it a few times to get a coarse powder.  It should not be ground fine.  It should be like Idli Milagai Podi.
4. Now add the tomatoes and blend it 2-3 times until the dals and tomatoes mix together to form a chutney consistency. You can add little water at this stage if required.
5. Add another teaspoon of oil, after it heats add the mustard seeds and pour it over the chutney and mix it well.
6. Serve it with hot idlis or dosas and enjoy! 😆
This is my entry to Pratibha and Pritya's Jhiva for Love Event.