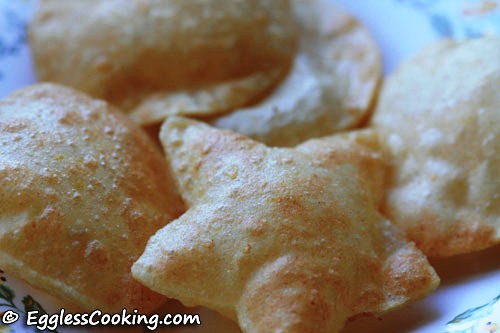 Yes, you read it right. I'm going to share my recipe for fortified poori. What does fortify mean? It means to add one or more ingredients to (a food) to increase its nutritional content. Those who have been following my posts for the past few days would know by this time that I have become a fan of The Sneaky Chef (which by the way is on sale on Amazon and I have ordered my copy yesterday). I'm finding ways to sneak healthy ingredients in my son's diet.
I have been preparing beans and lentil chapathis for long time now. But until recently it did not occur to me to follow the same method with puri also. Actually the reason is, in the past 5 years I had made pooris only once because my husband is a diet freak and I'm addicted to puris. He doesn't eat more than half a poori and I cannot limit my intake. Recently only I introduced poori to my son and guess whose gene he has inherited? Unfortunately mine! The book talks about adding white bean puree and chickpeas puree in some recipes. So I thought why not follow this in our poori recipe also.
Since I have decided to feed my son something deep fried in oil, I might as well make it a little more healthy by adding some protein and fiber rich beans. First I tried it with chickpeas and then with white beans (cannellini). Both came out very well and the pooris did not taste any different. The key here is the color of the beans. They both blend with the color of the whole wheat flour, so there is no change in the color of the pooris also, unlike the spinach pooris and tomato pooris. But I'm guessing here that kids might be interested in colorful pooris also. Usually my son finds out any different taste, but he couldn't get it this time, he was as usual eating one poori after the other, asking for more.
I also make it a point to prepare pooris only twice a month and I make it only for him. I have a very very small frying pan, which my mother got from India. It holds very little oil, so I cannot make big pooris. I roll out the dough into one big circle and cut shapes using cookie cutters. If I use a big frying pan, I'll be tempted to fry pooris for myself. It will also need more oil, than I would be frying some papads and vadams too, which I would end up eating all by myself. So this small pan is a real savior.

| | | |
| --- | --- | --- |
| Fiber & Protein Fortified Poori Recipe | | |
| Prep Time | Cook Time | Makes |
| --- | --- | --- |
| 10 Mins | 10 Mins | 24 Small Pooris |
| Author | Category | Method |
| Madhuram | Tiffins/Main-Course | Frying |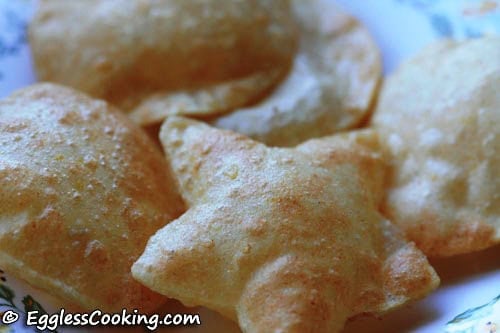 Chickpeas and white beans puree are mixed with whole wheat flour to prepare fiber and protein enriched pooris.

Ingredients:
1/4 Cup

White Beans Or Chickpeas (I Used Canned Beans)

1/2 Cup

Whole Wheat Flour

1 Teaspoon

Semolina/Rava

A Pinch

Salt

As Required

Water

As Needed

Oil (I Used Sunflower Oil) For Frying
Procedure:
If using canned beans, drain and rinse the beans first. If using dry beans, soak the beans overnight and cook it.
Heat the oil in a frying pan.
Puree the beans with little water. I used Magic Bullet's small jar. The beans should be blended thoroughly without any lumps.
Now mix the puree with the other ingredients. Add water little by little because the dough for poori should be firm, otherwise the pooris will absorb way too much oil.
By this time the oil should be hot enough.
Since I make pooris in a small frying pan, I divide the dough into 2 balls. Roll out each ball into a big thin circle and then cut out different shapes using small cookie cutters and fry them one by one.
If using a bigger pan for deep frying, you may choose to divide the dough into 6-8 medium size balls. Roll out each into a thin circle and then fry it one by one.
My Notes:
The pooris puffed up nicely. It looked exactly like pani pooris, but it did flatten after sometime. I don't know if bigger size pooris would also puff up like this because we have added beans.
The first time I made the chickpeas poori, my blender was not working. So I had to mash it with my hands and potato masher. So it did have some tiny unmashed beans and the poori became a little red in those areas. Otherwise both the pooris were white in color. So you may notice small red spots in the first picture. But this did not stop my son from eating it! The second picture is the white beans poori.
1/4 cup of chickpeas has 3.5gms fiber and 3gms protein. 1/4 cup of white beans has 3gms fiber and 3.5gms protein. Also both the beans have considerable amount of Iron and little Calcium too. If I had prepared poori with 1/2 cup of whole wheat flour alone, my son would have got only 4gms fiber and 5gms protein. Now that I have added some beans he gets additional 6.5gms nutrition.
If there is a "Five and Below" store near your place look for the book Deceptively Delecious by Jessica Seinfeld. This one is also similar to the Sneaky Chef with lots of recipes to include healthy foods in kids' meals. I got it for $5 in that store, the retail price of which is $20. Both the books have vegetarian and meat dishes, but I don't mind it because it's the methods which I'm interested and the photos are good and we can also get inspired to create our own sneaky recipes. Initially I thought of going to the copy place to make copies of necessary recipes from The Sneaky Chef and return the book to the library. But when I saw the price ($7.99 and plus free shipping if you are ordering something else, which I was going to anyway) I had to order it, because it's way more cheaper than driving to the copy place, spending another 15-20 minutes there and money.)

Try this recipe, click a pic and hashtag it #egglesscooking - Proudly showcase your creations on Instagram, Facebook & Twitter!