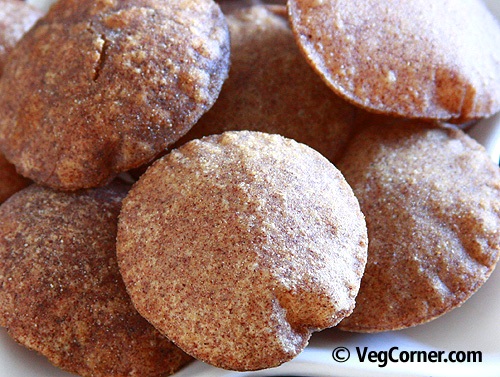 Like many babies born in India, my first solid food too was ragi/finger millet porridge thinned with milk. I think most of you would know this already; it is sprouted ragi, sun-dried and powdered along with pottukadalai (split chana dal) and with or without almonds and other nuts. My connection with ragi stopped there and I did not eat anything made with ragi or ragi flour for the next 23-24 years. After moving to US, I saw ragi flour in the Indian grocery stores and bought one packet out of curiosity without knowing what to do with it.
One day I had some leftover dosa batter which was not enough for both of us. Usually, in the circumstance, either rice flour, whole wheat flour or all purpose flour is added to the dosa batter to increase the quantity. So I decided to use some ragi flour instead and prepared dosas as usual. The shape was perfect, it came off the pan without any mess and the taste was good too but after tasting I felt that my whole body was itching. Weird right! My husband didn't feel anything like that but I had this itching for some time. I don't know if I was really allergic to ragi flour or it was psychological but that was the end of my "ragi-trying-saga". Has anyone else experienced the same?
Couple of years later I decided to give it a try once again and saw a recipe for sweet ragi dumplings in a Tamil magazine. I tried it immediately. It came out very well, tasted good and most importantly I didn't have any itching. So that's the only ragi dish I prepare always. We never used to get whole ragi n US, so I was excited to find it in the grocery stores here in Canada. These days I use sprouted ragi regularly. This New Year I have decided to try a lot of ingredients I have been avoiding all these years and I thought why not start with ragi flour. I saw this recipe for ragi pooris in the same Tamil magazine in which I saw the dumplings recipe.
The method of preparation is very simple; just mixing equal quantities of ragi flour and whole wheat flour and proceeding as usual to prepare pooris. I made it very small size pooris for my son. At first, he did not accept that it was poori, looking at the color. I had to persuade him a lot to try it. After tasting it he didn't stop asking for more. I too found that these ragi pooris tasted exactly like the regular ones. So why don't you try it too?

| Prep Time | Cook Time | Makes |
| --- | --- | --- |
| 20 Mins | 10 Mins | 15-20 small pooris |
| Author | Category | Method |
| Madhuram | Tiffins/Main-Course | Frying |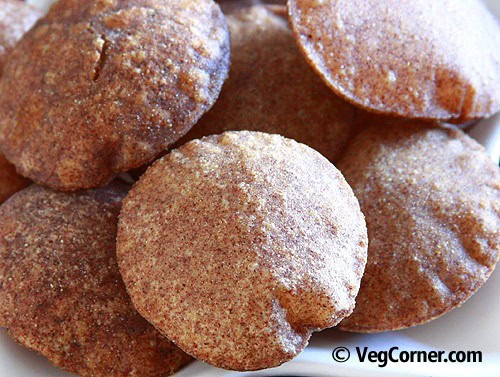 Try these ragi pooris for a change from the usual whole wheat flour pooris. These pooris have an interesting color, making it curious for both children and adults alike.

Ingredients:
Ragi Flour

1/4 Cup

Whole Wheat Flour

1/4 Cup

Salt

A Pinch

Water

1/4 Cup Approximately

Oil (I Used Sunflower Oil)

For Frying
Procedure:
We are going to deep fry the pooris and not shallow fry, so heat required an amount of oil in a frying pan. Do not set the stove at high because the pooris will redden quickly but will not be cooked properly.
Meanwhile prepare the poori dough. In a medium size, bowl mix together the ragi flour, whole wheat flour, and salt. Add water as required, little by little to form a stiff dough. Note that the dough for poori should not be soft like that of chapathis because it will absorb a lot of oil while frying. Also, pooris should be prepared immediately after preparing the dough. Unlike chapathis the dough doesn't need standing time.
You can either divide the dough into 15-20 small pieces and roll each piece of dough into thin circles or divide the entire poori dough into half. Roll each half into a big thin circle and using a small round biscuit cutter or a lid cut out small circles. Remove the scraps and re-roll it again and cut circles and keep it aside, covered.
Add a small piece of dough to the hot oil and it should fry and float on top at once; then the oil is ready. Now add one piece of rolled out dough at a time. Gently press the poori with the back of the slotted ladle and it would puff up. Flip it over and leave it for few seconds; drain out the poori and place it on a kitchen towel to absorb excess oil. Repeat the same process for the remaining pooris. Serve it hot with your favorite side dish or dip.

Try this recipe, click a pic and hashtag it #egglesscooking - Proudly showcase your creations on Instagram, Facebook & Twitter!

Another interesting poori recipe of mine: