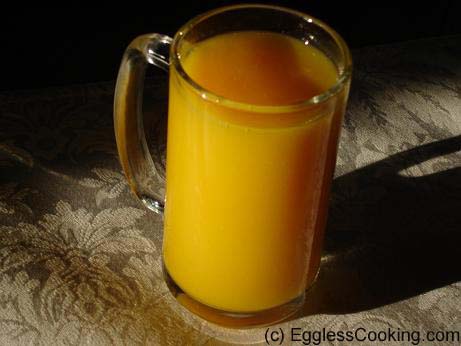 I came across a recipe for mixed fruit juice in my grocery store's magazine.  The original recipe called for fresh/frozen mangoes, fresh/canned pineapples, and freshly squeezed orange juice.  Since I had mango pulp which I got from the Indian store and orange juice in hand I thought I could use them instead and get canned pineapples alone.
Ingredients:
Mango pulp – 1 cup
Canned pineapple chunks in juice – 1 can (20 ounce)
Orange Juice – 1 cup
The measurements really don't matter, you can change the ratio as you wish.
Procedure:
Empty the canned pineapple with its juice in a blender and blend it smooth.  Then add the mango pulp and orange juice and blend it once again.  That's it.  The fruit cocktail is ready!  The juice tasted very good but the flavor of mango was dominant.  I personally like mango juice very much, but if you don't like it you can decrease the quantity of mango pulp.