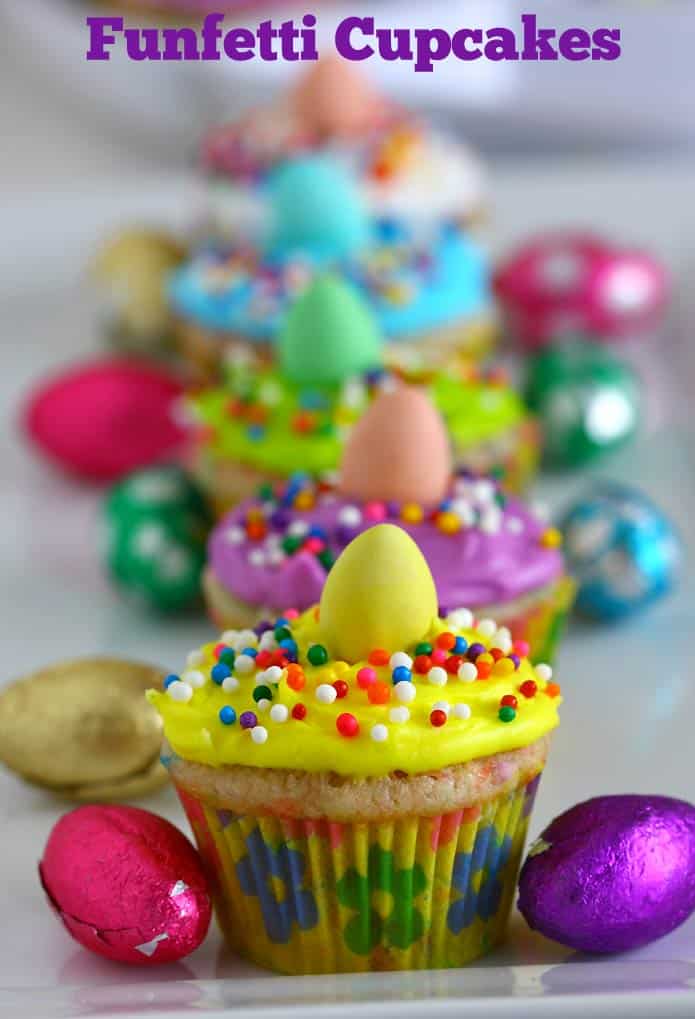 My eldest son's class was having a potluck party yesterday and you know me, I did choose to send dessert, of course! Duh! Is there any surprise in it! What screams celebration more than confetti! So eggless and nut-free funfetti cupcakes was it!
I have always seen confetti cake mix in the baking aisle of grocery stores and thought that I have to make these because it looks so cute. Have also wondered if making funfetti cupcakes from scratch was a huge task. Decided to try it for myself this time.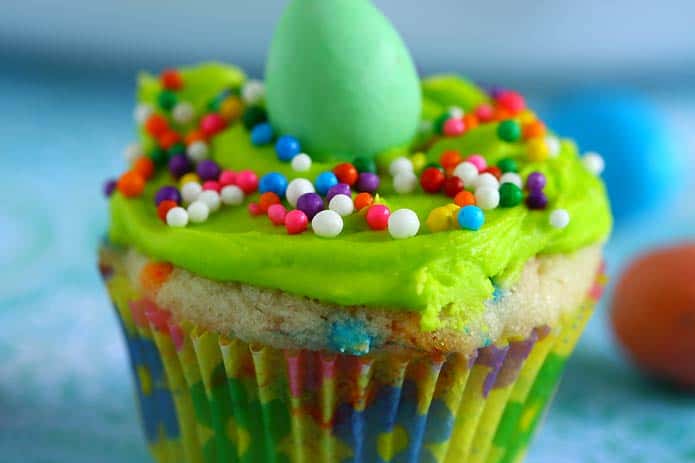 My kids loved the confetti cookies I made last Christmas and was sure that all the kids would love the funfetti cupcakes.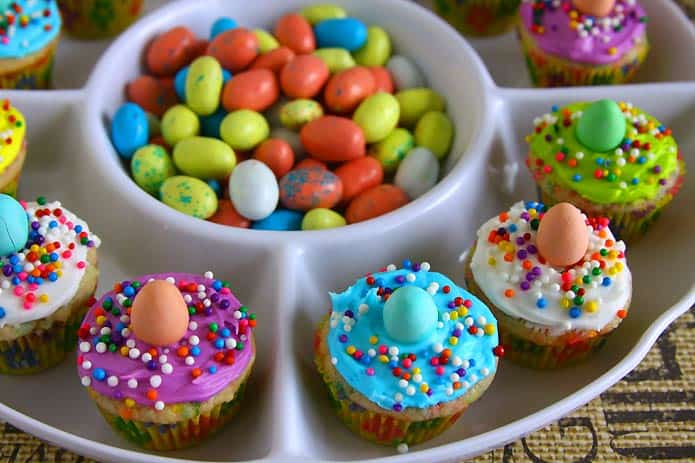 Found in Pinterest the best confetti cupcake recipe and made it egg free. The original recipe looked pretty easy. Initially I wanted to use my winning egg substitute combo of silken tofu and yogurt, like I did it in this eggless blueberry pound cake recipe but couldn't get to it.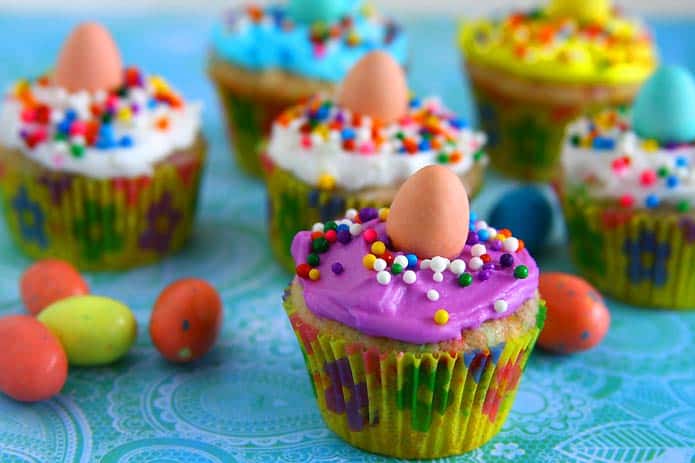 That's when I decided to try it with just yogurt because I have tried this eggless vanilla cake recipe using yogurt as egg substitute and it came out well.
The original recipe was for 12 regular sized confetti cupcakes. I did not want to make it regular sized because sometimes it might be too much for the kids especially when there was going to be lot of food. That's when I thought that baking it as funfetti mini cupcakes would be the better option.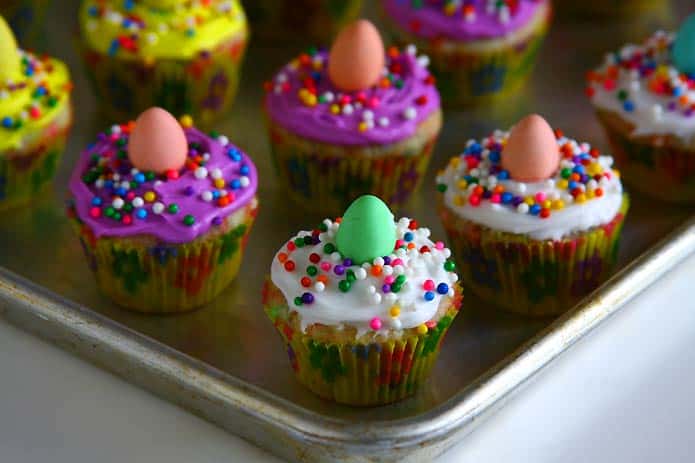 The verdict was, the kids loved it absolutely. It seems they wanted me to try homemade cupcake recipes like this for their next potluck too. So here I present not only an easy confetti cupcake recipe but also the best funfetti cupcake recipe!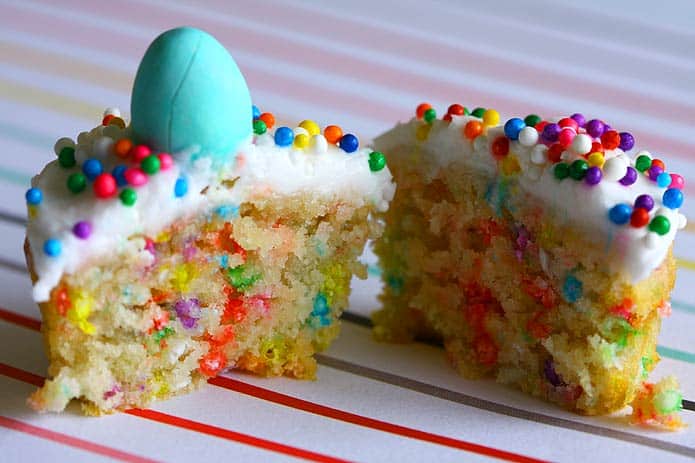 | Prep Time | Cook Time | Makes |
| --- | --- | --- |
| 30 Mins | 11 Mins/batch | 55 Mini Cupcakes |
| Author | Category | Method |
| Madhuram | Cupcakes | Baking |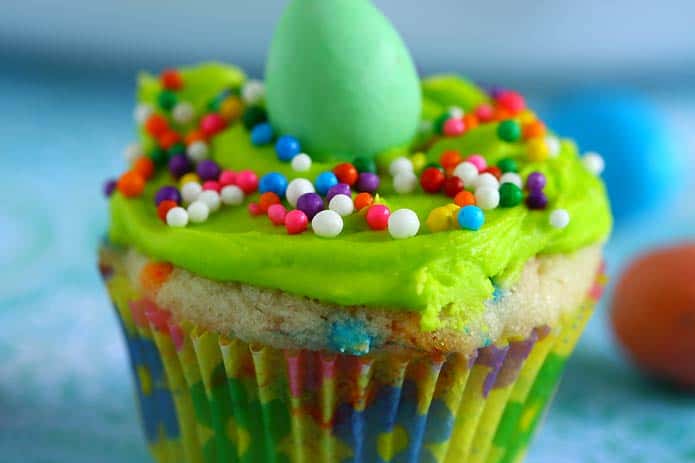 Baking funfetti cupcakes from scratch is not at all difficult. Trust me. It's as simple as baking vanilla cupcakes. You do not have to buy funfetti cake mix to make these cute cupcakes. The beauty is you can choose to use different kinds of sprinkles to suit the occasion and dress it up accordingly.

Part 1:
1 cup

unsalted butter, softened

1 and 3/4 cups

white sugar (See My Notes)

2/3 cup

plain yogurt

1/3 cup

water

1 and 1/2 tablespoons

vanilla extract

1 teaspoon

apple cider vinegar
Part 2:
3 cups

all-purpose flour

2 teaspoon

baking powder

1/8 teaspoon

salt
Part 3:
2/3 cup

milk (I used 2% dairy)
Add-ons:
2/3 cup

confetti sprinkles

As Needed

Mini chocolate eggs (optional)
Procedure:
Preheat oven until it reaches 350F/180C. Line mini muffin tins with paper liners.
In a medium size bowl sift together the flour, baking powder and salt; set aside.
In a large bowl beat together the butter and sugar until it's smooth and creamy.
Add the yogurt, water, vanilla extract and vinegar and beat well again. The mixture will look curdled but no need to worry.
Now stir in half the quantity of flour mix to the creamed butter mixture and mix well. Now add the milk and stir together. Then add the remaining flour and mix well.
This cupcake batter is quite thick. Not very runny like some of the other cake/cupcake batters. It is okay. Now stir in the sprinkles.
Fill each muffin cup with about a tablespoon of the batter and bake it for 10-11 minutes or until a toothpick inserted comes out clean. A little crumble sticking to the toothpick should be fine too, as long as you don't see the uncooked batter sticking to it.
Removed the pan from the oven and place it on a wire rack for about 5-10 minutes. Then, take the cupcakes out and let it cool completely on the wire rack before you can frost it. Repeat the same for the remaining batter.
Frosting:
Use any frosting recipe of your choice or this Vegan Buttercream Frosting recipe (Of course with any vegan butter alternative or butter itself. Please avoid shortening). Then divide it among a couple of bowls and tint with food colors if using. Frost the cupcakes and top it with some more sprinkles. I pressed down a mini chocolate egg to make it Easter themed.
My Notes:
The original recipe had used 2 cups of sugar. I always think that most of the baking recipes have way too much sugar than what is needed. So I try to cut down about 1/4 cup at the most. That's what I did in this funfetti cupcake recipe too, especially that I was going to frost it. I didn't want the kids to become hyper after consuming a lot of sugary treats. But I felt that maybe I should have just gone with the 2 cups sugar. We were okay with it because we prefer eating less sweeter baked treats. I'm thinking maybe others might not be like us. The kids did enjoy it though as my son tells.
I have used the yogurt and water to replace 4 eggs. I wanted to use my tested egg substitute combo of pureed silken tofu and yogurt for this confetti cupcakes without eggs recipe, but couldn't do so. The silken tofu had frozen and hence add to use just yogurt. But no issues with it. The funfetti mini cupcakes did turn out great.
I baked my first batch for 13 minutes and felt that the texture would have been even better if I took it out a minute or two earlier. So that's what I did for the subsequent batches. 11 minutes worked out great for me. Test bake and see because each oven can be different.
I got 55 cupcakes for this measurement. If you want to bake it as regular sized cupcakes, I think it will yield about 24-30 cupcakes approximately.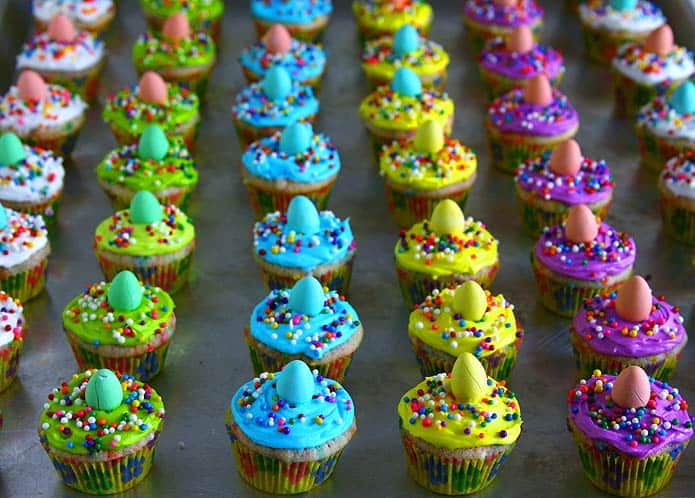 Try this recipe, click a pic and hashtag it #egglesscooking - Proudly showcase your creations on Instagram, Facebook & Twitter!