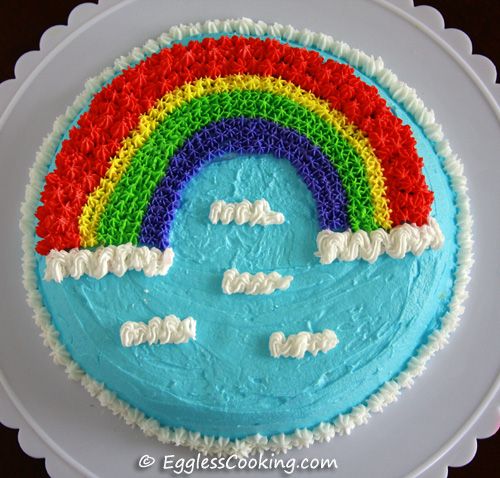 This is the picture of the first cake I decorated in Course 1 of Wilton's Cake Decorating Courses. You can see that I need a lot of practice, but I'm sure that it will also give you (beginners) the confidence that it's easy and you can definitely do it.
I have been receiving a couple of mails since my earlier post on cake decoration, requesting me to update more information on how-to's. The hardest part for me now is to give all the necessary information in an organized manner to the followers of this series. I feel that compiling this series is going to be difficult than actually taking the course and decorating the cakes.
I would say that the easiest thing to do is to enroll for the classes if it's nearby your place and if you have the time for it. It's a very nice experience. If not, check www.wilton.com. They have a lot of pictures, videos and tips etc. The only drawback is it's a lot of information to take and without direction it's difficult to follow. So I'll provide some links here, following the course's pattern. So it would be like you are taking an online class.
What happens in the first day of Course 1? A student manual is handed over to all the students. It has the recipe for Buttercream Icing, information about the tools you will be using, the designs you will be working on in the 1st course and a lot of other stuff. This book is available only for those who are attending the class. Then instructor gives general tips about baking a cake, how to level it, torte it, fill it and frost it. She brings a cake and shows you how it is done. I'm going to do a pictorial post on this topic shortly. Until then watch this video.
So you will not be requiring any materials for the first class, but you will be needing a whole bunch of stuff from the second class onwards. Now is the time for decision making. What are you going to buy? This purely depends on the level of interest you have. Are you going to bake and decorate just 3 cakes in a year or are you thinking of making it a career. If you fall in the first category or cannot decide which, I would suggest you to buy Wilton's Course 1 Student Cake Decorating Kit available in Michael's and other cake decorating supplies stores.
It will have the basic tools you would be requiring to use in Course 1. If you are very serious about cake decorating then go for the 101 Piece Tool Caddy Collection. Actually I bought the set thinking that it will be having the materials for course 2 too, but it didn't. So I had to buy Course 2 kit separately. So I think it's advisable to get the appropriate course kit as and when you are enrolling. Empty tool caddies are available too. So later you can buy that and fill it up with materials you got with the kits.
The Course 1 kit comes with a flower nail no.7, tip brush, standard couplers (2), decorator brush, featherweight decorating bags (2), disposable decorating bag (1), tips 3, 12, 16, 21, 104, 67 and 2D, a small straight spatula and a practice board set.
Now that you have decided what to buy, you would have to bake a cake, torte it, fill it and frost it and take it to the 2nd class. Recipe for eggless buttercream icing. You would be practicing with tips 16, 3 and 2010. Tip 2010 is not included in the kit, so you would have to buy it. In this rainbow cake I have used only tip 16 for the stars (in the rainbow) as well as the clouds.
Check this video to know how to fill a decorating bag:
Watch the following video to see how to work with tip 16 to make stars
Check here to see how to use tip 16 to make clouds.
Check here to see how to transfer the rainbow pattern on the cake.
Medium consistency icing is used for both the stars and clouds. If you decide to get the tips alone, practice on a vegetable cutting board or plastic sheet or an inverted cake pan. Tips 3 and 12 are also used apart from tip 16 in the first class. Check the following links to start using those tips.
Dots
Outline
Print Writing
Script Writing
Rose Base
Now shall we go to the recipe for eggless vanilla cake I have used here? I think that I have found 2 perfect eggless chocolate cake recipes. One is the eggless chocolate cake with silken tofu and the other one is the vegan chocolate cake using vinegar. I hadn't tried my hands on egg free vanilla/white cake. Now I'm in the search of a perfect recipe for that too. (So if anyone has such a recipe please let me know). Since I was short on time, I decided to bake a vanilla cake using cake mix. I bought an organic cake mix because we can definitely identify all the ingredients in the list unlike the other cake mixes which has a lot of unidentifiable chemical names and sometimes animal fat too. I had a lot of sour yogurt in the fridge, so I used it as egg substitute. I used 3/4th cup of yogurt in place of 3 large eggs.

| | | |
| --- | --- | --- |
| Eggless Vanilla Cake Recipe | | |
| Prep Time | Cook Time | Makes |
| --- | --- | --- |
| 15 Mins | 25 Mins | One 8-inch Cake & 6 Regular Size Cupcakes. |
| Author | Category | Method |
| Madhuram | Cakes | Baking |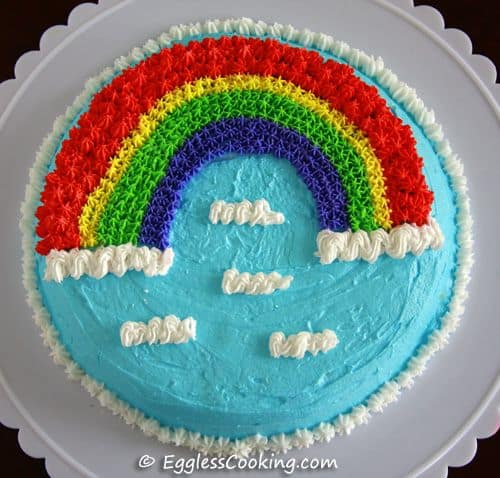 Simple eggless vanilla cake using cake mix.

Ingredients:
1 pack

Organic Vanilla Cake Mix (I used Organics Biologique 460g)

1/2 cup

Milk

3/4 cup

Yogurt

2/3 cup

Vegetable Oil

1 teaspoon

Vanilla Extract
Procedure:
Preheat oven to 350F/180C for metal pans and 325F for dark non-stick pans. Line an 8-inch cake pan and a muffin tin with parchment paper and paper liners.
In a large bowl blend cake mix, yogurt, milk and oil at low speed until moistened.
Beat at medium-high speed for 2 minutes. Scrape bottom and sides of bowl. Continue beating at medium-high speed for 2 minutes. Pour batter into the prepared pans.
Bake according to the instructions give in the pack. Mine was done in 25 minutes. The cupcakes even sooner. Cake is one when toothpick inserted in centre comes out clean.
Cool in pans on rack for 10 minutes. Remove from pans and cool completely before frosting.
Taste:
The cake came out very good but I felt that it was very sweet. It had a nice airy texture. Since the cake was very sweet, I reduced the quantity of sugar while preparing the buttercream icing. The cake was perfect together with the icing.
Has my search ended for the best egg free vanilla cake? No. This cake was good, especially very easy to put together and simple procedure. Still, I'm going to keep looking.

Try this recipe, click a pic and hashtag it #egglesscooking - Proudly showcase your creations on Instagram, Facebook & Twitter!