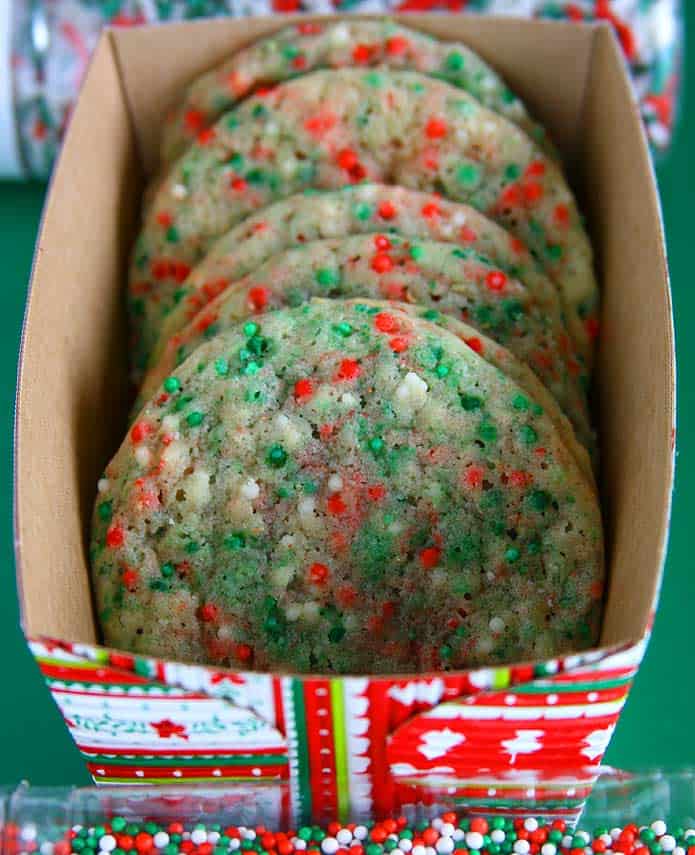 Merry Christmas friends! Hope most of you are busy with Christmas brunch. I wanted to post this recipe for easy Christmas confetti cookies aka funfetti cookies yesterday itself, but sadly couldn't get to it. Hope you were able to select recipes for this year's cookie swap from the Christmas Baking Recipes page.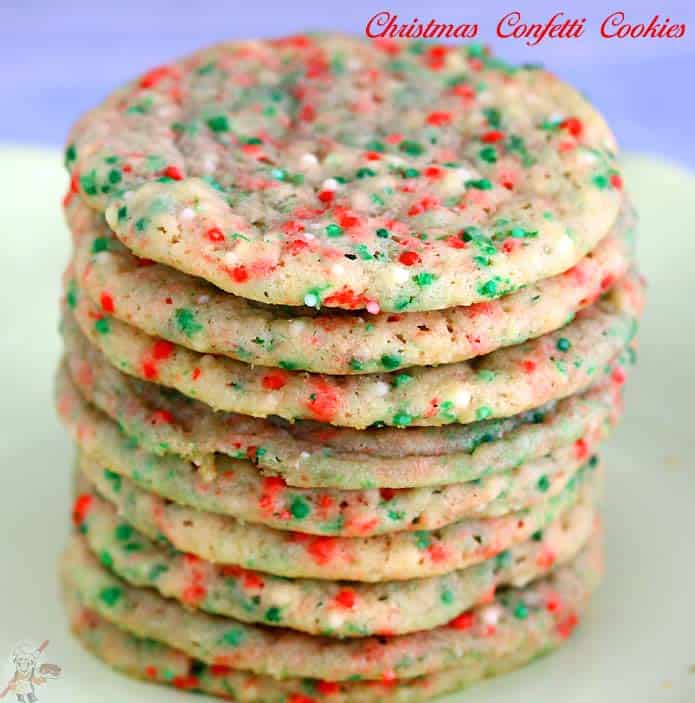 Not a big deal though because these Christmas confetti cookies are so easy to bake that you don't need a lot of prep work except 2 hours of chilling time in the fridge. The original recipe is from here. As usual made changes to make it egg free. If you are seeing the recipe now, you can simply whip up the dough in 15 minutes put it in the fridge and bake it in the evening.
This Christmas confetti cookie recipe is very versatile. You can dress it up with different colored sprinkles as per your wish for the special occasion of your choice. Being Christmas we are using red and green sprinkles today. You could use red and white sprinkles for Valentine's Day, green sprinkles for St. Patrick's Day, multicolored for Easter, orange and black for Halloween and so on.
These funfetti cookies and red velvet chocolate chip cookies are packed and ready for gifting!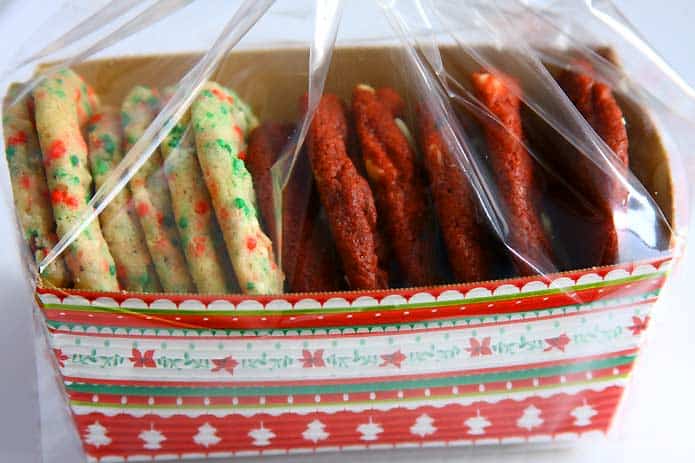 I didn't have the stick like sprinkles and had to use the small ball type ones for these funfetti cookies. I think the stick ones are preferable because it won't require a lot and hoping that the color won't bleed like the ball ones while mixing.

| | | |
| --- | --- | --- |
| Christmas Confetti Cookies Recipe | | |
| Prep Time | Cook Time | Makes |
| --- | --- | --- |
| 15 Mins + 2 Hr Chilling | 08 Mins | 20-22 Cookies |
| Author | Category | Method |
| Madhuram | Cookies | Baking |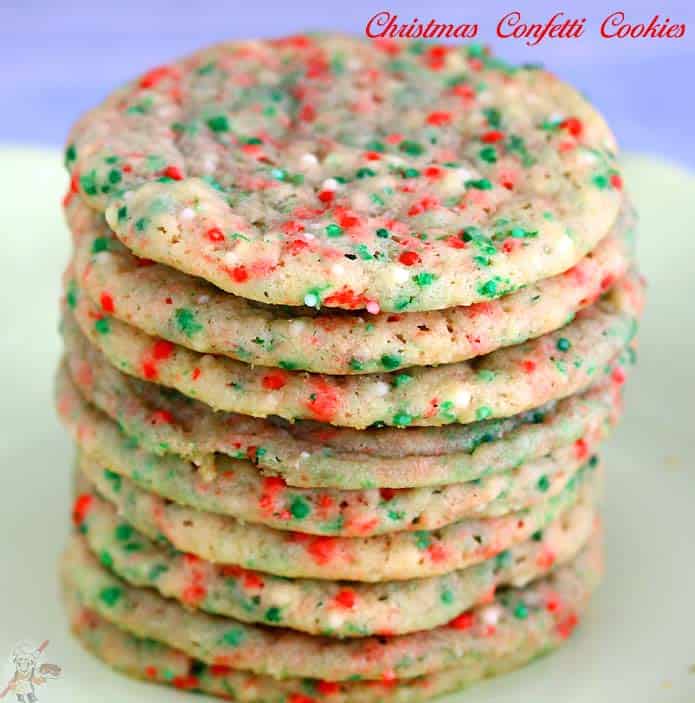 Easy Christmas Confetti Cookies
4.0

from

1

reviews
You can't have enough cookie recipes this time of the year. These Christmas confetti cookies recipe is a must have one because of it's simplicity and versatility. Use your imagination to use different types of sprinkles to make it perfect for the occasion.

Ingredients:
1/2 cup

unsalted butter, softened

3/4 cup

granulated white sugar

1 and 1/2 teaspoons

Ener-G egg replacer

3 tablespoons

water

1 and 1/2 teaspoons

vanilla extract

1 and 1/2 cups

all-purpose flour

2 teaspoons

cornstarch

1/2 teaspoon

baking soda

a pinch

salt

1/2 to 3/4 cup

sprinkles
Procedure:
In a bowl sift together the flour, cornstarch, baking soda, salt and keep it aside.
In another large bowl beat together the butter and sugar until smooth. It will look a bit dry. Now add Ener-G, water and vanilla extract and beat well again until it's light and fluffy, for at least 5-7 minutes.
Now stir in the flour mix and combine well. Also include the sprinkles. Mix everything well enough. The dough will be sticky. You cannot bake it immediately. The dough has to be chilled for at least 2 hours before you can bake it. (More about this in My Notes)
After about 2 hours remove the dough from the fridge. Leave it at room temperature for about 10-15 minutes so that you will be able to scoop out the dough. Use about a tablespoon of dough for each cookie. Place it on a lightly greased cookie sheet and flatten in very lightly. (See My Notes)
Meanwhile preheat the oven at 350F/180C.
Once the cookies are ready on the sheet put it in the oven and bake it exactly for 8-9 minutes. Definitely not more than.
Remove the cookie sheet from the oven and let it cool on a wire rack for about 10 minutes for it to set completely. Then transfer the cookies from the sheet to the wire rack for it to cool completely before you can store it in an air-tight container.
My Notes:
Like I always suggest, please do a test bake before baking all the cookies so that you will know how much it spreads, if your baking time is less or more etc. I forgot this myself and was over confident and put all the cookies at once and ended up getting flat cookies. I guess I flattened the dough too much or maybe I shouldn't have even flattened it. Just scooped out the dough and baked it as it is and it would have spread perfectly. No issues with the taste though. So just try it with one or two cookies first, decide accordingly and bake the rest.
The original recipe the author had suggested to scoop out the dough, flatten it slightly and then chill it in the refrigerator. I don't know whether if I had done that it would have turned out as picture perfect as the original recipe. So you may want to try that too.

Try this recipe, click a pic and hashtag it #egglesscooking - Proudly showcase your creations on Instagram, Facebook & Twitter!