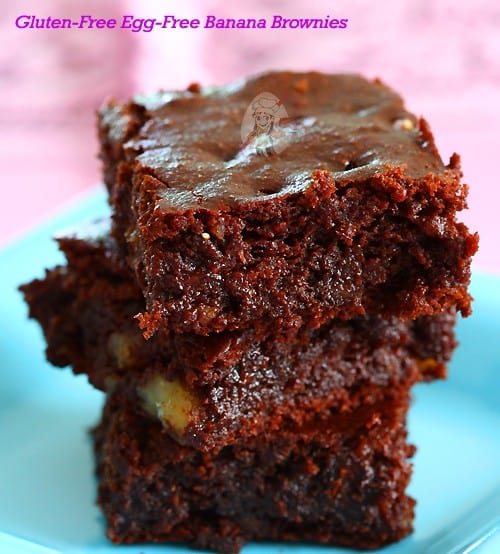 Off late I'm getting a lot of requests for gluten-free, egg free baking recipes. Earlier this summer I tried to bake gluten-free but I was not pleased with the results. I realized that baking gluten-free and egg free is quite a task.
It also finally dawned to me that I should be trying less challenging recipes like brownies and cookies instead of cakes and muffins, because brownies don't have to rise like the latter and so using gluten-free flours, should not be much of an issue.
I set out to make gluten-free brownies also because my eldest son has been asking for it for quite some time now.
I had bought a packet of all-purpose, gluten-free baking mix from Costco. It's a combination of rice flour, potato/cornstarch, tapioca flour and xanathan gum. More about it in another post. I was in a dilemma to choose between that mix and a variety of gluten-free flours I have stocked from the Indian grocery store like ragi (finger millet) flour, buckwheat flour, amaranth flour (rajgaro flour), bajra (black millet flour).
Since I was baking brownies and because it doesn't need to rise a lot I decided to use amaranth flour. I'm so glad that I took a leap of faith because the brownies turned out awesome. I chose the chocolate chunk banana brownies recipe from the book Canada's 150 Best Diabetes Desserts and made changes to make it gluten-free and egg free.

| | | |
| --- | --- | --- |
| Gluten-Free and Egg Free Brownies Recipe | | |
| Prep Time | Cook Time | Makes |
| --- | --- | --- |
| 20 Mins | 26 Mins | 16 Brownies |
| Author | Category | Method |
| Madhuram | Brownies | Baking |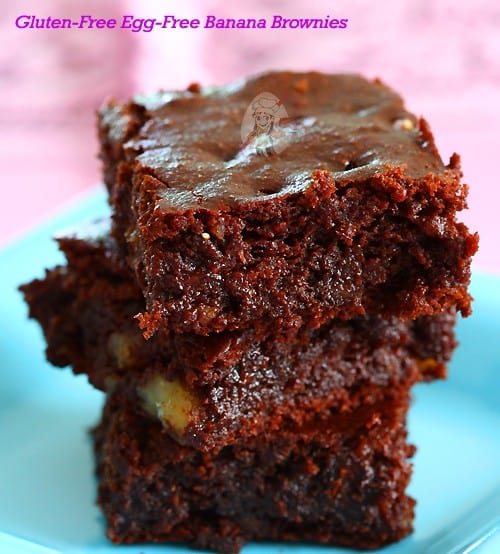 Use any gluten-free flour you have in your pantry to make these decadent and delicious brownies at home.

Ingredients:
1/2 cup

coconut palm sugar

3 tablespoons

avocado oil

1/4 cup

plain yogurt

1

banana, mashed

6 tablespoons

unsweetened cocoa powder

1 teaspoon

vanilla extract

1/2 cup

amaranth flour

3/4 teaspoon

baking powder

1/4 teaspoon

baking soda

1/8 teaspoon

salt

3 tablespoons

mini chocolate chips

1/4 cup

chopped walnuts

2 tablespoons

water (optional)
Substitutes:
coconut palm sugar – white or brown sugar
avocado oil – any other oil of your choice
yogurt – unsweetened applesauce or flax seed meal
amaranth flour – any other flour of your choice
Procedure:
Preheat the oven to 350F/180C for 15 minutes. Line a 9-inch square pan with aluminum foil with the foil hanging on two sides of the pan (so that you can lift the brownie easily off the pan once it is baked) and grease it lightly with non-stick cooking spray.
In a large bowl, beat sugar, oil and yogurt using an electric mixer for about 2 minutes.
Add the mashed banana, vanilla extract and cocoa powder and beat on low speed.
In a small bowl, stir together the flour, baking powder, baking soda and salt. Add to the cocoa mixture and stir it well with a spatula to mix well. If you feel the batter is too thick add water one tablespoon at a time until the desired consistency is reached.
Stir in chocolate chips and chopped walnuts. Spread the batter evenly in prepared pan.
Bake in the oven until just set, 23-26 minutes. Leave the pan on a cooling rack for about 5 minutes. Now that we have left the aluminum foil hanging, you should be able to lift it off without any trouble. Cool it for another 20-30 minutes before you can cut it into slices.
My Notes:
As always make sure that all the ingredients you use is gluten-free if you are baking it for somebody who is severely allergic. Be it the baking powder, flour or chocolate chips.
This is a very chocolaty brownie. So you may want to cut back the cocoa powder to 5 tablespoons maybe if you want it less chocolaty.
Amaranth flour is available in Indian stores as Rajgaro/rajgira flour.
I used Greek yogurt which is thicker than regular yogurt. So I had to use 2 tablespoons of water to the batter at the end to make it less thicker. This may not be required if you use regular yogurt.
These brownies can very well be veganized by using flax seed meal or unsweetened applesauce as an egg substitute instead of yogurt. In that case I would be blending a tablespoon of flax seed meal with 3 tablespoons of lukewarm water until its thick and foamy.
This recipe can be doubled. Use a 13×9 inch pan and bake it for 25-30 minutes. You can get 24-36 brownies approximately.

Try this recipe, click a pic and hashtag it #egglesscooking - Proudly showcase your creations on Instagram, Facebook & Twitter!