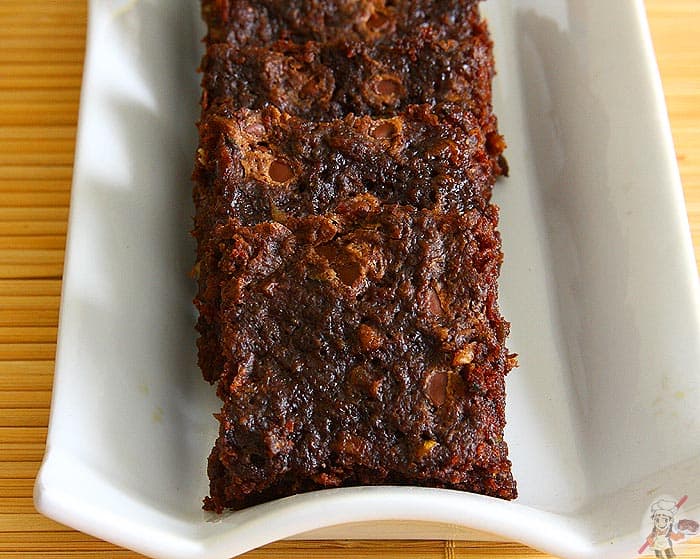 I usually bake a decadent cake for New Year's Day. Last year was this eggless black forest cake. This year, I wanted to bake a plain vanilla flavor cake because my husband doesn't like any chocolate flavor or add-ons to the batter.
He actually wanted me to bake the eggless vanilla cake. I have made that cake so many times, so I wanted to bake something new, which would mean that I could blog about a new recipe.
I had been eyeing a buttermilk pound cake recipe for a long time, and I thought of giving it a shot. I used my fail-proof tofu-yogurt combination to substitute for the eggs in a cake recipe which I found accidentally while making this eggless strawberry cream cake. Unfortunately, the pound cake didn't turn out as perfect as I expected. The taste was perfect, but the cake was quite dense, and the cake sank in the middle.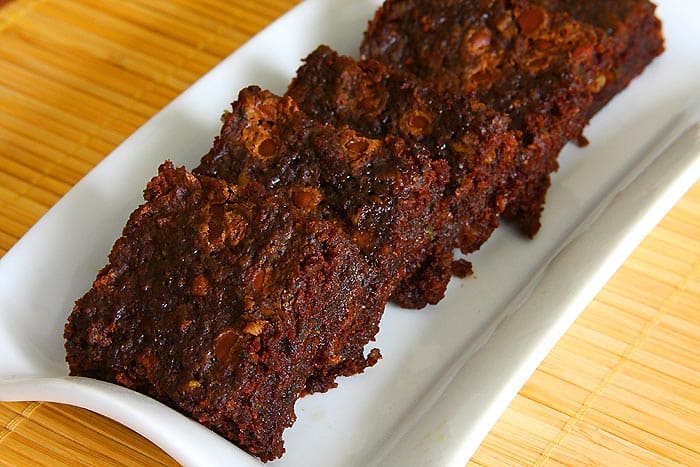 I guess with a lot of butter in the recipe, the weight of the yogurt and tofu also didn't do much of a favor. The cake was not blog-worthy but definitely tasty, and everyone is happily eating it. So I'm not too disappointed.
I didn't want this to break my streak of baking something for New Year's Day but I didn't have much time to bake another cake. Either I didn't have the ingredients, or the recipes looked like it will take a long time to finish the task.
So I decided to go with a brownie recipe because my mom had been asking for one, and I thought of baking it for her birthday in the next couple of days. So, given the time constraint, I just went ahead to bake some brownies.
Brownies are pretty forgiving and low-maintenance recipes. Almost nothing can go wrong because it doesn't have to rise like a cake, be light and airy like a cake, with the chocolate and nuts, it will taste good no matter what, unless you are brownie police and expect to have a particular texture. And it's easy to make, too, especially in time crunch moments like this.
I have a couple of brownie recipes in the blog already but zucchini brownie recipe was missing in the collection.
I went through a couple of brownie recipes online and the ones in my blog and came up with this version of the eggless chocolate zucchini brownie recipe. I had some tofu leftover from the pack I used to make the pound cake. So for this brownie recipe, I used a combination of tofu and yogurt as egg substitutes.
I'm happy to share that these zucchini brownies turned out excellent, unlike the pound cake, which was not as good as I expected it to be.

| | | |
| --- | --- | --- |
| Eggless Chocolate Zucchini Brownies Recipe | | |
| Prep Time | Cook Time | Makes |
| --- | --- | --- |
| 20 Mins | 35 Mins | 24 Brownies |
| Author | Category | Method |
| Madhuram | Brownies | Baking |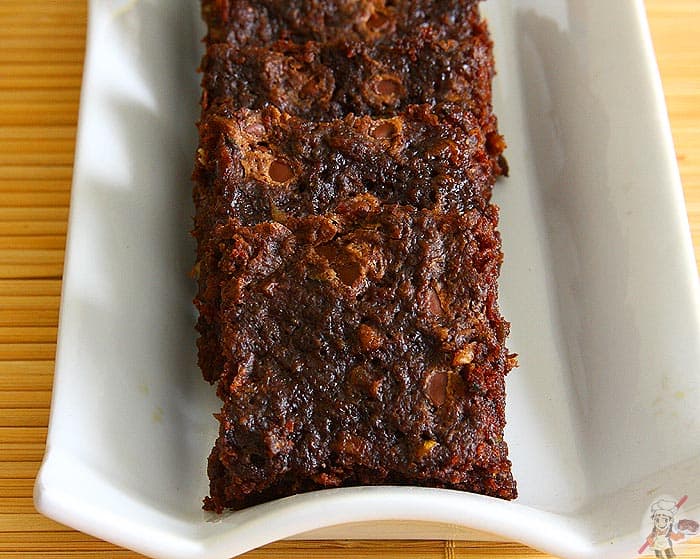 Want to bake a quick dessert? Then this eggless chocolate zucchini recipe will fit the bill. Of course, who wouldn't like moist and decadent brownies!

Ingredients:
Part 1:

1 cup

unsalted butter, softened

2 cups

granulated sugar

1/2 cup

tofu (silken or soft) pureed

1/2 cup

plain yogurt

1 teaspoon

vanilla extract

Part 2:

1 and 1/2 cups

all-purpose flour

3/4 cup

unsweetened cocoa powder

1/2 teaspoon

baking soda

1/2 teaspoon

salt

Part 3:

2 cups

grated zucchini

1 cup

chopped walnuts

1/2 cup

mini semi-sweet chocolate chips

Procedure:

Preheat oven to 350F/180C for 15 minutes. Line a 13×9 inch pan with aluminum foil and lightly grease it with non-stick cooking spray.
In a large bowl, cream together the butter and sugar until light and creamy. Add the tofu, yogurt, and vanilla extract; beat well.
To the creamed mixture sift in the dry ingredients listed in Part 2. Mix well with a spatula.
Now stir in the zucchini and all other add ons that you want to include and mix well.
Pour the brownie batter onto the prepared pan and bake for 30-35 minutes or until a toothpick inserted in the middle comes clean. If you want moist, chewy brownies you can take them out of the oven between30-35 minutes. If you want cake-like brownies you can bake them a little longer.
Lift the brownie from the pan using the aluminum foil and place it on a wire rack to cool completely before slicing.

Taste:

These chocolate zucchini brownies are quite moist and we love that. The sweetness was perfect and of course, the walnuts gave a very good texture to the brownies and so did the chocolate chips.

My Notes:

I did not drain the zucchini off the water. Just added it directly after grating it. I felt the batter was quite thick and that was the reason I didn't do the extra step of draining the water from the zucchini. But after it was done baking and looking at the texture I guess maybe some people might prefer it having less sticky so squeezing the water from the zucchini could be a good idea. I will probably try it the next time to see if I notice any big difference in the texture.

Nutrition Facts

Eggless Chocolate Zucchini Brownies

Amount Per Serving

% Daily Value*

Potassium 115mg2%

Total Carbohydrates

22.4g

8%

* Percent Daily Values are based on a 2000 calorie diet.

Try this recipe, click a pic and hashtag it #egglesscooking - Proudly showcase your creations on Instagram, Facebook & Twitter!