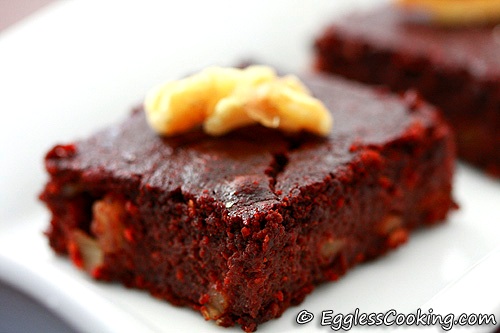 I came across few beet brownies and beet chocolate cake recipes a few days ago. I had a cup of pureed beets in the freezer and wanted to use it up and since it's been a while since I made brownies, beet brownies it was.
So I was browsing through one of my favorite books "Deceptively Delicious", and my eyes fell on the brownies recipe. It used 1/2 cup each carrot puree and spinach puree. I thought why not use the 1 cup of beet puree instead. I'm glad that I tried this beet brownies because it turned out very tasty. Pumpkin puree and sweet pototo puree are very good alternatives too.

| | | |
| --- | --- | --- |
| Oat Flour and Beet Brownies Recipe | | |
| Prep Time | Cook Time | Makes |
| --- | --- | --- |
| 15 Mins | 40 Mins | 16 Pieces |
| Author | Category | Method |
| Madhuram | Brownies | Baking |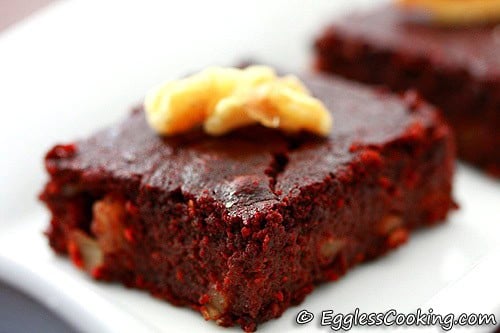 Want to make healthy brownies without compromising the taste? These egg free, oat flour brownies loaded with beet puree just does it. Pumpkin puree or sweet potato puree works fine too.

Ingredients:
3 ounces

Semisweet or Bittersweet Chocolate

1 cup

Beet Puree

1/2 cup

Light/Dark Brown Sugar, firmly packed

1/4 cup

Unsweetened Cocoa Powder

2 tablespoons

Soft Tub Margarine Spread (I used Becel)

2 teaspoons

Vanilla Extract

1/4 cup

Unsweetened Applesauce

3/4 cup

Oat Flour

3/4 teaspoon

Baking Powder

1/2 cup

Walnuts, chopped (optional)

1/2 teaspoon

Salt
Procedure:
Preheat the oven to 350F for 15 minutes. Coat an 8-inch square pan with cooking spray. For brownies I line the pan with aluminum foil and grease it with cooking spray, so cutting it is easy and also we can get perfect squares.
Melt the chocolate in a double boiler or over a very low flame. I melted the chocolate in the microwave oven, in a medium-size bowl. Take care while doing so or else the chocolate will get burnt. So increase the time little by little. Stir it well, it should be smooth.
In the same bowl, combine the beet puree, sugar, cocoa powder, margarine, vanilla, and unsweetened applesauce and whisk it well. This mixture should be smooth and creamy.
Stir in the oat flour, baking powder, chopped walnuts and salt with a wooden spoon.
Pour the batter into the prepared pan and baked 35-40 minutes. I checked it after 35 minutes and felt that it was not done. Brownies should spring back when touched, but it did not. So baked it for another 5 minutes.
Cool completely in the pan on a wire rack. Since I lined the pan with aluminum foil, I lifted it after an hour, and I cooled it on a wire rack. After another 2 hours, I was able to cut them into neat squares without any trouble. If baking it directly in the pan, it will take some more (actually a lot more) time for the brownies to cool completely and getting neat pieces will also be difficult.
Taste:
The taste was simply superb. The oat flour or the beet puree did not affect the taste at all. It tasted like any other regular brownie. The only difference I felt was in the texture, but it was nothing huge. The brownies were chewy and also pudding(y) in the middle. I don't mean that it was in a semi-solid state, it had set properly, but the texture was a bit different than the usual brownies, which I think is because of the beet puree. Also, the brownies are more reddish than brown. This did not stop my son or the rest of us from finishing it off.
My Notes:
I have used 1/4 cup unsweetened applesauce instead of 2 egg whites mentioned in the original recipe. If you have extra beet puree, you can use 1/4 cup of that itself. I had only 1 cup of beet puree so I used applesauce.
Oat flour is readily available in stores. I didn't have that in hand, so I powdered quick cooking oats in a blender. Be sure to powder it finely, sieve it a couple of times.
You can use all purpose flour too instead of oat flour.
To prepare beet puree you can either buy canned beets and blend it smoothly in a blender or do like what I did. I peeled and cooked the beets in a pressure cooker. Cut into small pieces once cooled and then blend it. I had prepared this a month back. So I put it in a cup, covered with plastic wrap and froze it. To use the puree, thaw it in the fridge overnight and by the following afternoon it should be alright.

Nutrition Facts
Servings: 16
Per Serving
% Daily Value*
Calories

106

Total Fat

5.8g

9%
Saturated Fat

1.5g

7%
Trans Fat

0g

Cholesterol

0mg

0%
Sodium

112mg

5%
Potassium 123mg
4%
Total Carb

13.2g

4%
Dietary Fiber

1.7g

7%
Sugars

8.4g

Protein

2.1g

Vitamin A 1% – Vitamin C 1%
Calcium 2% – Iron 5%

Try this recipe, click a pic and hashtag it #egglesscooking - Proudly showcase your creations on Instagram, Facebook & Twitter!