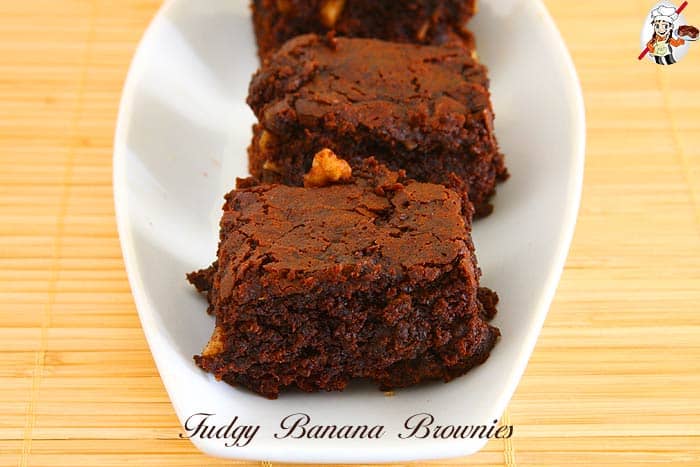 Over the past few weeks, I end up having too mushy bananas. I wonder why! I guess it's the type of bananas or the warm weather or a combination of both.
I have been revisiting my old recipes using bananas and have been making a lot of banana pancakes, banana bread and banana waffles and it was really getting bored.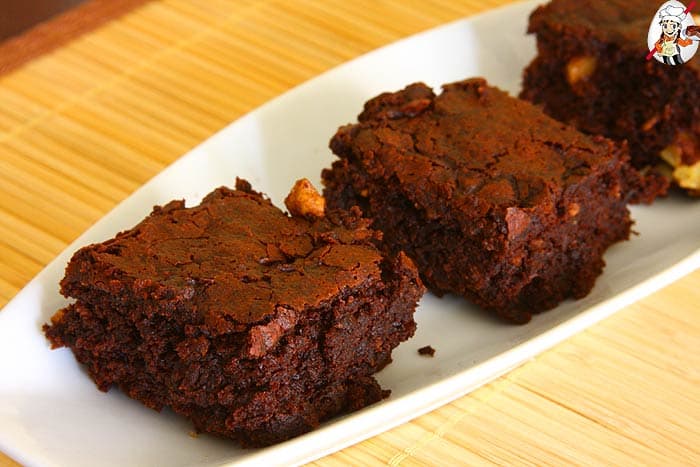 For the longest time I have been thinking of making peanut butter-banana-brownies but somehow didn't get to it. Don't know why!
I was searching for some good banana brownies recipe also using peanut butter but nothing caught my attention and decided to bake just plain chocolate banana brownies without the peanut butter.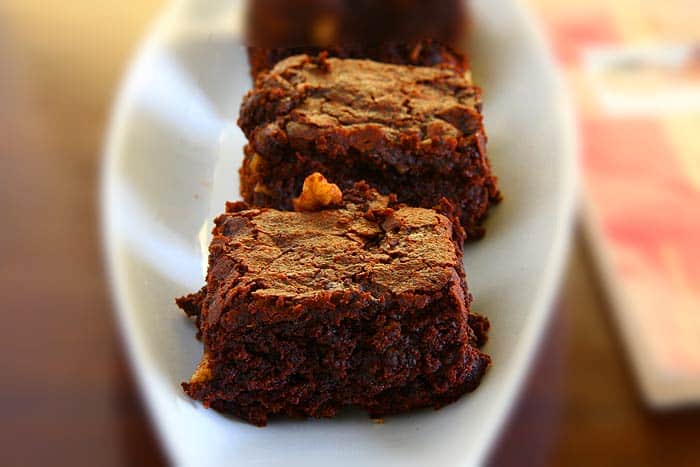 This recipe looked very simple and pretty much like these low-fat fudgy brownies I have already blogged here.
So I mixed both the recipes and came up with this fudgy banana brownies recipe and it was absolutely delicious!
How To Make Eggless Fudgy Banana Brownies?
Here are the step-by-step pictorial instructions on how to make banana brownies with simple ingredients: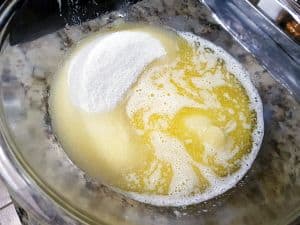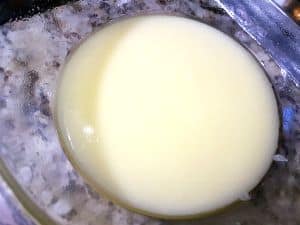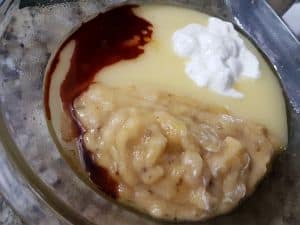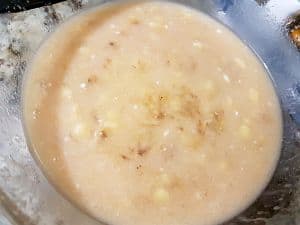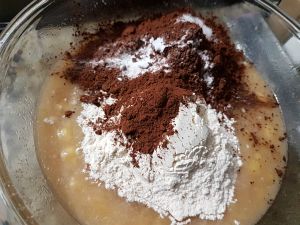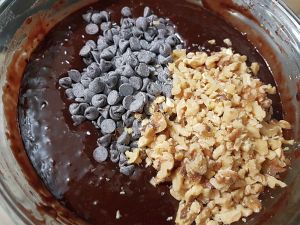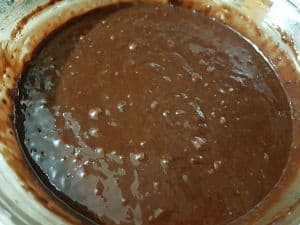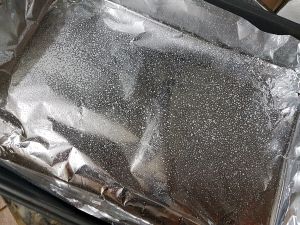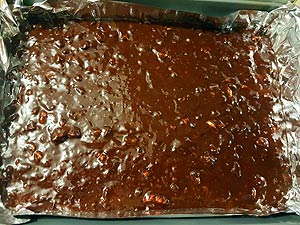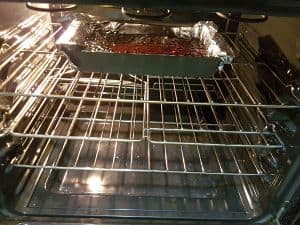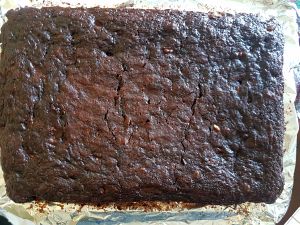 | | | |
| --- | --- | --- |
| Eggless Fudgy Banana Brownies Recipe | | |
| Prep Time | Cook Time | Makes |
| --- | --- | --- |
| 20 Mins | 37 Mins | 24 Brownies |
| Author | Category | Method |
| Madhuram | Brownies | Baking |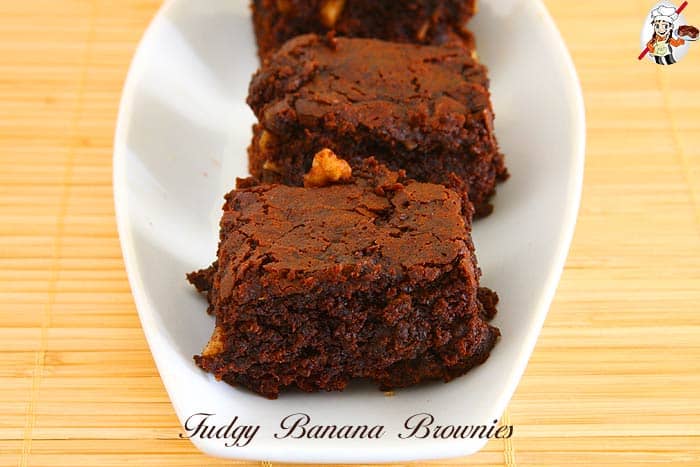 Having overripe bananas? Don't want to make another loaf of banana bread again? No worries! This eggless fudgy banana brownie recipe is very simple to put together with ingredients easily available at home yet very big on taste.

Ingredients:
1 cup

unsalted butter, melted

2 cups

white sugar

1/2 cup

plain yogurt (I used whole milk yogurt)

1 cup

mashed banana (about 3 medium-size bananas)

1 teaspoon

vanilla extract

1 and 1/4 cups

all-purpose flour

3/4 cup

unsweetened cocoa powder

3/4 teaspoon

baking soda

1/2 teaspoon

salt

1 cup

semi-sweet chocolate chips

1 cup

chopped walnuts
Procedure:
Preheat oven to 350F/180C. Line a 9×13-inch baking pan with aluminum foil, grease it lightly with non-stick cooking spray, and set aside.
In a large microwave-safe bowl add butter and sugar and warm it up in small increments in the microwave oven until the butter and sugar melt and stir it well using a whisk.
To this mixture add the plain yogurt, mashed banana, and vanilla extract and mix well.
Stir in the all-purpose flour, cocoa powder, baking soda, and salt and combine it until smooth using a whisk.
Incorporate the chocolate chips and walnuts, if using.
Pour the batter into the prepared pan and tap it well enough to break any air bubbles.
Bake it for 35-40 minutes or until a toothpick inserted in the middle comes out having just little crumbs. Mine was ready after 37 minutes.
Remove it from the oven and place the pan on a wire rack for about 15 minutes and then using the aluminum foil lift the brownies off the pan and let it cool on the wire rack at least for a couple of hours before you can cut it into squares. I left mine to cool overnight because I baked the banana brownies at night.
Cut it into squares and store it in an air-tight container in the refrigerator because it's a moist brownie and has bananas so not recommended to leave it outside unless you plan to finish it off within a day or two. These brownies will freeze well. Just thaw it for a couple of seconds in the microwave oven before consuming it.
Taste:
These banana brownies were very moist and ooey-gooey because of the melted chocolate chips. The walnuts also gave it a very nice crunchy texture. The sweetness was just perfect. Also, the flavor of bananas was not overpowering. All in all a perfect brownie recipe using overripe bananas that can be made in no time.
My Notes:
I have used 1/2 cup of yogurt instead of 2 eggs used in the original recipe. Other possible substitutes are two flax eggs and 1/2 cup of pureed silken tofu.
If you don't plan using chocolate chips, I think you might want to increase the quantity of sugar by another 1/4 cup at least.
Next time around I'm going to try reducing the quantity of butter to half cup and substitute the remaining half cup of butter with mashed bananas itself.
Nutrition Facts
Eggless Fudgy Banana Brownies
Amount Per Serving
% Daily Value*
Potassium 106mg2%
Total Carbohydrates
29g
11%
* Percent Daily Values are based on a 2000 calorie diet.


Try this recipe, click a pic and hashtag it #egglesscooking - Proudly showcase your creations on Instagram, Facebook & Twitter!