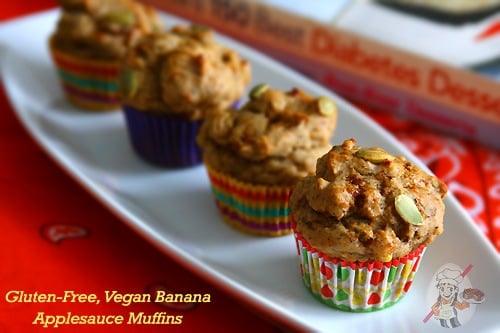 I bought a pack of Cloud 9's gluten-free, all-purpose baking mix from Costco to experiment with gluten-free, egg free baking. It's a combination of rice flour, buckwheat flour, corn starch, potato starch, tapioca flour and xanthan gum. I tried my usual vegan waffle recipe with the mix and we all liked it. In fact my eldest son mentioned that he can barely tell any difference in the taste or texture. I tried my luck with a blueberry scone recipe but it was a total disaster.
I can't figure out what went wrong. So I had stopped trying out new recipes for a while. I didn't want to waste the flour which is quite expensive. My successful attempt in baking these gluten-free brownies gave me the courage to experiment with the mix again. We had a lot of very ripe bananas at home and couple of boxes of unsweetened applesauce. I remembered seeing a banana applesauce muffins recipe in Canada's 150 Best Diabetes Desserts books. So I decided to bake a gluten-free version of the same. While gathering the ingredients I also decided to make it vegan.
Although the recipe was for regular size muffins I wanted to bake them as mini muffins because I remembered that one of the recent comments from a reader was that she usually bakes gluten-free and the muffins rise nicely if it's a mini muffin rather than regular size muffins. I had the same feeling that I had when I started to bake 5 years back
I was eagerly watching the oven as the muffins were rising and was surprised at how well and tall it rose. I wished that I had tried to bake at least one regular size muffin to see if it works. Taste-wise there was definitely a noticeable difference, at least for me. But my mother-in-law, sons and husband liked these gluten-free banana muffins a lot.

| | | |
| --- | --- | --- |
| Gluten-Free Vegan Banana Applesauce Muffins Recipe | | |
| Prep Time | Cook Time | Makes |
| --- | --- | --- |
| 20 Mins | 11 Mins | 21 Mini Muffins |
| Author | Category | Method |
| Madhuram | Muffins | Baking |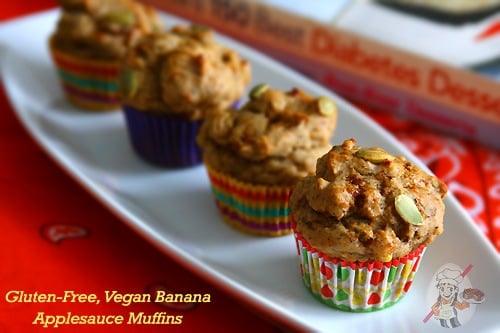 Baking gluten-free gets very easy with gluten-free baking mix and these gluten-free, vegan banana muffins is winner taste and texture wise.

Part 1:
1 cup

gluten-free, all-purpose baking mix

2 tablespoons

pumpkin seeds, raw

1/2 tablespoon

baking powder

1/2 teaspoon

baking soda

1/4 teaspoon

salt
PART 2:
1/2 cup

unsweetened applesauce

1/4 cup

coconut palm sugar

3 tablespoons

avocado oil

1 tablespoon

agave syrup

1 banana

mashed (about 3/4th of a cup)

1/4 cup

almond milk

1 teaspoon

apple cider vinegar

1 teaspoon

vanilla extract
SUBSTITUTES:
gluten-free mix – all-purpose flour
pumpkin seeds – any other seeds or nuts of your choice
coconut palm sugar – brown sugar, white sugar
avocado oil – any oil of your choice
agave syrup – optional (see My Notes)
almond milk – any milk of your choice
apple cider vinegar – white vinegar
Procedure:
Preheat the oven at 400F/200C for 15 minutes. Line 24-cup mini muffin tin with paper liners or grease it lightly with non-stick cooking spray.
In a large bowl stir together the Part 1 ingredients and set aside.
In another medium size bowl combine together the Part 2 ingredients. Stir it into the flour mix until just combined.
Grease a tablespoon with oil. Use it to scoop the batter and fill it in the prepared muffin tins. You can also choose to top the muffins with pumpkin seeds.
Bake in the preheated oven for 10-12 minutes or until a toothpick inserted in the center of a muffin comes out clean. Mine was done in 11 minutes.
Cool it completely on a wire rack before storing it.
My Notes:
I got just 21 mini muffins because I did use a lot of batter for each muffin and they raised a lot. So you can definitely get 2 dozen mini muffins if you don't use as much batter as I did.
Greasing the tablespoon before scooping the dough makes it very easy to fill the muffin tins.
These muffins were not that sweet and we are totally OK with it. But if you like your muffins sweeter you could add some chocolate chips, dried fruit or increase the quantity of sugar to 1/2 cup. I have used a tablespoon of agave syrup because I felt that the batter was not sweet at all.
I wanted to make these muffins nut-free too, so that my son can take it to school. That's why added pumpkin seeds otherwise walnuts or pecans are good options too.

Try this recipe, click a pic and hashtag it #egglesscooking - Proudly showcase your creations on Instagram, Facebook & Twitter!