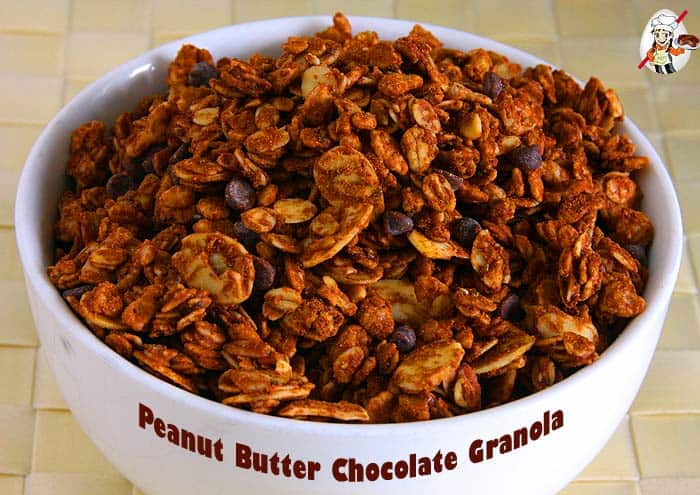 It's been about 12 years since I started this predominantly baking blog and you would think I already have a couple of granola recipes by now because it's one of the simplest things you can bake/make at home but can garner a lot of love and great feedback from those you have shared the homemade goodness with.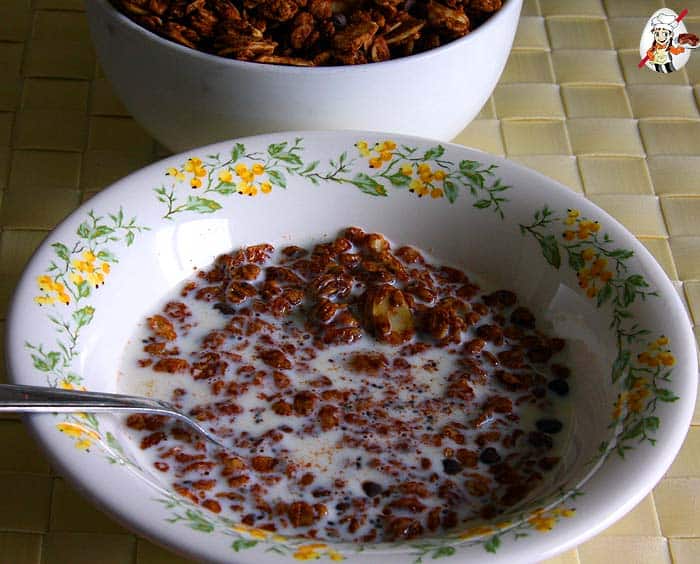 I didn't make granola until Christmastime last year! I can't believe that all these years I not made use of the most wonderful, giftable option for homemade goodies that you can ever bake.
To tell the truth even last year, it was not like that I set out to make granola as a Christmas gift to share with friends and so went grocery shopping for the necessary ingredients. But in fact, it was the other way round.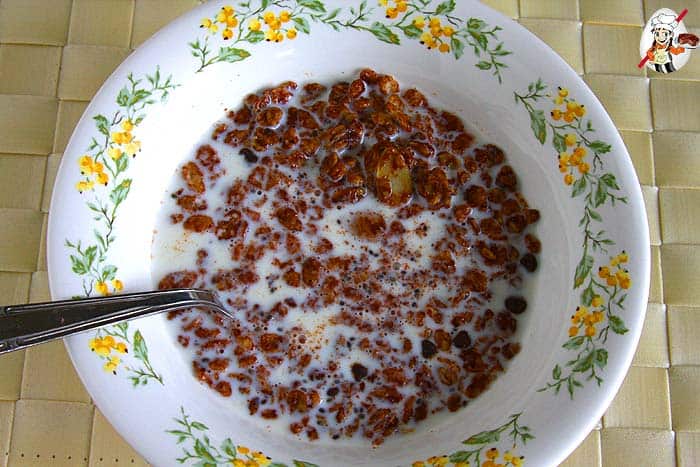 I don't remember why I got 2 big packs of rolled oats but it was there lying in the cabinet untouched and staring at me whenever I opened the door. It was the holiday time and all I could think was making big batch oatmeal raisin cookies or oatmeal chocolate chunk cookies like I usually bake during that time of the year and share with friends.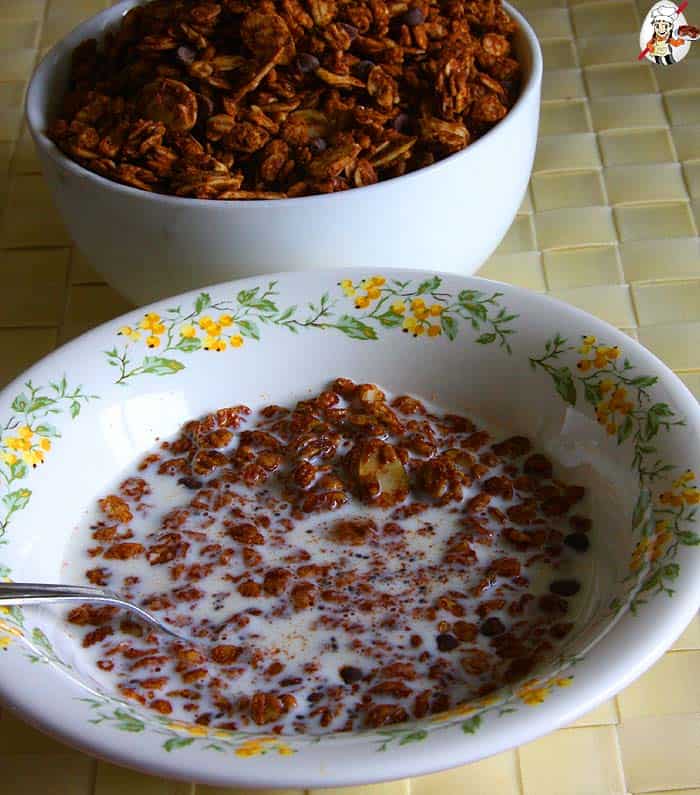 After a while, out of nowhere, it dawned upon me that I should try homemade granola with all that rolled oats I had and that it would be a lovely gift to share with friends and family.
So for the first time I tried a granola recipe mixing and matching a couple of recipes I found online. It was an instant hit at home and among friends. The taste of the granola and the feedback were so addictive that I went ahead and made another huge batch and also started looking for granola recipes with other flavors and add-ins.
That's how I came across this idea for a decadent chocolate peanut butter granola recipe. I took inputs from a few recipes that were already available and came up with this delicious combination. Peanut butter and chocolate! What can go wrong in this absolutely divine merger!
How To Make Peanut Butter Chocolate Granola?
Here is the step-by-step procedure on how to make delicious chocolate peanut butter granola from scratch.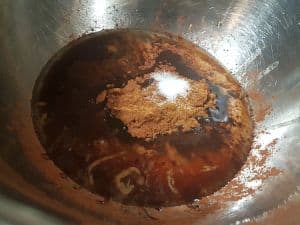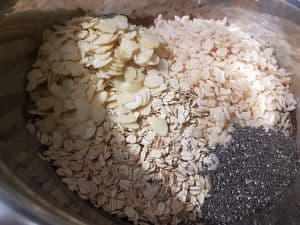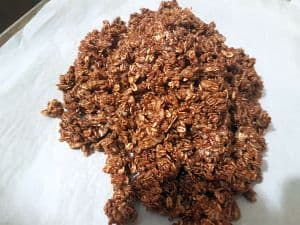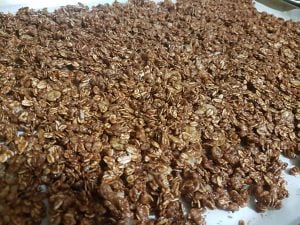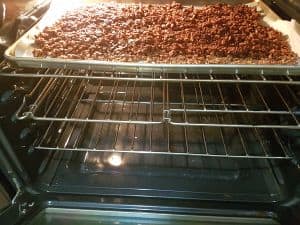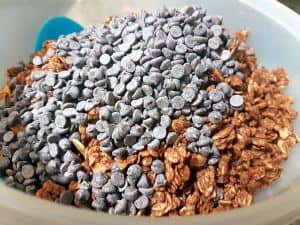 | | | |
| --- | --- | --- |
| Peanut Butter Chocolate Granola Recipe | | |
| Prep Time | Cook Time | Makes |
| --- | --- | --- |
| 20 Mins | 35 to 40 Mins | 8 Cups |
| Author | Category | Method |
| Madhuram | Beverages | Mixing |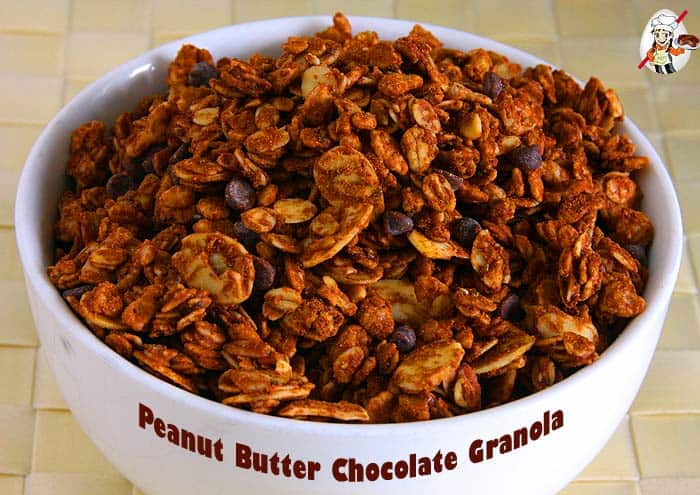 Can you believe that stores charge an arm and a leg for ordinary granola and more so if it's specialty flavor? Granola is the easiest thing that one can make at home and not only make it cost-effective but also healthy and tasty. This chocolate peanut butter granola is no exception and you would agree with me if you try it.

Ingredients:
Part 1:
3/4 cup

peanut butter

1/4 cup

coconut oil, melted (or butter)

2/3 cup

maple syrup

3 tablespoons

cocoa powder

1/2 tablespoon

vanilla extract

1 teaspoon

ground cinnamon

1/4 teaspoon

salt
Part 2:
3 cups

old fashioned oats

2 cups

puffed rice cereal

1 cup

slivered almonds (or any nuts of your choice)

2 tablespoons

chia seeds
Optional:
1/2 cup

mini chocolate chips
Procedure:
Preheat oven to 300F/150C. Line a large rimmed baking sheet/s with parchment paper and set aside.
In a large bowl mix together all the wet ingredients listed under Part 1, set aside.
In another large mixing bowl stir together the dry ingredients mentioned under Part 2, set aside.
Stir in the dry ingredients into the wet mix so that the liquid mix is incorporated well enough into the dry mix.
Spread the granola mix onto the baking sheet using a spatula or wooden spoon. Make sure it's not all clumped together but spread evenly.
Toast for about 35-40 minutes stirring once or twice in between or more if you see that the edges are getting browned too soon. The oats should have a golden brown color.
Remove from the oven and let it cool completely. Then add the mini semi-sweet chocolate chips if using. Make sure that you don't add it while it's warm because the chips will melt. Mix well and then store it in airtight container/s.
Taste:
This chocolate peanut butter granola was a huge hit with my kids. Peanut butter and chocolate! Who doesn't like it!
My Notes:
I didn't want to use peanuts because I thought it would end up being too peanutty. Almonds were a wonderful addition to this granola.
If you want to add some dried fruit like raisins, craisins, etc you should add it after removing the granola from the oven just like you add the chocolate chips.
Toasting the dried fruit along with the granola will end up burning the dried fruit and also changing the texture.
Nutrition Facts
Peanut Butter Chocolate Granola
Amount Per Serving
% Daily Value*
Potassium 220mg5%
Total Carbohydrates
30.1g
11%
* Percent Daily Values are based on a 2000 calorie diet.


Try this recipe, click a pic and hashtag it #egglesscooking - Proudly showcase your creations on Instagram, Facebook & Twitter!