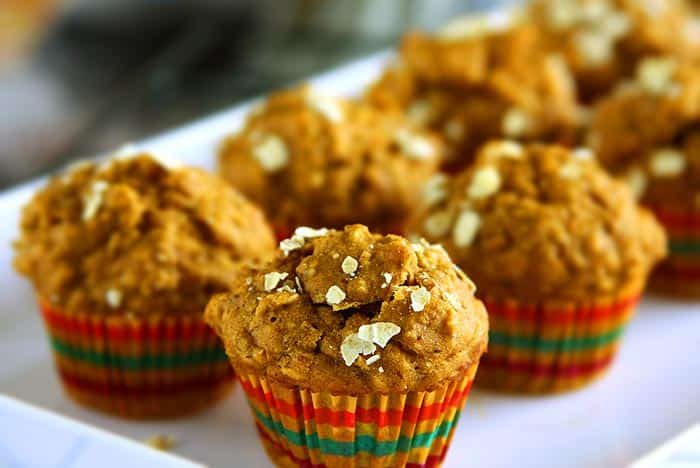 Over the years I have baked a lot using bananas, but haven't baked banana oatmeal muffins. This time while browsing for banana recipes in Pinterest I happened to see a couple of banana muffins with oats recipes. Many of those banana oat muffins recipes were easy to bake and healthy too.
Took inspiration from few recipes and I put together my own eggless version of healthy banana muffins with oats. These are not just oatmeal banana muffins without eggs but are vegan too.
I have used flax egg as egg substitute in this banana muffin recipe. Also since I was not following any recipe in particular I decided to make a small batch because didn't want to take a chance of wasting the ingredients if it didn't turn out good.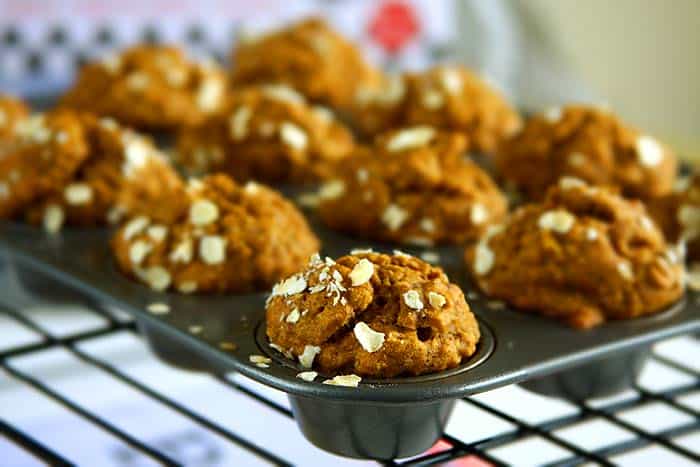 I need not have worried after all because these no egg banana oatmeal muffins turned out absolutely great! The muffins could have been a little bit sweeter for most of the people I guess but it was fine for us because we don't prefer very sweet muffins.
I also made it as mini banana oat muffins so that I can pack it as a small snack for my kids' school. That's why didn't add walnuts or any other nuts because schools here are nut-free.
I tried to incorporate few ingredients to make it a healthy breakfast oatmeal muffin recipe. So I have used whole wheat pastry flour, coconut palm sugar, avocado oil and organic almond milk. In the past I have sometimes not liked banana muffins made with whole wheat flour.
So tried it with whole wheat pastry flour this time and it was really good. Didn't miss the all-purpose flour at all.

| | | |
| --- | --- | --- |
| Healthy Banana Oatmeal Muffins Recipe | | |
| Prep Time | Cook Time | Makes |
| --- | --- | --- |
| 20 Mins | 15 Mins | 12 Mini-Muffins |
| Author | Category | Method |
| Madhuram | Muffins | Baking |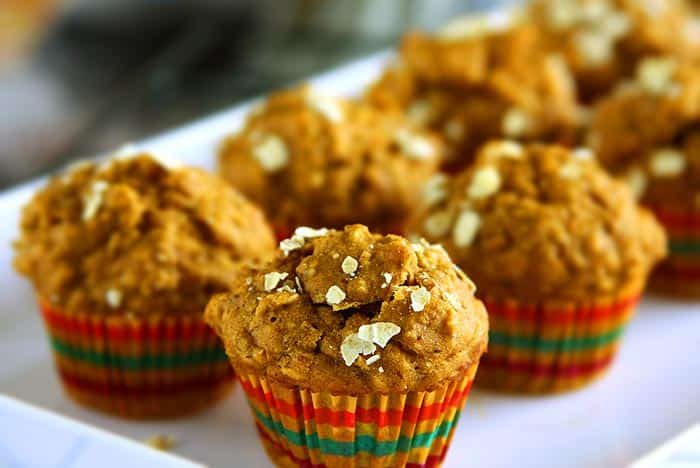 These banana oatmeal muffins with oats is a healthy breakfast option and also perfect for kids' school snack. It can be put together in no time and double the recipe for a bigger batch.

Dry Ingredients:
3/4 cup

whole wheat pastry flour

1/2 cup

rolled oats

1/3 cup

coconut palm sugar

1 teaspoon

baking powder

1/2 teaspoon

baking soda

1/2 teaspoon

ground cinnamon

1/4 teaspoon

salt
Wet Ingredients:
1

flax egg

1/2 cup

mashed banana

2 tablespoons

avocado oil

3 tablespoons

almond milk (see My Notes)

1 teaspoon

vanilla extract
Substitutions:
whole wheat pastry flour = all-purpose flour
coconut palm sugar = brown sugar
flax egg = 1/4 cup yogurt (dairy or non-dairy)
avocado oil = any oil of your choice
Procedure:
Preheat oven to 350 degrees F or 180 degrees C.
Line 12 cup mini muffin tin with cupcake liners and grease it lightly with non-stick cooking spray so that the muffins will peel off the paper liner easily without sticking to it.
Make flax egg in a small bowl and set aside.
Put together the dry ingredients into a large bowl and mix it well to combine. Make a well in the centre.
In another medium size bowl stir together all the wet ingredients and mix it with a whisk.
Pour the wet mix into the flour mix well, stir gently to moisten all ingredients, don't over mix.
Use a tablespoonful of the banana oats muffin batter to scoop out and fill it in the muffin cups.
Bake it for 15-17 minutes or until a toothpick inserted in a muffin comes out clean.
Remove the muffin tin from the oven and place it on a wire rack for about 5 minutes and then remove the muffins from the tin and let it cool completely on the rack before you can store it in an air-tight container.
My Notes:
Increase the quantity of sugar by another tablespoon or two if you prefer sweeter muffins.
You may also need to add another tablespoon or two of almond milk to get the right consistency for the muffin batter.
Nutritional Information for 1 Muffin
Calories:

78


Total Fat:

1.7g


Saturated fat:

0.9g


Unsaturated fat:

0.8g


Cholesterol:

0mg


Total Carbohydrate:

14.0

Sugars:

4.8g


Dietary Fiber:

1.7g


Protein:

1.5g


Sodium:

105mg


Potassium:

105mg

Try this recipe, click a pic and hashtag it #egglesscooking - Proudly showcase your creations on Instagram, Facebook & Twitter!
These eggless banana oat muffins can be frozen and thawed before serving. Once the muffins are cool completely wrap it individually with plastic wrap and store the wrapped muffins in a freezer safe plastic bag. Thaw it overnight or warm it up in the microwave oven for a few seconds before serving.