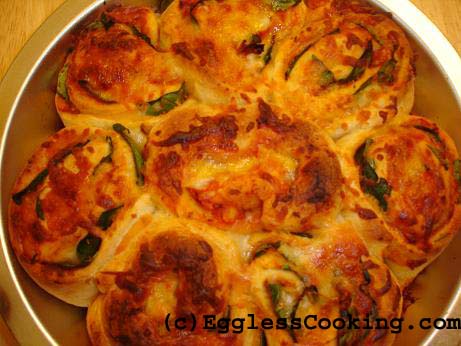 I don't know what it is with the oven and me, I just love to use the oven. Before starting the new adventure of baking eggless cakes and muffins, I started simply with cooking store bought frozen French fries and pizzas. We prefer making them at home because we can control the amount of cheese and increase the quantity of veggies. I've not yet tried to make the dough myself. Recently I have also found a simple recipe to make home made pizza dough using whole wheat flour. Can't wait to try that!
But before that a simple one to make at home with store bought ingredients. I saw this recipe in Parents Magazine a couple of months back. I wanted to try this for a long time now, but got a chance only today. You need just 4 ingredients to make this beautiful looking and tasty pie. Refrigerated pizza dough, sauce, any cheese of your choice (I used the part skim pizza blend cheese) and fresh baby spinach. This can also be considered a healthy pizza, because it requires only half a cup of cheese and has spinach. Not bad for a pizza, which has a bad reputation as greasy food. The process is also very easy, but a little messy at the end. The next time I bake it I would add some pepper powder/chilly flakes too. It was very bland for our taste. Other than that, this recipe is definitely a keeper. Kids will also enjoy doing this. Find the recipe here.
Ingredients:
1 tube (13.8 ounces) refrigerated pizza dough
1/2 cup pizza sauce
1/2 cup shredded Italian-mix cheese, divided
1 cup fresh baby spinach leaves
Stage 1:
Preheat the oven to 400F/200C for 15 minutes. Unroll the dough.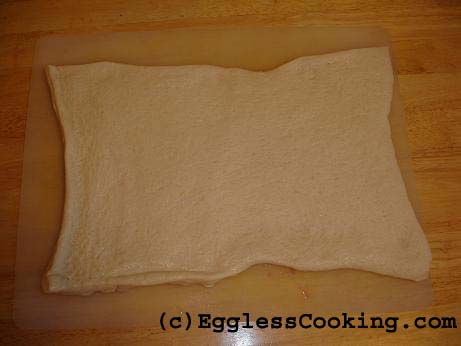 Stage 2:
Spread the pizza sauce and sprinkle half of the cheese.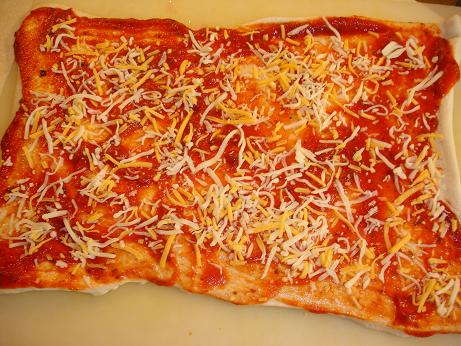 Stage 3:
Top with the spinach leaves. (I used more than 1 cup, so rolling was a bit difficult)
Stage 4:
Roll the dough starting with the short end.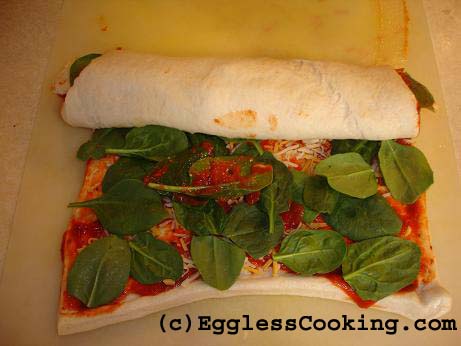 Stage 5:
Cut into 8 pieces and place it in a greased pie tin and sprinkle with remaining cheese.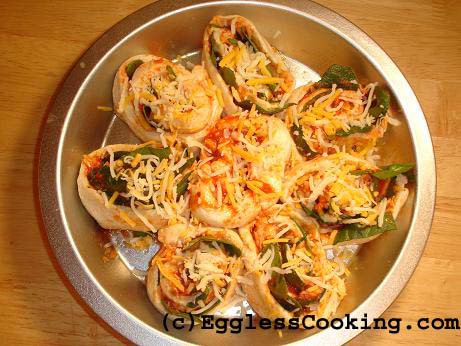 Stage 6:
Bake it for 22-25 min and indulge!