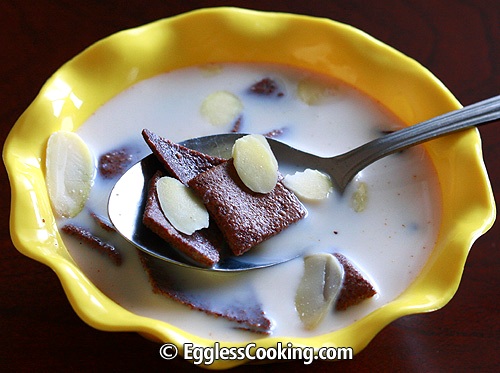 Ragi (finger millet ) has not been my favorite for a couple of reasons and this month I have tried my best to start liking it by using it in interesting forms and surprisingly I did like it. I think the one common reason why some people may not be excited about ragi is the dull appearance it lends to the cooked dish. I think that a dish should not only be healthy but it should look good too. So I was thinking of ways to make ragi look more appetizing and came up with this idea.
I usually do not buy sugary cereals. It is always Fiber One and plain old Cheerios. My son likes both. Others which I get occasionally are corn flakes, puffed brown rice, puffed millet and puffed corn. I once tried the cocoa pebbles and felt that it way too sweet. My son keeps asking for chocolate flavored cereal and I keep telling him that I cannot get it because it is not healthy. Finally I got the idea to make my own chocolate cereal.
I decided to mix cocoa powder with ragi flour; sweeten it with maple syrup; form a smooth dough and try to cut out small circles and bake it. After I was done preparing the dough, I was able to roll it out but was not able to remove the circles off the surface. It was sort of sticky. So I decided to score it into diamonds instead and bake it like crackers. Even though I was not able to do exactly what I had planned to but the experiment did end well. My son loved this homemade chocolate cereal. Keeping the recipe I have given as a base one can try this with a variety of flours and come with a lot of healthy variations.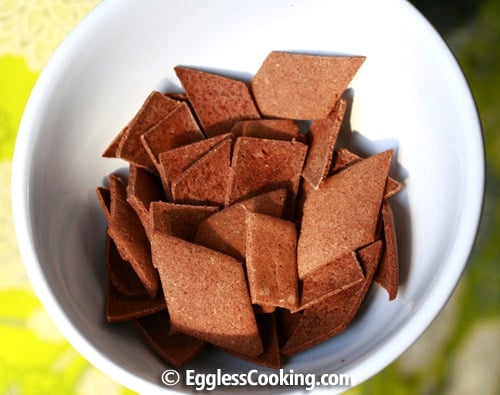 | | | |
| --- | --- | --- |
| Homemade Chocolate Cereal Recipe | | |
| Prep Time | Cook Time | Makes |
| --- | --- | --- |
| 15 Mins | 15 Mins | Approximately 2 cups. |
| Author | Category | Method |
| Madhuram | Beverages | Mixing |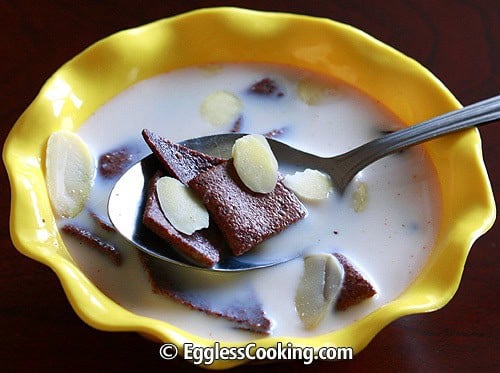 Homemade Chocolate Cereal? Yes, it is! Try this low fat, low in sugar cereal and I bet your kids would love it. This is also a 2-in-1 recipe. You can eat it as cereal with some warm milk and touch of maple syrup or eat it by itself as a cracker.

Dry Ingredients:
1/2 cup

Ragi (Finger Millet) Flour

1 tablespoon

Whole Wheat Flour

1 tablespoon

Flax Seed Powder

4 teaspoons

Cocoa Powder
Wet Ingredients:
1 teaspoon

Vegetable Oil Spread

3 tablespoons

Maple Syrup

3 tablespoons

Water

1 teaspoon

Vanilla Extract
Procedure:
Preheat oven at 375F/190C for 15 minutes. If using a cookie sheet with edges, flip it over (so you get a flat top) and grease it with some oil spread. Or you can use a flat cookie sheet and grease the same. You will be requiring 2 sheets.
Meanwhile combine together the dry and wet ingredients into a smooth dough.
Divide the dough into two equal parts and roll each half directly on the greased cookie sheets. Roll as thin as possible and using a knife/pizza cutter score it into diamonds/squares directly on the cookie sheet; do not separate. Bake for 8-15 minutes. The baking time depends on the thickness of the rolled out dough.
The first set I baked was thicker than the second set. So the first one took approximately 12-13 minutes but the 2nd was done in about 8 minutes itself. You can smell the cocoa and also can see that the pieces around the edges turning sort of black. Keep a watch and remove the pans immediately out of the oven.
The pieces will start coming off while you are removing it from the sheet. Spread it on a plate or another cool sheet. Once the chocolate squares have cooled completely store it in an airtight container.
How to serve it?
This chocolate cereal is not crispy like the store bought ones. The texture is like that of a cracker. So I would suggest to warm the milk before adding to the cereal so the heat will soften it up and give the right texture. I served this for my son with some warm almond milk and a hint of maple syrup and he loved it. He was asking for more on the same day. He also had it as a snack by itself.

Try this recipe, click a pic and hashtag it #egglesscooking - Proudly showcase your creations on Instagram, Facebook & Twitter!