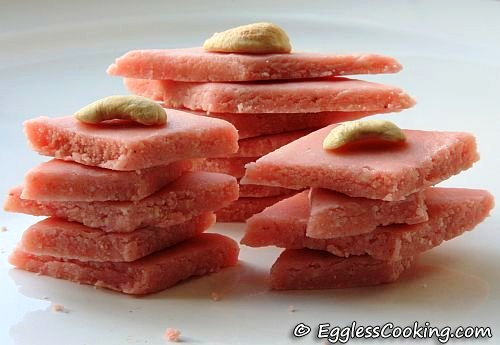 I had a couple of ideas for Priya's Pink event, but somehow didn't get a chance to work on it. The one I tried was not upto my expectation. With the deadline in 2 days I saw Mangala's Pink Cham Cham and a light bulb flashed. Actually I got 2 ideas, but again had time only to try one. I also wanted to use up the cashews I had in my freezer. So googled and found a good kaju katli recipe. It was very simple to follow and did not use any added fat at all. I decided to mix few drops of rose milk essence with the cashew mixture to make pink kaju katlis.
I've tried making a couple of Indian sweets before but did not get it right because I mess up with the sugar syrup consistency. So I was not sure how this would turn out. I started with only one cup of cashew and was proceeding with each and every step very carefully. It was definitely very easy than I thought it would be and the bars came out perfect. The taste was good too, especially the addition of rosemilk essence gave it a nice exotic touch. I'm sure I'll be preparing these quite often.

| Prep Time | Cook Time | Makes |
| --- | --- | --- |
| 10 Mins | 30 Mins | 20 Kaju Kaltis & Some Trimmings. |
| Author | Category | Method |
| Madhuram | Sweets | Cooking |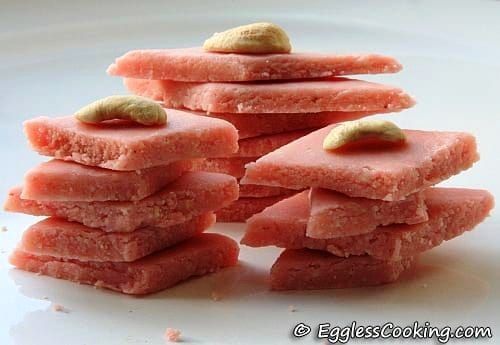 Very easy Kaju Katli recipe. Easy to make, no bake cashew bars.

Ingredients:
1 cup

Cashewnut (Preferably Broken Into Pieces)

1/2 cup

Sugar

3 tablespoons

Water

Few Drops

Rosemilk Essence/Food Color (Optional)
Procedure:
Powder the cashews (without adding water) in a blender/food processor. Using broken pieces of cashews would make it easy. I used the 1 cup jar of my food processor and it took some time to powder.
In a pan add the sugar and water. Heat it and wait until you get a single string consistency. This may take 5-6 minutes. Single thread consistency is when you take a drop of the syrup between your thumb and index finger a single strand should form.
strong>Update: I made it again and noted down the exact times. It took 5 minutes for the syrup to boil and another 3 minutes to get the single string consistency. But note that mine is an electric range and if you have a gas stove it should even quick.
Now stir in the powdered cashew in the sugar syrup. With a spatula (or preferably a big wooden fork) keep stirring; break any lumps, if any.
Add the rosemilk essence or food color if using and mix it thoroughly. Update: Mixing it just enough (two full stirs maybe) that the cashew powder absorbs the syrup should be fine.
Remove the pan from the stove and let it cool for at least 10-15 minutes. By then the mixture will thicken into a play dough (roti dough) like consistency. Update: Don't cool it completely. Remove the mixture from the pan when it is warm enough to handle with bare hands, so that it won't turn brittle and rolling would also be easy.
When the dough is cool enough to handle remove it from the pan and knead it, so that any small lumps of cashew can also be mashed. Roll the dough into a ball and flatten it.
I took two sheets of wax paper. Place the flattened cashew mixture in between the 2 papers and roll it with a rolling pin. Make a thin sheet and remove the wax paper from the top. If you don't have wax paper, simply grease a clean surface with little ghee and then using a rolling pin stretch out the dough.
After an hour cut it into diamonds or squares.
My Notes:
I will be reducing the quantity of sugar when I make it the next time. It was a bit too sweet for me. 1/2 cup is 8 tablespoons, so I think 6 tablespoons should be fine.
If you decide to add rosemilk essence, I would suggest using just 2-3 drops. I used at least 5-6 drops to get that pink color, so the downside is some may feel that the flavor from the essence is overpowering the actual taste of kaju katlis.
It is mentioned in the recipe source that if the kaju katli is not fully set, it can be placed in the fridge overnight. Also these bars are good for at least 4 weeks when stored in normal room temperature.

Try this recipe, click a pic and hashtag it #egglesscooking - Proudly showcase your creations on Instagram, Facebook & Twitter!