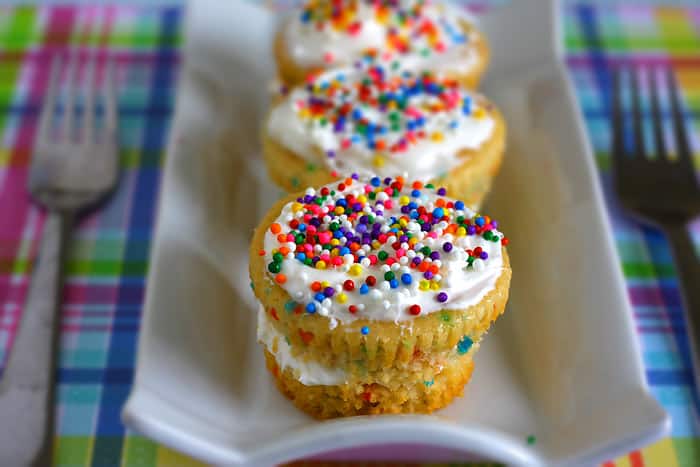 It has been a busy couple of months this time of the year because our major religious holidays came one after the other, back to back, giving us less time to relax, enjoy and breathe. It has been a whirlwind of a year in that aspect. I was so occupied with preparing for those holidays, hosting friends and relatives that I couldn't bake a cake for both my sons' birthdays this year. We did a quick party with just 2-3 close friends of theirs with store bought cakes.
Yesterday was my youngest son's birthday according to our Indian calendar and wanted to surprise him by baking something easy, quick yet which looked celebratory. I got Betty Crocker's Rainbow Bit cake mix and some frosting to bake confetti cupcakes. I do have an eggless confetti cupcake recipe from scratch already here. I was on a time crunch and wanted to bake something in a jiffy so went with the cake mix.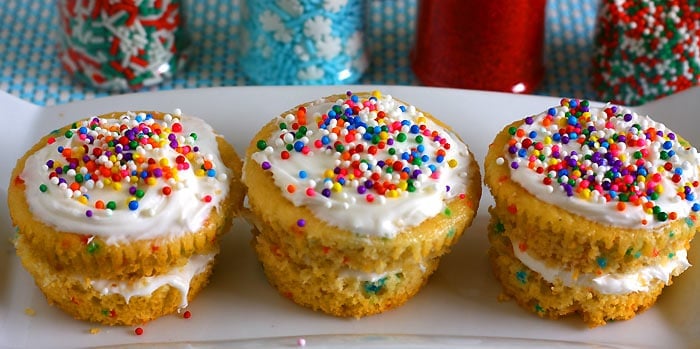 I have baked egg free vanilla cupcakes using cake mix. I had used yogurt as an egg substitute and it worked out very well. The cake and cupcakes came out light and fluffy.
I had few unsweetened applesauce cups in my pantry and have been looking for ways to use it in some way or the other because the kids didn't want to eat it anymore. So made use of this opportunity to substitute it for the eggs and as well as some of the fat in the confetti cake recipe. You can also make unsweetened applesauce at home if it's not readily available in your place.
I added some apple cider vinegar also because using pureed fruit as egg and fat substitute will probably result in a dense cake. The vinegar will make it a bit light and airy. As I anticipated the confetti cupcakes without eggs turned out very good.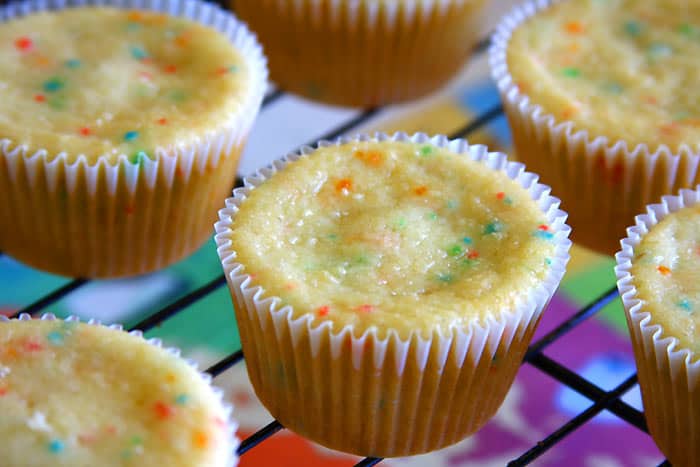 I was going to simply frost the cake and top it with sprinkles but got the idea to make it a layered cupcake from Betty Crocker's website. It did look very special and tasted delicious! The kids loved it.

| | | |
| --- | --- | --- |
| Eggless Layered Confetti Cupcakes Recipe | | |
| Prep Time | Cook Time | Makes |
| --- | --- | --- |
| 15 Mins | 24 Mins | 17 Cupcakes |
| Author | Category | Method |
| Madhuram | Cupcakes | Baking |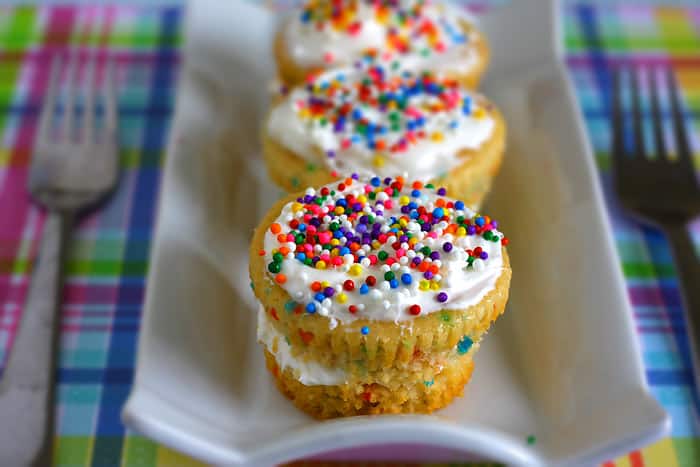 In a time crunch but want to bake something special for a special occasion? You can never go wrong with confetti sprinkles. Bake this easy confetti cupcakes using store bought cake mix and frosting and make it look like a million bucks with colored sprinkles!

Ingredients:
1 pack

Betty Crocker Rainbow Bit cake mix

1 cup

whole milk

1 cup

unsweetened applesauce

1/3 cup

avocado oil

1/2 tablespoon

apple cider vinegar

1 teaspoon

vanilla extract

2-3 tablespoons

water/milk (optional)
For Frosting:
1 container

Fluffy White Betty Crocker frosting (or your choice)

As needed

Color sprinkles
Procedure:
Preheat oven to 325F/160C for 15 minutes. Line two 12 cup muffin tin with paper liners and lightly grease it with non-stick cooking spray so that you can peel off the cupcakes easily.
In a large bowl, empty the contents of the cake mix and make a well in the middle.
To this add the rest of the ingredients one by one and mix well. Depending upon the consistency of the batter you may have to add 2-3 tablespoons of milk/water.
Fill each muffin cavity with 1/3rd of a cup of batter. I was able to get only 17 cupcakes as against the 24 mentioned in the box.
Bake for 22-24 minutes or until a toothpick inserted in the middle of the cupcake comes out with a few crumbs.
Remove the pans from the oven and place it on a cooling rack to cool completely before frosting.
Frosting the cupcakes:
Once the cupcakes have cooled, remove it from the liner. Cut it into half horizontally using a serrated knife.

Spread about a tablespoon of frosting and top it with the top half and use another tablespoon of frosting on it and decorate it with sprinkles and repeat the same for the rest of the cupcakes too. (See My Notes)
My Notes:
You can use 2% or fat free milk or even just plain water while making the cake batter instead of the whole milk I have used.
I used a dark non-stick pan and so baked the confetti cupcakes at 325F as mentioned in the box. If using a glass pan or shiny metal pan bake the cupcakes at 350F for lesser time.
While spreading the frosting on the bottom layer of the cupcake you would probably face the problem of the cake crumbs sticking to the frosting and not being able to spread it smoothly. So it is better to refrigerate the cupcakes for a while (10 minutes should be fine) before frosting so that you won't encounter this problem.

Nutrition Facts
Servings: 17
Per Serving
% Daily Value*
Calories

110

Total Fat

2.7g

3%
Saturated Fat

0.7g

4%
Trans Fat

0.0g

0%
Cholesterol

0%

Sodium

168mg

7%
Potassium 35mg
1%
Total Carb

21g

8%
Dietary Fiber

0.8g

3%
Sugars

11.3g

Protein

1.2g

Vitamin D 3mcg – 14%
Calcium 37mg – Iron 1mg

Try this recipe, click a pic and hashtag it #egglesscooking - Proudly showcase your creations on Instagram, Facebook & Twitter!