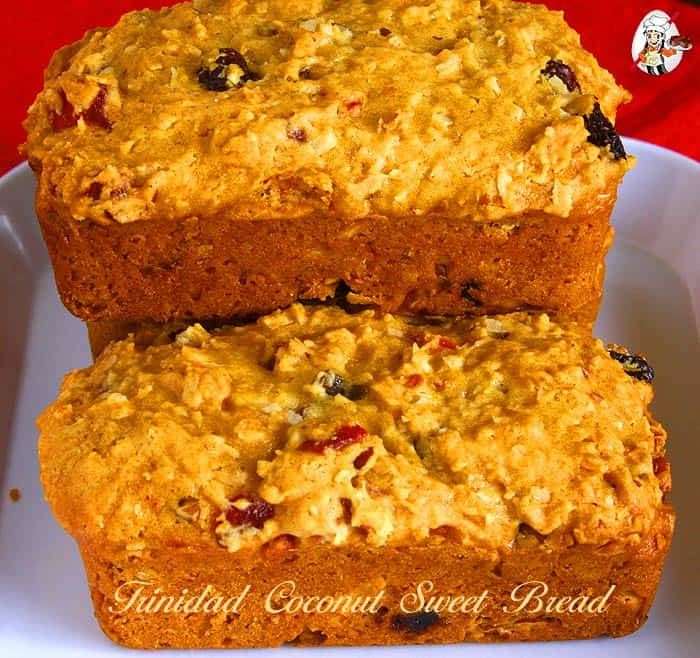 Can you believe that 2020 is almost over and it's another Christmas in 2 more months? It feels like just yesterday I was wrapping up Christmas gifts for my kids' teachers last year and it's already time for yet another one!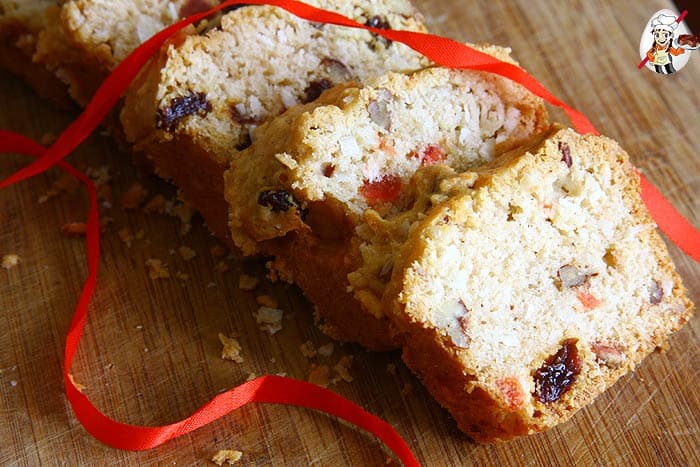 When I first started baking in 2008, this vegan Christmas fruitcakeVegan Christmas Fruitcake was my first take on a fruitcake recipe.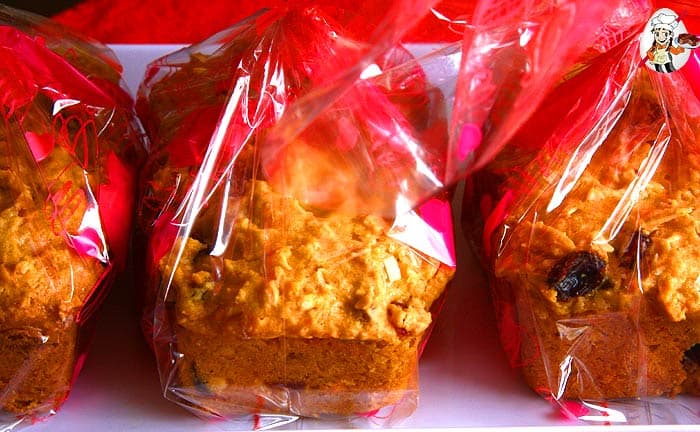 Ever since I have baked the vegan fruitcake quite a few times and have also tried a variety of other fruitcake themed/based deserts during Christmas like these fruitcake bars, Christmas fruitcake cookies, and coconut fruitcake cookies.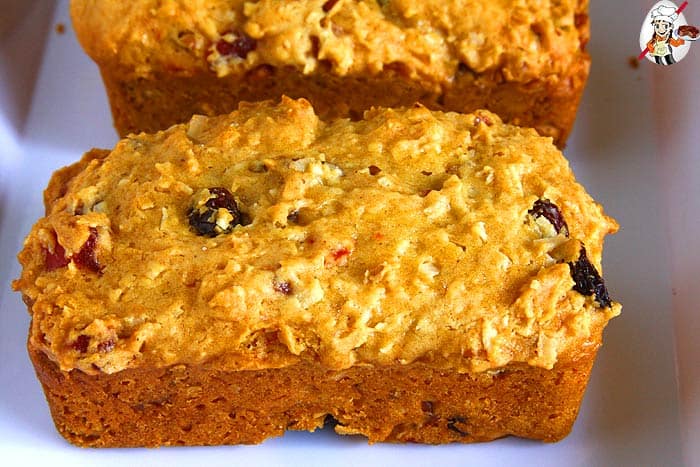 One of the years I baked these red and green coconut macaroon cookies too during the Christmas holidays.
Holiday baking has always been a very exciting and interesting season for me. I take the opportunity to bake a lot of new desserts. Sometimes I straight away try the recipe during the season and sometimes I try it beforehand and make some tweaks and changes and make it again in December.
This Trinidad coconut sweet bread recipe is one such recipe that I decided to try it now before I can bake it again during Christmas this year.
I had a few packets of shredded coconut, and candied peel too at home and wanted to try a different variety of fruitcake to bake this Christmas instead of the usual one I make.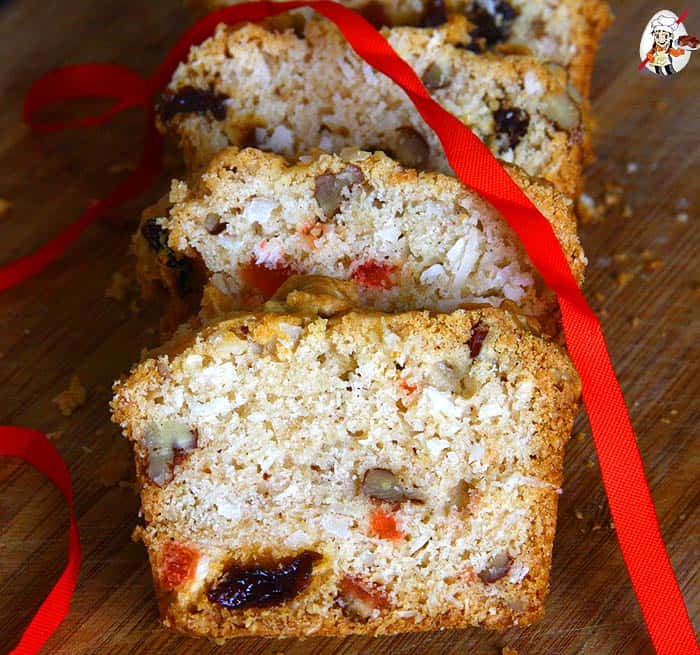 That's when I landed on this Trinidad Coconut sweet bread and even though it's technically a quick bread recipe I decided to give it a try because I wanted to bake something different rather a different take on the usual fruitcakes.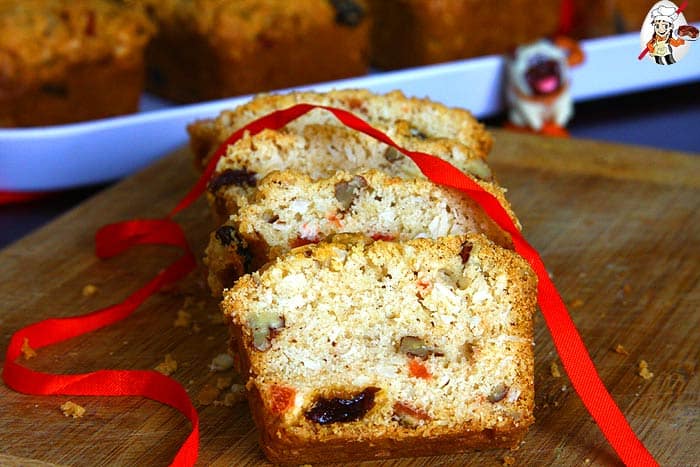 I'm glad that I tried this recipe because it was a huge hit home with everybody at home. Even though it's a big recipe which yields two big loaves the slices were over in no time because the kids kept devouring it.
How To Make Delicious Trinidad Coconut Sweet Bread?
Here is the step-by-step instructions to make simple coconut sweet bread from scratch.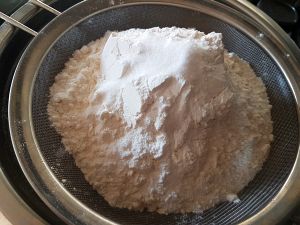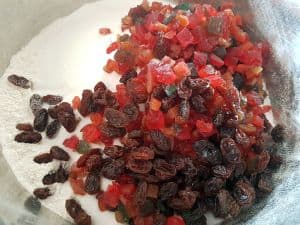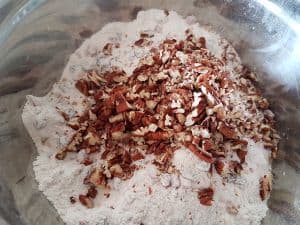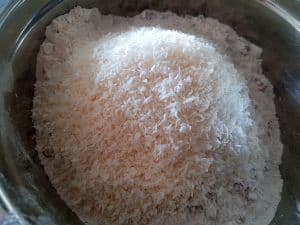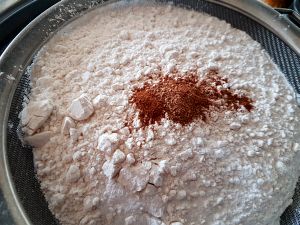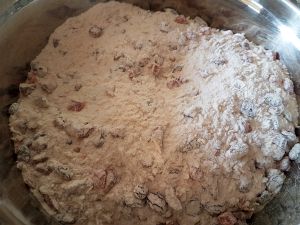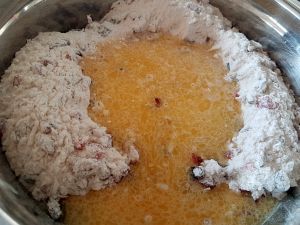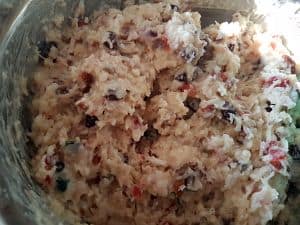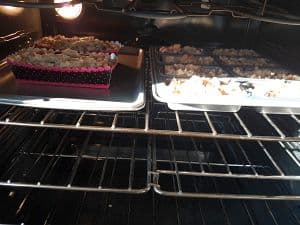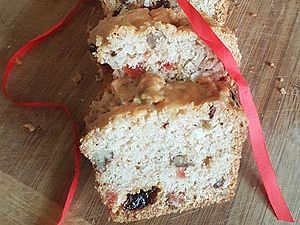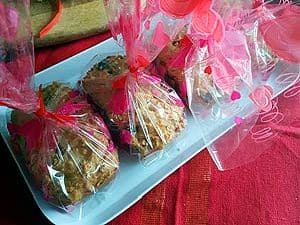 | | | |
| --- | --- | --- |
| Trinidad Coconut Sweet Bread Recipe | | |
| Prep Time | Cook Time | Makes |
| --- | --- | --- |
| 30 Mins | 1 Hr | 2 Loaves, 14 Slices Each (Total 28 Slices) |
| Author | Category | Method |
| Madhuram | Breads | Baking |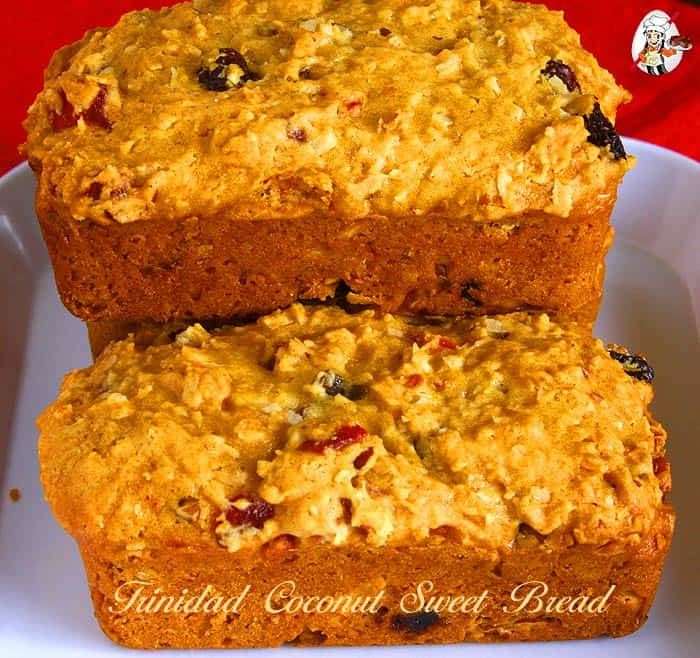 Try a different take on Christmas fruitcake this year by baking this delicious Trinidad Coconut Sweet bread that's loaded with coconut, dried fruits and nuts.

Ingredients:
PART 1:
4 1/2 cups

all-purpose flour

4 1/2 teaspoons

baking powder

1/2 teaspoon

baking soda

1 teaspoon

salt
PART 2:
2 and 1/4 cups

granulated sugar

2 cups

candied peel (or chopped dried mixed fruit)

1 and 1/2 cups

chopped pecans

1 cup

raisins/sultana
PART 3:
3 cups

shredded coconut (See My Notes)

1/2 teaspoon

ground cinnamon

1/4 teaspoon

ground nutmeg
PART 4:
1/2 cup

kefir

1 and 1/2 cups

evaporated milk

1/2 cup

unsalted butter, melted

1 teaspoon

almond extract

1 teaspoon

vanilla extract
Procedure:
Preheat oven to 325F. Grease 2 loaf pans with non-stick cooking spray and set aside.
In a large bowl sift flour, baking powder, baking soda, and salt; set aside.
Stir in the sugar, candied peel, raisins, and pecans, blend evenly.
Add coconut, cinnamon, and grated nutmeg and stir well.
In another bowl combine the kefir, milk, cooled melted butter, and essences. Mix well.
Make a well in the flour mixture.
Pour the wet mix into the well and stir with a spoon. The batter will be heavy and the mixture will be fairly stiff.
Don't over-knead or else the bread will be tough. Mix with a wooden spoon or spatula.
Divide the batter between 2 non-stick or greased loaf tins.
Bake at 325 degrees for 50 – 60 minutes. After about the first 30 minutes cover the loaves with aluminum foil so that the outside of the bread doesn't bake quicker and turn brown than the inside and bake for another 25-30 minutes or until a toothpick/skewer inserted in the middle of the bread comes out clean.
Taste:
This sweet coconut bread was absolutely delicious! The taste and flavor of the coconut, crunchy texture of the nuts, chewiness from the candied peel made a perfect combination.
This Trinidad sweet bread tasted very similar to Christmas fruitcake but only even better because of the addition of coconut.
My Notes:
The original recipe had used fresh coconut but I substituted it with dried coconut available in the baking aisle. I used an equal amount of sweetened and unsweetened variety.
I have used 1/2 cup of kefir as an egg substitute in place of the 2 eggs used in the original recipe. I had kefir at home so used it. You can also use yogurt instead.
As I was test baking for Christmas season, I baked this Trinidad sweet bread recipe in small loaf pans so that wrapping up the individual loaf and sharing it with friends would be easier.
Nutrition Facts
Trinidad Coconut Sweet Bread
Amount Per Serving
% Daily Value*
Potassium 204mg4%
Total Carbohydrates
49.4g
18%
* Percent Daily Values are based on a 2000 calorie diet.


Try this recipe, click a pic and hashtag it #egglesscooking - Proudly showcase your creations on Instagram, Facebook & Twitter!