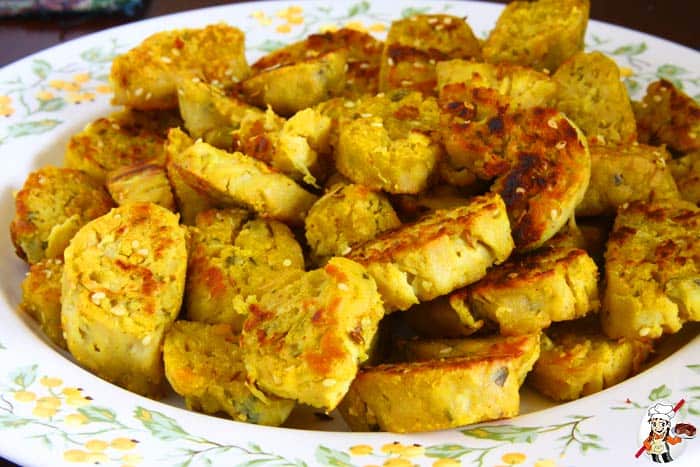 Mooli Muthia: I'm back with a traditional Indian recipe that isn't a dessert or requires baking, after ages, I would say.
To tell the truth I have been trying a lot of new cooking by which I mean non-baking, day to day recipes during the early days of the pandemic lockdown because of the limited trips to the grocery stores and restricted supply of fresh vegetables when ordered online and all we kept buying were cabbage, carrot, broccoli, onion, potato, cauliflower, and radish.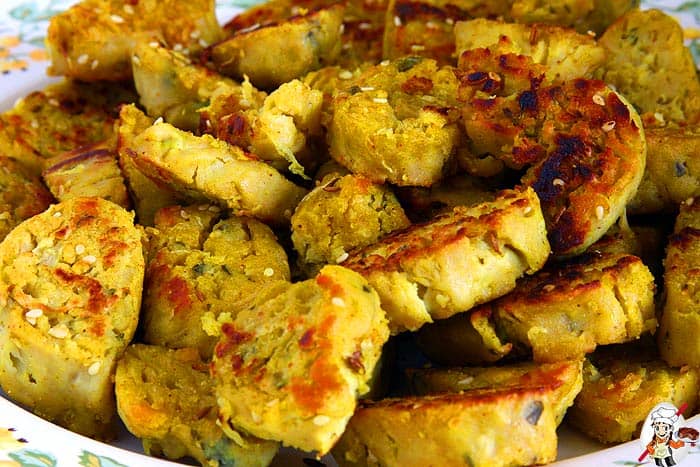 I had to think of different recipes using these vegetables over and over. That's when I came across this mooli (radish) muthia recipe.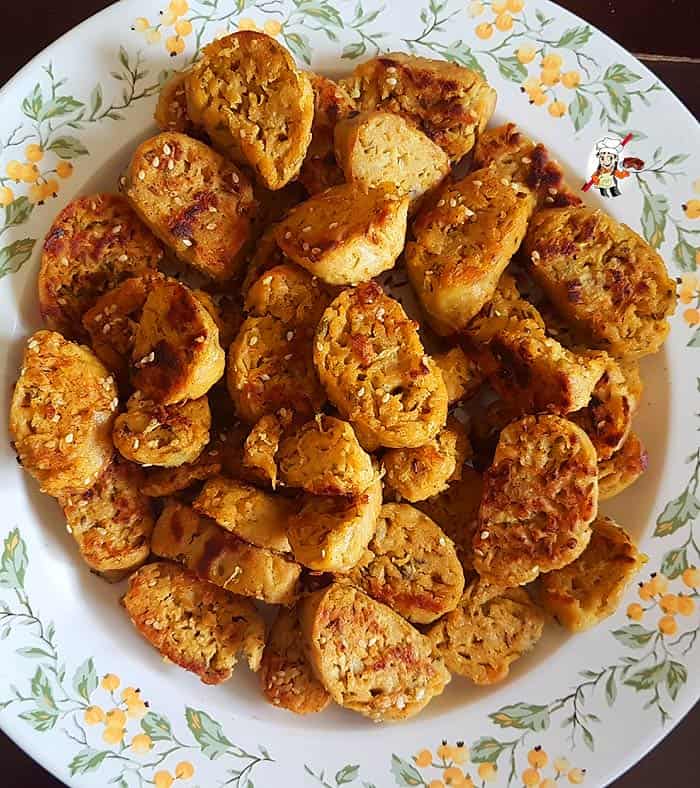 Tarla Dalal's website is one of the websites that I regularly check for trying Indian recipes, especially to try new recipes from various cuisines in India.
This muthia recipe is a Gujarati breakfast, snack dish. One can use a variety of vegetables and greens instead of radish.
The first time I tried was with a grated bottle gourd and everyone loved it in our home. That led me to search for muthia using radish because once when I ordered groceries online we were delivered a super big size white radish. It was long and huge almost like a trunk of an elephant. I'm not exaggerating. This daikon was that big.
I had to find ways to use it other than making sambar (South Indian vegetable stew made with toor dal and spices). That's how I came to know that the muthias I had earlier made with bottle gourd can be made with radish too.
After tasting these mooli muthias I was so happy that we got this huge radish otherwise I wouldn't have tried this recipe.
How To Make Mooli Muthia?
Here is the step-by-step instruction on how to make tasty, healthy and easy Mooli Muthia.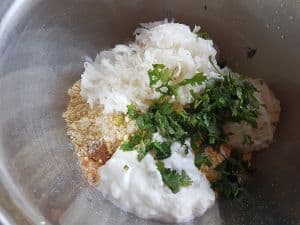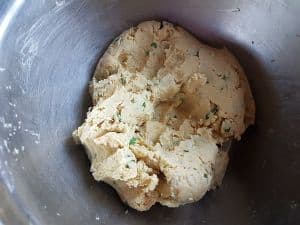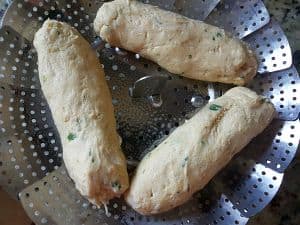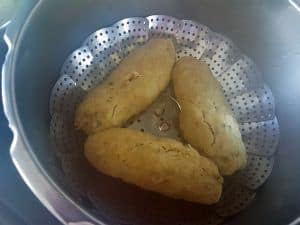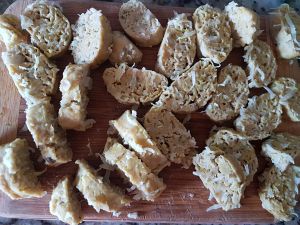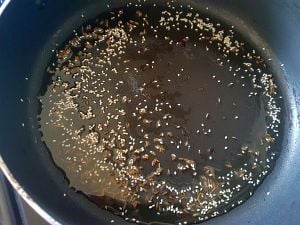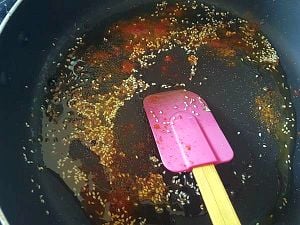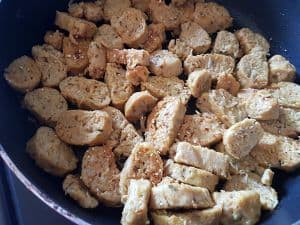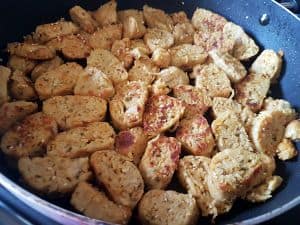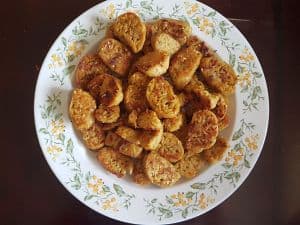 | Prep Time | Cook Time | Makes |
| --- | --- | --- |
| 15 Mins | 35 Mins | 5 Servings |
| Author | Category | Method |
| Madhuram | Food | Cooking |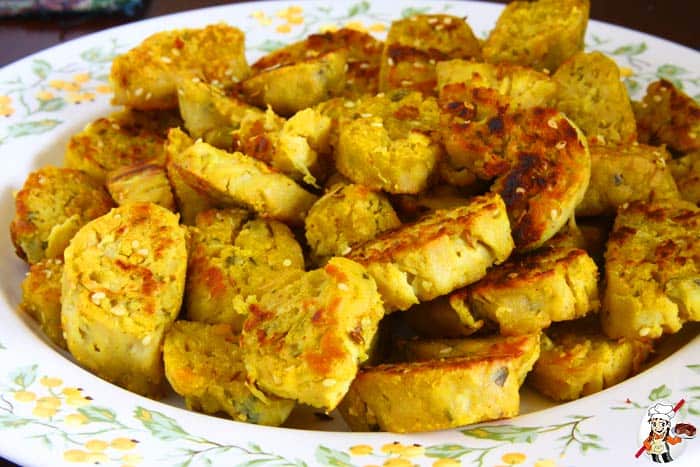 Looking for a healthy breakfast or snack recipe? This steamed and lightly sauteed mooli (radish) muthia will be a welcome change to the usual dishes we generally make the day in and day out.

Ingredients:
For making Muthia:
2 cups

grated radish

1 cup

besan flour (chickpea flour)

1 and 1/2 cups

jowar flour (sorghum flour)

1/4 cup

plain yogurt

2-3 tablespoons

chopped cilantro

2 teaspoons

lemon juice

2-3 teaspoons

minced ginger, garlic and green chilies

3/4 teaspoon

turmeric powder

3 teaspoons

oil (I used sesame)

1 teaspoon

fruit salt (Eno)

1 to 1 and 1/4 teaspoons

salt (adjust as per taste)
For Tempering:
2-3 teaspoons

oil (I used sesame)

1 and 1/2 teaspoons

cumin

2 teaspoons

white sesame seeds

1/4 teaspoon

asafoetida
Procedure:
Mix all the ingredients listed for making muthia in a large bowl, knead into a soft dough (like for chapathi) using 2-3 tablespoons of water or as needed.
Apply little oil on your palms and divide the dough into 5 to 6 equal portions and steam it into 2 to 3 batches.
Shape each portion into cylindrical rolls.
Arrange them on a sieve/steamer plate and steam for about 25-30 minutes. I did it in my pressure cooker. During the steaming, the rolls would have increased in size due to the fruit salt we have used.
Insert a knife in the middle of the rolls and see if the knife comes out clean. It should not have a sticky dough sticking on to it. If it comes out clean remove the rolls from the steamer and allow it to cool completely before you can slice it into small pieces.
For the tempering add the 2-3 teaspoons of oil and once it is hot enough add the cumin seeds. After it crackles add sesame seeds and asafoetida and sautee it for a while.
Then add the muthia slices and sautee it all together for a few minutes (3-4 minutes). You can also wait for the muthia to char a bit for a more smoky flavor and crispy texture.
Taste:
For a steamed snack/dish these muthias tasted very good with a lovely crispy texture on the outside and soft in the middle. It was not spicy and hence perfect for us. If you want it to be more spicy increase the number of green chilies you use.
My Notes:
The original recipes used ginger and green chili paste, and garlic paste. I had neither, so I chopped some fresh ginger, garlic, and green chilies and pounded them together in my mortal and pestle contraption I have and used a few teaspoons of that paste while making the dough.
When I tasted the uncooked muthia dough the amount of salt and spice level tasted perfect so I proceeded to steam it as mentioned. Once after it was steamed and sliced, I felt that it could use a bit more salt and spice. So I added some red chili powder and salt to the tempering and sauteed the muthias in it and it tasted perfect. So I would slightly increase the quantity of green chilies and salt while making the dough itself.
I have tried the same recipe with grated bottle gourd and shredded cabbage. Zucchini is also another vegetable that can be used in this recipe. Probably the water should be squeezed out or use the water content of the zucchini itself to make the dough instead of adding additional water to form the muthia dough.
If you don't have jowar (sorghum) flour you can use besan (chana dal/Bengal gram/chickpea flour) itself for making the dough.
Nutrition Facts
Mooli Muthia
Amount Per Serving
% Daily Value*
Potassium 508mg11%
Total Carbohydrates
35.1g
13%
* Percent Daily Values are based on a 2000 calorie diet.


Try this recipe, click a pic and hashtag it #egglesscooking - Proudly showcase your creations on Instagram, Facebook & Twitter!