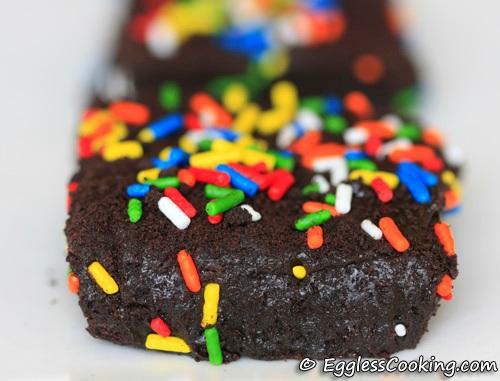 Hi everybody! Thank you very much for all your good wishes and blessings, our move has been smooth but for a couple of minor set-backs, which is definitely expected in any relocation be it local or international. We have not yet settled completely (a lot of boxes are still lying around untouched!)
Tomorrow being our wedding anniversary, I wanted to make something new but also simple. Found a recipe for "no-bake" brownies in a Eagle Brand (Condensed Milk) book. It took only 15 minutes to put together this awesome brownie. I didn't want to wait another 15-20 days to share this fantastic recipe with all of you. So here it is! These no bake brownies are very fudgy and taste exactly like the regular version, but I have to agree that it was a bit messy cutting them into squares. More details in the My Notes section.

| | | |
| --- | --- | --- |
| No Bake Fudgy Brownies Recipe | | |
| Prep Time | Cook Time | Makes |
| --- | --- | --- |
| 10 Mins | 4 Hrs (Including Refrigeration Time) | 16 Brownies |
| Author | Category | Method |
| Madhuram | Brownies | Cooking/Refrigeration |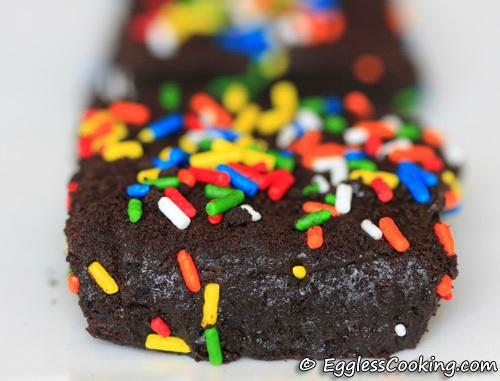 These no bake fudgy brownies are very easy to prepare and taste like the real deal.

Ingredients:
1 (14oz/300ml) can

Sweetened Condensed Milk

2 squares (1 oz each)

Chopped Unsweetened Chocolate

1 teaspoon

Vanilla Extract

2 cups plus 2 tablespoons

Chocolate Cookie Crumbs (I used the Oreo baking crumbs)

1/4 cup

Mini M&M's/Color sprinkles/Nuts
Procedure:
Grease 8-inch square baking pan or line with foil.
In a medium saucepan over low heat, combine the sweetened milk and chocolate; cook and stir just until boiling. Reduce heat; cook and stir for 2-3 minutes or until mixture thickens.
Remove from heat and stir in vanilla.
Stir in 2 cups of cookie crumbs. Spread evenly in prepared pan. Sprinkle with remaining cookie crumbs and sprinkles or nuts; press down gently with a spatula.
Cover and chill 4 hours or until firm. Cut into squares. Store covered in refrigerator.
My Notes:
The original recipe mentioned either greasing the pan or lining it with aluminum foil, so I went with the latter thinking it would make it easy to handle. I guess I should have even greased the foil lightly to lift the squares easily because the brownies were sticking to the foil and it was difficult (but manageable) to take it out. I think using wax paper instead of aluminum foil would have been a better option.
Also using color sprinkles was a very bad idea because everything was falling down. Either I did not press it down properly before putting it in the fridge or I should have used mini M&M's (my kitchen would have been less messy) as given in the recipe or should have used the sprinkles after cutting the brownies into squares.
If you are not able to find ready to use cookie crumbs, I think using powdered graham crackers (chocolate flavor) will also be good.
I prepared it in the night before going to bed and put it in the refrigerator overnight.
Updates: The brownies tend to stick to the surface, so even while storing them in the fridge keep it on a wax paper. When eaten straight from the fridge the brownies tend to be hard so take the brownies out of the fridge about 5-10 minutes before serving and it has the exact texture of baked brownies.

Try this recipe, click a pic and hashtag it #egglesscooking - Proudly showcase your creations on Instagram, Facebook & Twitter!