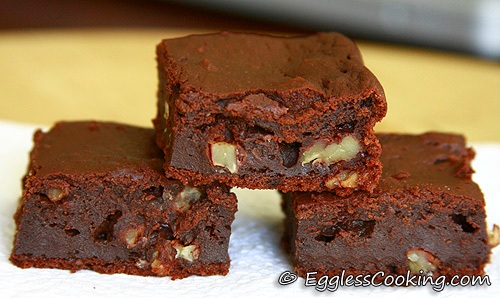 Hi! Hi! Hi! Is anybody still lurking around this abandoned blog? I wish I had posted at least once a week, that was my plan initially, but we all know that executing a plan is not as easy as we think it is. So here I am nearly after 2 months of my last post. We recently bought our first home and it has taken me so much time to settle down and I went on a baking spree last week after 4 months. So you can expect a couple of interesting egg free baking recipes in the days to come.
It all started with this "Nearly No Fat Fudge Brownie" recipe I found in the yogurt container. A baking recipe couldn't possibly be any simpler. I had all the ingredients at home and it was already egg free; so I was good to go. This is also a one bowl recipe if you have a large microwave safe bowl. If you are a regular follower of this blog you would know that I try to bake healthy; include a lot of whole grains, reduce the quantity of fat, sugar. So our taste buds have accustomed pretty good. The brownies tasted very good. We did not miss the fat at all. It was chewy and fudgy. Maybe those with a sweeter tooth can increase the quantity of sugar to 3/4th cup, but it was fine for us.

| | | |
| --- | --- | --- |
| Almost Fat Free Fudge Brownies Recipe | | |
| Prep Time | Cook Time | Makes |
| --- | --- | --- |
| 15 Mins | 25 Mins | One 8x8 inch pan (16 squares) |
| Author | Category | Method |
| Madhuram | Brownies | Baking |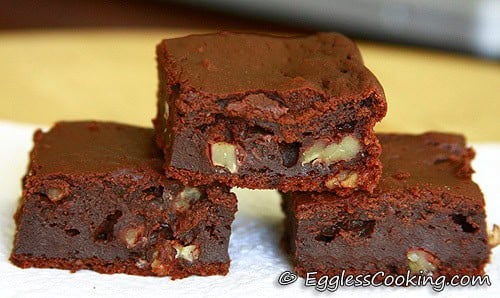 Check out this awesome recipe for almost fat free brownies!

Dry Ingredients:
3/4 cup

All Purpose Flour

1/2 cup

Granulated Sugar

1/2 cup

Cocoa Powder

1/2 teaspoon

Baking Soda

1/2 cup

Chopped Pecans (or any other nuts optional)
Wet Ingredients:
1/2 cup

Semi Sweet Chocolate Chips

1 cup

Plain Yogurt (I used fat free)

1/2 cup

Water
Procedure:
Preheat oven to 350F/180C for 15 minutes. Lightly grease an 8x8 inch square pan and line it with aluminum foil, with some extra foil hanging around the edges so that it is easy to lift the brownie. You wouldn't believe how much time saving and mess free is this simple step of lining with foil.
In a large microwave bowl melt the chocolate chips. It took about 45 seconds for the chocolate to melt. Do not set the time all at once, melt it in increments of 15-20 seconds because the cooking time in microwave ovens differ from one to another. Use a whisk to stir the melted chocolate to see that its smooth. Let this stand for a minute or two.
To the melted chocolate add the yogurt and sugar; mix until combined.
Sift flour, cocoa powder, baking soda and nuts (if using) and stir until just combined.
To this mixture add water and stir carefully until the batter comes together. This batter looked more like a cake batter.
The original recipe mentions to bake the brownies between 20-25 minutes or until a toothpick inserted in the middle comes out clean. Mine actually took 32 minutes. So start with the minimum amount of time mentioned in the recipe and increase the time in small increments if it doesn't bake.
Remove the pan from the oven and leave it on a cooling rack for 15 minutes. After 15 minutes carefully lift the foil and let the brownies cool completely before you can cut it. If you don't use the aluminum foil the cooling time will be much longer. You would have to leave it overnight too. I was able to cut it beautifully within 2 hours.
My Notes:
If you have a sweet tooth I would suggest increasing the quantity of sugar to 3/4th of a cup. I also felt a mild sourness from the yogurt (my husband and son did not notice it). So I think the increased quantity of sugar will mask that too.
If you do not want to increase the quantity of sugar try testing/tasting the yogurt before hand. The original recipe had mentioned to use Balkan style yogurt, maybe that isn't as sour as the plain yogurt I used. I have tried the Stoneyfield organic yogurt and it is not sour at all (at least immediately after opening). Maybe you could try that in this recipe.
Update: Forgot to write this point before. I was not sure if the melted chocolate mixture would curdle if I immediately added yogurt to it. So I waited for about 5 minutes after I melted the chocolate in the microwave oven before adding the yogurt. To be even more sure I first mixed the sugar to melted chocolate; mixed it well and then added the yogurt.

Nutrition Facts
Servings: 16
Per Serving
% Daily Value*
Calories

77

Total Fat

2.1g

3%
Saturated Fat

0.5g

2%
Trans Fat

0g

Cholesterol

0mg

0%
Sodium

51mg

2%
Potassium 122mg
3%
Total Carb

14g

5%
Dietary Fiber

1.2g

5%
Sugars

7.9g

Protein

2.2g

Vitamin A 0% - Vitamin C 0%
Calcium 4% - Iron 4%

Try this recipe, click a pic and hashtag it #egglesscooking - Proudly showcase your creations on Instagram, Facebook & Twitter!