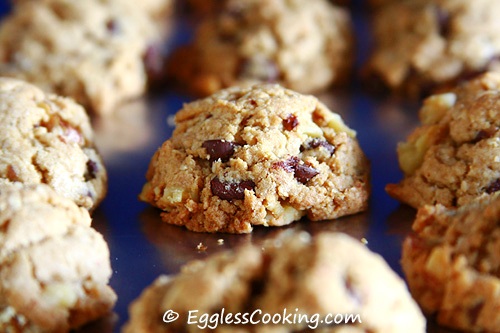 It's Christmas season or cookie season to be more apt. I wanted to bake some cookies for my son's teachers. I bought Wilton's cookie sheet (large one) from Michael's. The sheet came with 2 festive cookie recipes. One for chocolate chunk cookies and another one for thumbprint cookies. I would rather call the chocolate chunk cookie recipe as oatmeal chocolate chip cookies because it has a good quantity of oatmeal. I decided to try that recipe for the teachers because it made a huge batch and anything with chocolate chips and walnuts has to be definitely tasty.
After trying these oatmeal chocolate chip cookies I came to one conclusion that Ener-G egg replacer works best in cookie recipes and especially chocolate chip cookies. So if you have never used Ener-G before but want to use it, start with cookie recipes. Simply substitute EnerG according to the instructions given in the pack, for the eggs mentioned in the recipe and that's all you have to do and the cookies turn out perfect. My two cents is to use lukewarm water and also use a blender to blend together the powder and water instead of just whisking it with a fork. Using a blender makes the mixture very frothy and in turn gives desired results. So in this recipe too, I didn't think twice before substituting Ener-G for the 2 eggs in the recipe. The cookies came out perfect as I expected.

| | | |
| --- | --- | --- |
| Oatmeal Chocolate Chip Cookies Recipe | | |
| Prep Time | Cook Time | Makes |
| --- | --- | --- |
| 1 Hr | 13 Mins | 4 dozen (48 cookies) |
| Author | Category | Method |
| Madhuram | Cookies | Baking |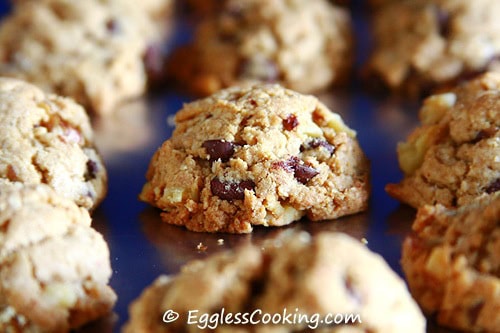 Oatmeal Chocolate Chip Cookies
4.5

from

2

reviews
The simple oatmeal chocolate chip cookies recipe using Ener-G egg replacer as egg substitute with step-by-step instructions.

Ingredients:
2 and 1/2 cups

Rolled Oats/Quick Cooking Oats

2 cups

All Purpose Flour

1 teaspoon

Baking Powder

1 teaspoon

Baking Soda

1/2 teaspoon

Salt

1 cup

Unsalted Butter, softened

1 cup

Granulated Sugar

1 cup

Brown Sugar, packed (I used light)

4 teaspoons

Ener-G Egg Replacer Powder

7 tablespoons

Warm Water

1 teaspoon

Vanilla Extract

1 an 1/2 cups

Semisweet Chocolate Chips

1 and 1/2 cups

Coarsely Chopped Walnuts
Procedure:
Process the oats in a food processor/blender. The texture of the powdered oats was not mentioned in the original recipe, so I chose a consistency in between coarse and fine.
In a medium size bowl combine together the powdered oats, flour, baking powder, soda and salt; mix well.
In a blender, blend together the EnerG powder and warm water until it's frothy; set aside.
In another large mixing bowl, cream together the butter and sugars with an electric mixer until light and fluff. Beat in the EnerG mixture and vanilla.
Add the flour mix to the sugar mixture; mix well. Stir in the chocolate chips and walnuts.
Cover the bowl with a plastic wrap and chill the dough at least for an hour.
Around the 45th minute, start preheating the oven to 350F/175C for 15 minutes.
Scoop out heaping tablespoons of cookie dough; drop it on ungreased cookie sheet 2 inches apart. Bake on middle rack for 10-12 minutes or until lightly browned. For crisper cookies, I would suggest flattening the dough instead of just dropping them. The scooped out dough doesn't spread much, so it's very chewy in the middle. In that case I think the baking time will also reduce by a minute or two. I used an aluminum pan, so mine took about 13 minutes. The baking time will vary if you are using a dark coating non stick cooking pan. Be sure to check it earlier. I used to 2 cookie sheets at a time. So I shifted the pan from the middle layer to the bottom layer and vice-versa after 6 minutes.
Remove the baking sheets from the oven and place it on wire racks. Let the cookies stand for 5 minutes because the cookies will continue to bake. After 5 minutes, transfer the cookies to the cooling racks directly using a spatula and let it cool completely before storing it in an airtight container.
Taste:
These oatmeal chocolate chip cookies tasted very good, crispy on the edges and chewy in the middle. I guess the cookies would have been more crisp had I flattened the dough.
My Notes:
I think the next time when I make it I would reduce the quantity of chocolate chips to 1 cup and also substitute the all purpose flour with whole wheat pastry flour.
The 2 and 1/2 cups of oats when powdered measured to 2 cups. So I think we could also use 2 cups of oat flour instead.

Try this recipe, click a pic and hashtag it #egglesscooking - Proudly showcase your creations on Instagram, Facebook & Twitter!