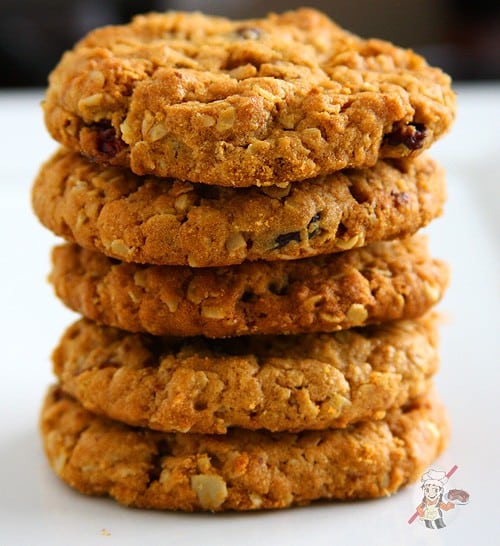 Today I'm going to share an amazing recipe to make eggless
peanut butter oatmeal cookies
. I really don't get how most of the kids fall instantly in love with peanut butter because I didn't really like it when I tasted it for the first time probably in my mid 20s after moving to the US.
It was all sticky and I felt it had a weird taste. I love roasted peanuts not just because of the taste but also because it brought back very fond memories from my childhood. My grandfather and I used to go for a walk in the evenings and he started this habit of buying me a single serving pack of roasted peanuts on our way back home, which my mom continued too for a couple of years. Hmm….nostalgic!
Now coming back to peanut butter, it took a while for me to develop a liking for that taste. I hated the classic "peanut butter and jelly sandwich" too. Yes I said it! Fast forward a few years later, I wanted to introduce the infamous peanut butter to my eldest and he loved it. That's when I started trying it different recipes especially my baking recipes and gradually was getting used to the taste and texture.
Around the same time I also came to know about almond butter and that was love at first taste. That's when I started using almond butter instead of peanut butter in some recipes like the eggless almond butter bread and no bake almond butter cookies.
It didn't mean that I ditched peanut butter completely. I have a good collection of baking recipes using peanut butter too. This peanut butter oatmeal cookies recipe is one of my favorite cookies because it combines two of my kids' favorites, or actually 3 of their favorites; it's oatmeal cookies, peanut butter and chocolate chips.
Even though I already had a no-flour oatmeal peanut butter cookies recipe in the blog, when I saw this recipe for peanut butter cookies recipe I couldn't resist the temptation to bake it and take to my friend's house for the kids' play date.
But I made changes to the original recipe as always to make it a bit healthier by using whole wheat pastry flour and oatmeal instead of all-purpose flour. Also used Ener-G egg replacer to replace the eggs to make it no egg peanut butter oatmeal cookies recipe.
Everyone loved this peanut butter oatmeal cookies and I was drenched in a shower of compliments. Are you ready to get drenched too?

| | | |
| --- | --- | --- |
| Peanut Butter Oatmeal Chocolate Chip Cookies Recipe | | |
| Prep Time | Cook Time | Makes |
| --- | --- | --- |
| 20 Mins | 13 min per batch | 4 and 1/2 dozen cookies |
| Author | Category | Method |
| Madhuram | Cookies | Baking |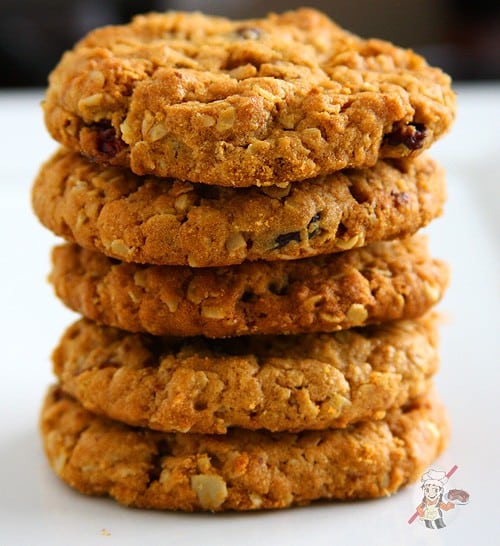 Peanut Butter Oatmeal Chocolate Chip Cookies
5.0

from

2

reviews
Love peanut butter cookies? Love oatmeal chocolate chip cookies? Then why not blend both the flavors together for a tasty treat that you can't resist.

Part 1:
1 cup

butter, softened

1 cup

peanut butter, smooth

1 cup

coconut palm sugar

1/2 cup

white sugar

2 teaspoons

egg replacer powder (such as Ener-G)

1/3 cup

water

1 and 1/2 teaspoons

vanilla extract
Part 2:
1 and 1/4 cups

whole wheat pastry flour

3 cups

quick-cooking oats

2 teaspoons

baking soda

1/4 teaspoon

salt
Part 3:
3/4 cup

semi-sweet chocolate chips

1/2 cup

dried cranberries
Substitutes:
butter – vegan butter substitute like Earth Balance
peanut butter – any other nut butter
coconut palm sugar – brown sugar
whole wheat pastry flour – all-purpose flour
oats – spelt flakes
chocolate chips – white chips or peanut butter chips
dried cranberries – any other dried fruit of your choice
Procedure:
Preheat oven at 350F/180C for 15 minutes.
In a large bowl stir together the dry ingredients mentioned in Part 2 and set aside.
In another large bowl, cream together butter, peanut butter and both sugars until light and fluffy. Beat in the egg replacer powder, water and vanilla extract.
Stir in the dry flour mix into the wet ingredients and mix well.
Add in the chocolate chips and dried cranberries too.
Drop by tablespoonful on an ungreased baking sheet. Roll the dough and flatten lightly and bake for 12-15 minutes or until golden brown. Mine was done in 13 minutes. Leave the cookies on the sheet itself for 5 minutes before transferring it the wire rack to cool completely.
My Notes:
I test baked a couple of cookies to see how much it spread and what was the texture like. The ones that I just dropped the dough did not spread that much and was not crispy. The ones that I rolled and flattened slightly spread beautifully, had a wonderful texture and looked perfect like store bought cookies.
Nutritional Information for 1 Cookie
Calories:

116


Total Fat:

6.8g


Saturated fat:

3.2g


Unsaturated fat:

3.6g


Cholesterol:

10mg


Total Carbohydrate:

12.0g

Sugars:

6.2g


Dietary Fiber:

1.1g


Protein:

2.3g


Sodium:

107mg


Potassium:

63mg

Try this recipe, click a pic and hashtag it #egglesscooking - Proudly showcase your creations on Instagram, Facebook & Twitter!