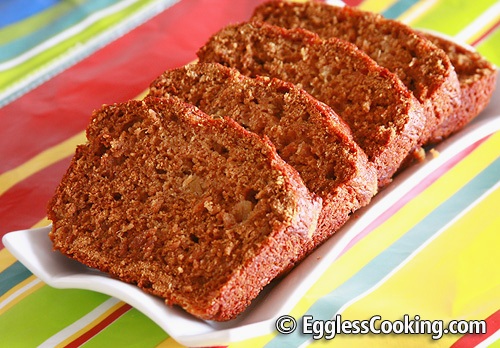 It has been a while since I baked anything. So when I set to bake a quick bread during the weekend, I was so anxious and it felt as if I was baking for the first time. I was eager than ever to taste it. A couple of days back I borrowed the book "125 Best Quick Bread Recipes" from the library. The authors of the book are Donna Washburn and Heather Butt. As the name of the book suggests, it has 125 recipes for quick breads classified under a lot of categories ranging from sweet treats, low fat, gluten free, for the bread machine, scones, coffee cakes etc. I have already bookmarked quite a few and hope to try at least 25% of it.
I decided to try the Pineapple Bran Loaf first for many reasons. I have had a can of crushed pineapples in the pantry for quite some time now, so was the Fiber One Original Bran cereal too. Also I have never used "pineapple" anything while baking and haven't tasted anything so far too. So I thought this will be a nice change from the usual flavors I'm used too. Although at the back of the mind I was thinking if we would like it or if its going to end up in the trash.
Luckily this quick bread recipe was a hit in our house. I would bake this bread again just for the aroma while its baking and after as well. The book suggested to let it stand overnight but it was definitely a challenge to resist when your entire house is filled with this amazing aroma. While I was measuring the ingredients I was going back and forth whether to cut back on the sugar/honey in the recipe but finally decided to follow the original recipe and I'm glad I did that because the sweetness was perfect. I thought that it would be too sweet but it was just right for us. For those who don't know me (and my husband) yet, we don't like very sweet cakes, cookies etc. Since the bran cereal does not have any sugar at all, the sugar, honey and sweetness from the crushed pineapple makes it just right.
I was wondering if my son would like it and surprisingly he liked it very much and so did my husband too. The quick bread had a nice nutty flavor from the bran cereal and the flavor of the pineapple was not at all overpowering like I thought it would be. So if you too are bored of the usual chocolate, banana breads give this pineapple bran quick bread a try.

| | | |
| --- | --- | --- |
| Pineapple Bran Quick Bread Recipe | | |
| Prep Time | Cook Time | Makes |
| --- | --- | --- |
| 15 Mins | 1 Hr 20 Mins | One 9×5 inch loaf. |
| Author | Category | Method |
| Madhuram | Breads | Baking |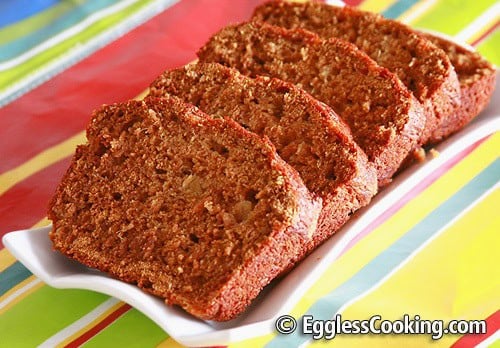 Very easy to bake and delicious pineapple bran quick bread. Finish off the bran cereal that no one touches by using it in this recipe and you would be surprised to see the bread vanishing away quickly.

Dry Ingredients:
1 and 1/2 cups

All Purpose Flour

1 and 1/4 cups

Bran Cereal (I used Fiber One Original)

1/4 cup

Granulated Sugar

2 teaspoons

Baking Soda

1/2 teaspoon

Baking Powder

1/4 teaspoon

Salt
Wet Ingredients:
2 tablespoons

Oil (I used Canola)

1/2 cup

Unsweetened Applesauce

1/3 cup

Honey

1 and 1/4 cups

Crushed Pineapple, with juice (See My Notes #1)
Procedure:
Preheat oven to 350F/180C for 15 minutes. Lightly grease a 9×5 inch loaf pan. I also lined it with a piece of parchment paper to enable easy removal of the loaf from the pan.
In a large bowl, stir together the dry ingredients.
Similarly combine together the wet ingredients in a separate bowl. Just stir it well with a whisk.
Pour the wet mixture of the dry ingredients and stir until just combined. Over-mixing the batter will result in a tough bread. Having lumps is fine, just be sure that the dry ingredients are not visible.
Spoon the batter into prepared pan Bake in the preheated oven for 70-80 minute or until a tooth pick inserted in the center comes out clean. Mine was done around 75 minutes. (See My Notes #2)
Let cool in pan on a wire rack for 10 minutes. Since I lined the pan with a parchment paper, the loaf came off very easily without any mess. Let the loaf cool completely on the rack overnight.
My Notes:
Be sure you don't drain the pineapple; just spoon juice and pulp together in your measuring cup. I used the dry measuring cups for this and not the liquid measuring mug.
If you don't have a light colored loaf pan, I would suggest you to get one for quick breads like this which require 70-80 minutes of baking. I used a very dark non stick pan and the corners started browning around 30 minutes itself. I have read somewhere that pies which are browning too quickly can be saved by covering it loosely with an aluminum foil. So I tried the same trick for this quick bread too and I was able to avoid a disaster. Even then I would say that the top was very brown and it could have been better had I used a light colored pan.
I think adding a cup of chopped walnuts to the batter will make it even more tasty.

Try this recipe, click a pic and hashtag it #egglesscooking - Proudly showcase your creations on Instagram, Facebook & Twitter!