Pumpkin Zucchini Muffins: I had a few zucchinis at home and when looking for recipes the usual zucchini bread, zucchini muffins came up.
Thanksgiving around the corner I wanted to see if I could bake something with a pumpkin zucchini combination and ended up in this muffin recipe.
The pumpkin zucchini muffin recipe looked simple to bake with easily available ingredients. I substituted the 3 eggs used in the original recipe with some yogurt and flaxseed meal and increased the quantity of baking powder.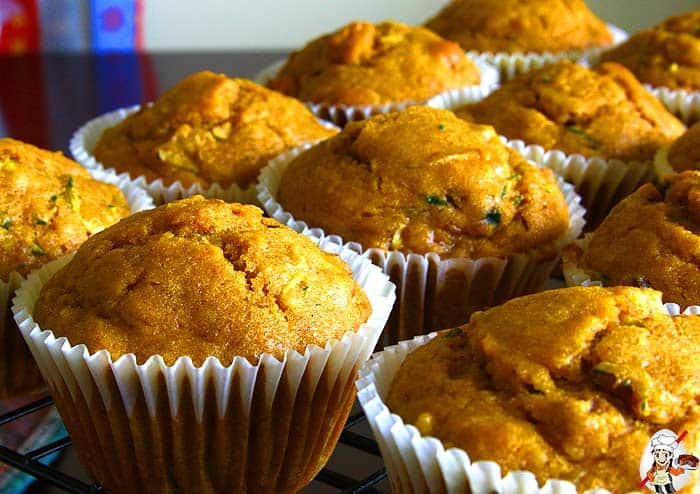 Ever since I baked the pineapple carrot muffins, I have always followed the trick of baking muffins at 425F for a couple of minutes and then reducing the temperature to 375F for rest of the time until the muffins bake completely.
This trick makes the muffins rise beautifully with a dome just like bakery muffins!

| | | |
| --- | --- | --- |
| Pumpkin Zucchini Muffins Recipe | | |
| Prep Time | Cook Time | Makes |
| --- | --- | --- |
| 20 Mins | 22 Mins | 18 Muffins |
| Author | Category | Method |
| Madhuram | Muffins | Baking |
It's fall season and time to whip up some pumpkin recipes! Have pumpkin puree leftovers? Make these delicious pumpkin zucchini muffins in no time to feed a huge crowd!

Ingredients:
Part 1:
Part 2:
Optional:
Procedure:
Preheat oven to 425F. Line two 12 muffin pans with paper liner and lightly grease it with non-stick cooking spray.
In a large bowl add the ingredients listed under Part 1, one after the other and whisk it or beat it on low speed using a handheld electric blender until well blended.
Keep a sieve on top of the large bowl and add the Part 2 dry ingredients and sieve it to remove any lumps of flour and distribute the spices evenly and fold the dry mix into the wet mix gently. Alternatively, the dry ingredients can be mixed in a separate bowl and then add to the wet mix.
Add shredded zucchini and nuts and/or chocolate chips if you're adding those and mix just until combined. I divided the batter into 2 portions (about 3.5 cups of batter for each bowl) after adding zucchini and to one portion added 3/4th cup walnuts and 3/4th chocolate chips to the other.
Spoon about 1/3rd of a cup of batter into the prepared pans. I got 9 muffins for each type.
Bake muffins for 10 minutes at 425F and reduce the temperature to 375 and bake for another 10-13 minutes or until a toothpick inserted in the center of the muffins come out clean.
Remove the pans from the oven and place it on a wire rack for a couple of minutes before removing the muffins out of the pan. Cool the muffins on the cooling rack before storing them. These pumpkin zucchini muffins freeze well. Thaw them overnight or put it in the microwave for a couple of seconds depending on how frozen it is.
Taste:
Usually, muffins or baked goods with fruit and vegetable puree tend to be a bit dense leave alone egg-free.
So it was really a pleasant surprise when I saw that these pumpkin zucchini muffins were not at all dense even though I had used pumpkin puree and unsweetened applesauce.
I think increasing the baking powder and adding a bit of vinegar did the trick. The sweetness was just right for us.
Overall these muffins were light, a bit moist and tasted great.
My Notes:
I have substituted half the portion of all-purpose flour with whole wheat pastry flour and we liked it.
I also have used a combination of white sugar and brown sugar. You can use just white sugar too as per the original recipe.
The original recipe also 1 cup of melted butter which I have replaced with 3/4th cup of sunflower oil and 1/2 cup of unsweetened applesauce. Applesauce is not only an egg substitute but also a fat substitute.
If you are baking the entire batch with just nuts or chocolate chips you might have to increase the quantities to 1 and 1/2 cups. I will give the nutrition information for each type separately assuming the same.
Nutrition Facts
Eggless Pumpkin Zucchini Muffins with
Walnuts
Amount Per Serving
% Daily Value*
Potassium 118mg3%
Total Carbohydrates
31.7g
12%
* Percent Daily Values are based on a 2000 calorie diet.
Nutrition Facts
Pumpkin Zucchini Muffins with
Chocolate Chips
Amount Per Serving
% Daily Value*
Potassium 118mg3%
Total Carbohydrates
31.4g
11%
* Percent Daily Values are based on a 2000 calorie diet.


Try this recipe, click a pic and hashtag it #egglesscooking - Proudly showcase your creations on Instagram, Facebook & Twitter!