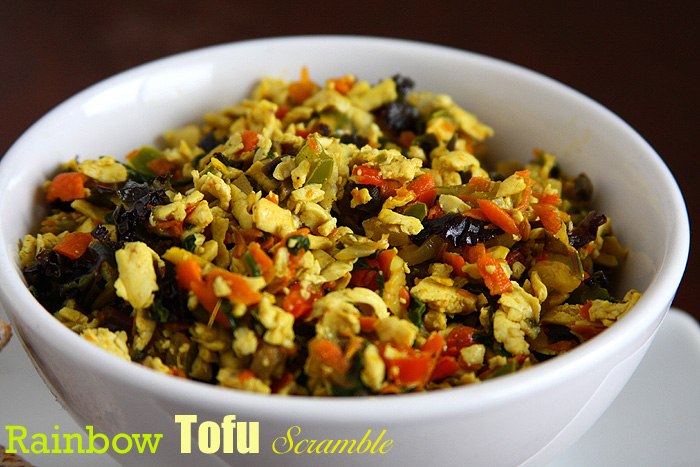 Apart from green smoothies, tofu scramble is one of my favorite "go-to" breakfast recipes. Tofu scramble is the vegan alternative for the classic egg scramble.
If you prefer a cheesy scramble but still want to keep it vegan, sprinkle some nutritional yeast at the end and stir well. Nutritional yeast is a good source of Vitamin B12 for vegans and these days it's available in almost all grocery stores here in North America.
I prefer making a big batch of this scramble in the morning because I can have it for breakfast and also use it as a filling for my son's wraps for lunch. The measurements I have given below makes a big batch, so cut back if you don't want to make a lot.
This vegan tofu scramble looks gorgeous with all those tiny specks of colorful vegetables and that's why I call it "Rainbow Tofu Scramble". If I have leftovers I use it to prepare mini-uthappams (thick dosas topped with the scramble) for the kids' breakfast next day.
Another similar thing I make for my breakfast and wrap filling is the same recipe but without the tofu and with lots of mushrooms because I try to avoid giving too much tofu for my boys.
Yet another variation of this recipe is substituting cooked quinoa for the tofu. I wouldn't add 2 cups of quinoa though, maybe just one cup. The idea is to increase the quantity of vegetables and cut back grains, whether gluten-free or not.
You can add some lemon/lime juice and finely chopped coriander for this version. This and half a cup of Greek yogurt, you've got a filling lunch or dinner. You can prepare this the previous night itself, put it in the fridge and take it for lunch the next day. It would be even more flavorful than having it immediately.

| | | |
| --- | --- | --- |
| Rainbow Tofu Scramble Recipe | | |
| Prep Time | Cook Time | Makes |
| --- | --- | --- |
| 20 Mins | 15 Mins | 4 to 5 Servings |
| Author | Category | Method |
| Madhuram | Food | Cooking |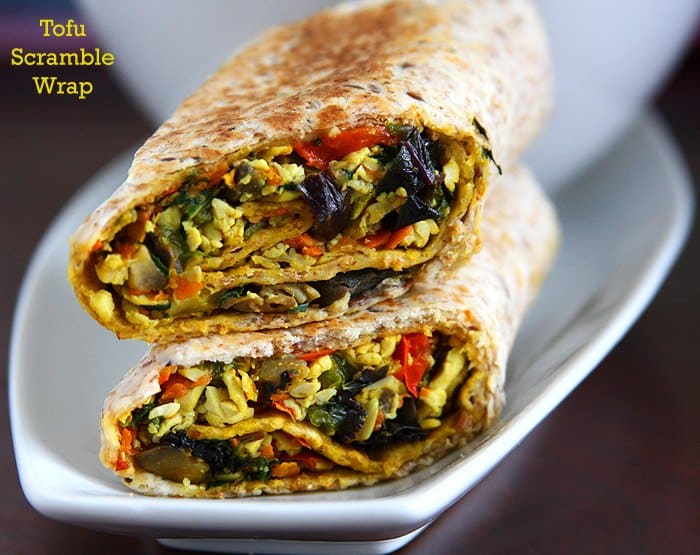 This vegan tofu scramble is one recipe with three ways to enjoy. Make this once and I assure you that your family will love it and will ask for more again and again.

Ingredients:
350gm block

organic extra-firm tofu, grated (2.5 cups approx.)

1 medium size

onion, finely chopped

1 cup

mushrooms, finely chopped

1 cup

grated carrot

1/2

green pepper, finely chopped

1/2

red pepper, finely chopped

1.2

yellow pepper, finely chopped

3/4 cup

finely shredded purple cabbage

1 cup

kale, finely chopped

1 stalk

scallion (spring onion), finely chopped
Seasonings:
1-2 teaspoons

curry powder

1/2 teaspoon

garam masala powder

1/4 teaspoon

turmeric powder

1/4 teaspoon

salt

chili garlic paste (optional)
Tempering:
1 tablespoon

coconut oil/avocado oil

1/2 teaspoon

cumin seeds

a pinch

kasoori methi (dried fenugreek leaves)
Procedure:
Heat the oil in a large frying pan. Add the cumin seeds and kasoori methi and fry it lightly.
Fry the chopped onions. Adding a pinch of salt will fasten the cooking. Add all the seasonings too.
Add the vegetables in the order listed one at time and add some more salt and sautee it. If adding purple cabbage do so at the end so that the scramble doesn't change into a purple hue.
Now add the grated tofu and mix it together a couple of times.
Taste for seasoning and salt. Top it off with finely chopped spring onion and stir well.
Colorful and healthy tofu scramble is ready.
My Notes:
The vegetables you can use in this recipe is limitless. You can come up with your own version. Don't worry if kale is not available. Use spinach or any other greens. I usually use this as a filling to prepare whole wheat tortilla/chapathi rolls for my son's lunch. So I try avoiding tomatoes because it might get soggy for the afternoon. That's also the reason that I finely chop all the vegetables so that it's easy to make the wraps.
This can also be used as a sandwich filling, but most of the time I just have it by itself. I make a big batch of it, make wraps for lunch for my family and have the rest for my breakfast, without any bread or tortilla. Just a big bowl of this tofu scramble and a glass of smoothie, I have got myself a filling and grain-free breakfast. To make mine spicy I mix in a little bit of chili garlic paste in my portion. Even otherwise adjust the seasonings as you wish. My sons don't eat spicy food, so I'm very easy on the spices, but make changes to suit your taste. If you don't like garam masala/curry powder flavor just use sambar powder and chili powder. Unlike baking, cooking gives you more freedom with respect to the ingredients you use and the quantities.
There is a lot of debate going around soy, especially that it's a GMO crop. So try to keep the consumption at a check and do make it a point to get organic tofu if possible. I get mine from Costco.
You can also use paneer instead of tofu or an equal quantity of both. It's your choice. Finely chopped ginger and minced garlic, or ginger garlic paste can also be used.
I use turmeric powder (generously) in all my cooking recipes, whether Indian or Italian. With it's antiseptic, anti-inflammatory properties, I can't but wonder how our ancestors got this right like so many other things. I add it in my smoothies, salads and even drink it with my milk regularly not just when I have a cold. Even for this recipe after I add tofu and the scallions, I mix about another 1/8th of a teaspoon of turmeric powder at the end to get its raw benefits.

Try this recipe, click a pic and hashtag it #egglesscooking - Proudly showcase your creations on Instagram, Facebook & Twitter!