For the past few months dear husband has been going crazy for raisin cinnamon bread and bagels which is so not him for many reasons. Firstly, he doesn't like to stuff himself with anything that is even remotely bread-like, secondly not a raisin or a cinnamon fan and more importantly being a health junkie he never eats anything for taste.
So to tell that I was surprised with the little addiction of his is quite an understatement.
Being the doting wife that I think I am, I wanted to bake an eggless cinnamon raisin bread and surprise him. He also had been asking me to bake this Tutti Fruiti bread once again for few weeks now.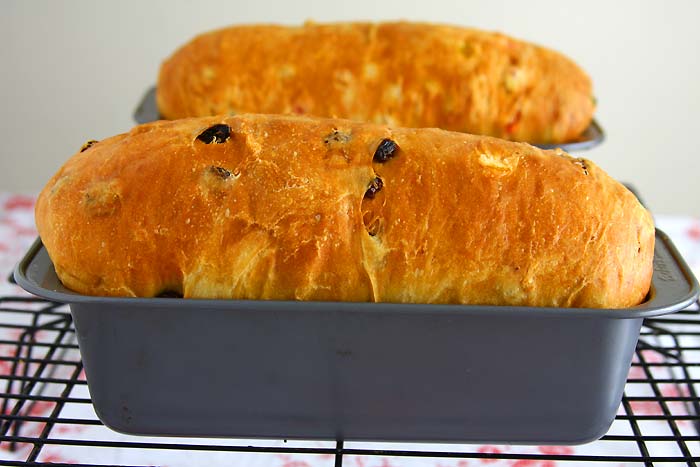 When I came across this raisin cinnamon bread recipe without eggs which yielded two loaves, I had a light bulb moment and wanted to make one cinnamon raisin bread and one tutti frutti bread.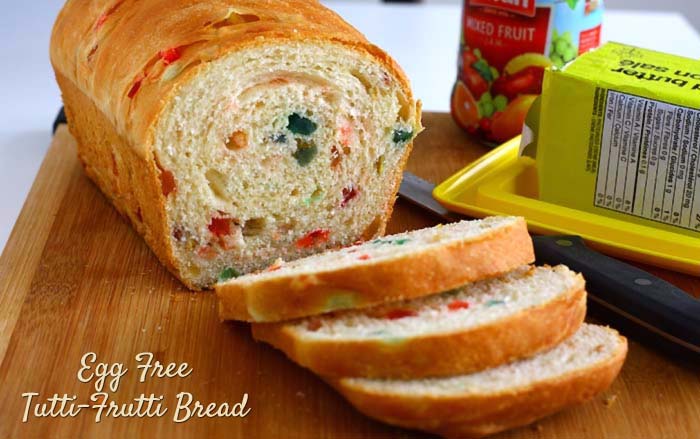 You must be wondering when and how did I ever become so adventurous with baking yeasted breads. That's so not me if you have been following my rants about having to deal with yeast over the past few years.
But this perfect homemade pretzel has made me a risk taker and now it's like I only want to bake breads, rolls and what not. Hope I don't jinx it myself with all this new found excitement.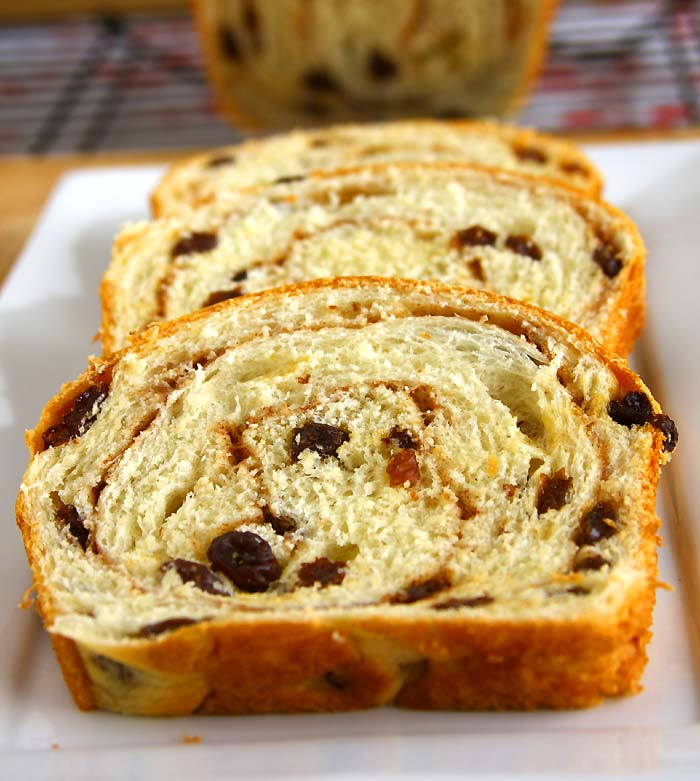 Long story short, I dived into the recipe with the utmost "can-do" attitude, was clicking away step-by-step pictures like I was very confident that I was going to end up baking bakery style loaves and fortunately with a ton of luck on my side that day, the magic did happen and I had baked the two most beautiful looking bread loaves the world has ever seen.
Okay, by world here I meant my family. Come on, my family is my world. Got y'all!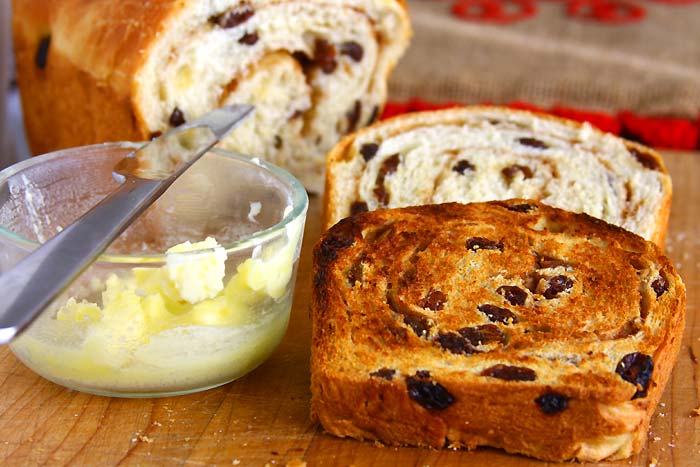 If you are not up to the challenge of baking two loaves, if it's your first time with bread making then start with this
beginner's white bread recipe
to test the waters and I'm pretty sure that you will be all ready to dive in into the yeast bread baking fest!

| | | |
| --- | --- | --- |
| Eggless Raisin Cinnamon Bread Recipe | | |
| Prep Time | Cook Time | Makes |
| --- | --- | --- |
| 3 Hr | 33 Mins | 2 Loaves |
| Author | Category | Method |
| Madhuram | Breads | Baking |
This two-in-one recipe will blow your mind away; eggless raisin cinnamon bread and tutti fruiti yeasted bread without eggs, all at once. How cool is that! Chocolate chips instead of the candied peel would be an awesome option as well.

Ingredients:
1 package (1/4 ounce)

active dry yeast

1/4 cup

warm water (110° to 115°)

2 cups

warm milk (110° to 115°)

1/3 cup plus 1/4 cup

sugar, divided

1/4 cup

avocado oil

2 teaspoons

salt

5 and 3/4 to 6 and 1/4 cups

all-purpose flour

1 cup

raisins

1 cup

candied peel

1 tablespoon

ground cinnamon

1/2 tablespoon

water
Procedure:
In a large bowl, dissolve yeast in warm water. I used microwave oven to warm water and milk. Do it for a couple of seconds at a time so that you don't heat it too much. I used my candy thermometer to check the temperature.
Add milk, 1/3 cup sugar, oil, salt and 2 cups flour. Beat until smooth.
At this point divide the dough into half and transfer one half to another large bowl.
Add raisins to one half of the dough and candied peel to the other half of the dough. Tossing the raisins and candied peel in some flour before adding it to the dough prevents it from sinking to the bottom of the bread.
Now add about 2 cups of flour each to the two separate bowls and form a soft dough. You may have to add a few tablespoons more of flour if the dough is very sticky.
Turn the raisin dough onto a floured surface; knead until smooth and elastic, about 6-8 minutes. Place in a greased bowl, turning once to grease top. Cover and let rise in a warm place until doubled, about 1-1/4 hours. Repeat the same for the candied peel dough too. Always with yeasted breads go with the size and not the time. Depending upon the weather it might even take more than the time specified to double in the recipe. So if you go with the time, the dough might not rise enough and you won't be able to get a soft bread.
Once you have made sure that the dough has doubled in size, punch dough down on a lightly floured surface.
Roll into a 15×7-in. rectangle. Combine cinnamon and remaining sugar (the 1/4 cup); sprinkle over dough. Sprinkle with water. Starting with a short side, roll up tightly, jelly-roll style.
Repeat the same for the tutti fruiti bread dough as well, of course no cinnamon filling for this one.
Pinch seams and ends to seal. Place, seam side down, in two greased 9×5-in. loaf pans. Cover and let rise until doubled, about 1 hour.
Preheat oven to 350°C/180 F. Bake 30-35 minutes or until golden brown. Remove from pans to wire racks to cool completely. Brush it with butter or top it with an icing of your choice. Wait for the breads to cool completely before slicing.
My Notes:
If you choose to bake 2 loaves of cinnamon raisin bread itself, then, then increase the quantity of sugar to 1/2 cup and ground cinnamon to 1 tablespoon for the filling and divide it equally between the 2 loaves.
Since I wanted to make only one raisin cinnamon bread, I cut the the quantity of sugar and cinnamon to 1/4 cup and 1/2 tablespoon respectively and didn't use the entire mixture as filling because it looked like a lot of sugar. I should not have skimped on the filling because the bread was not sweet enough.
Similarly even the tutti fruiti bread could have been a tad sweeter. If I were to bake this bread again, I would add at least another 1/4 cup of sugar.
Although the taste and texture was perfect, the one thing I missed was the smell of butter while the bread was baking. I think using melted butter instead of avocado oil would have been a better option. Butter is always better, so try it friends.

Nutrition Facts
Servings: 32
Per Serving
% Daily Value*
Calories

160

Total Fat

2.3g

3%
Saturated Fat

0.4g

2%
Trans Fat

0g

Cholesterol

1mg

0%
Sodium

9mg

0%
Potassium 107mg
2%
Total Carb

32.1g

11%
Dietary Fiber

1.1g

4%
Sugars

10.8g

Protein

3.3g

Vitamin A 0% – Vitamin C 0%
Calcium 2% – Iron 8%

Try this recipe, click a pic and hashtag it #egglesscooking - Proudly showcase your creations on Instagram, Facebook & Twitter!