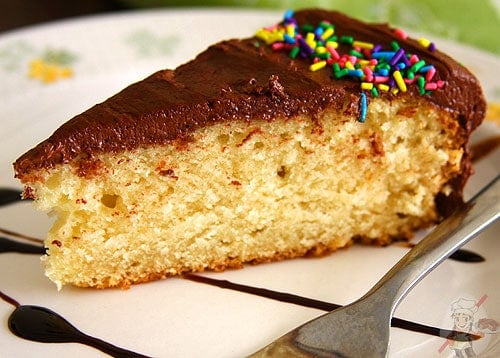 This was the second cake I baked for my eldest son's birthday in August. The Texas White Sheet cake was the first one. I was not sure how the sheet cake would turn out and didn't want to disappoint him with a sloppy cake. At the same time I also didn't want to bake a cake which I already have in the blog. So while browsing for simple birthday cake recipes I stumbled upon this one.
I decided to halve the recipe and bake it as a single cake instead of a layer cake because I already had the other one and was also planning to bake red velvet cupcakes if time permitted. I chose to bake it in heart shape pan. This recipe is quite similar to the strawberry cream cake recipe. I used buttermilk and silken tofu to replace the eggs used in the original recipe. The cake turned out really good. It was very fluffy.
I didn't soak the cake in simple sugar syrup like I did for the strawberry cream cake, so the cake did harden quite a bit in the refrigerator but softened once kept at room temperature for about 15 minutes. So make sure that you remove the cake from the fridge at least 15-20 minutes before serving.

| | | |
| --- | --- | --- |
| Eggless Yellow Cake Recipe | | |
| Prep Time | Cook Time | Makes |
| --- | --- | --- |
| 20 Mins | 33 Mins | 12-15 Servings |
| Author | Category | Method |
| Madhuram | Cakes | Baking |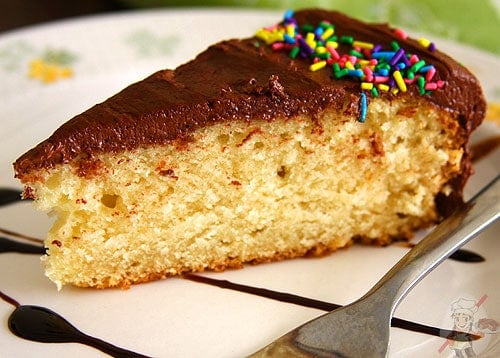 If you are looking for an yellow cake, which is also egg free then your search stops here. Very easy to put together the texture is amazing for an eggless cake.

Part 1:
2 cups

cake flour

1 teaspoon

baking powder

3/4 teaspoon

baking soda

1/2 teaspoon

salt
Part 2:
1/2 cup

unsalted butter, softened

1 cup

white sugar

1 teaspoon

vanilla extract

1/2 cup

pureed silken tofu

1 cup

buttermilk
Substitutions:
cake flour = 2 cups of all-purpose flour – 2 tablespoons of the flour + 2 tablespoons of cornstarch. Sift nicely.
butter = vegan alternative like Earth Balance if you want to make it vegan.
silken tofu = unsweetened applesauce (but cannot guarantee the amazing texture of using silken tofu).
buttermilk = 1 cup non-dairy milk mixed with 1 teaspoon apple cider vinegar.
Ingredients for Chocolate Frosting:
1/2 cup

butter, softened

1/4 cup

unsweetened cocoa powder

3 cups

confectioner's sugar

1 teaspoon

vanilla extract

2-3 tablespoons

milk
Procedure:
Preheat oven at 350F/180C for 15 minutes. Line a 8/9-inch pan with parchment paper or lightly grease it with non-stick spray.
Sift together the ingredients listed in Part 1 and set aside, in a medium bowl.
In a large bowl, beat together the butter and sugar, until light and fluff. Add in the vanilla extract too.
Add the pureed silken tofu and beat well.
Now add in the buttermilk and beat in low speed. The mixture does look curdled, but nothing to worry about.
Add the flour in three batches and mix after each addition. I don't use the electric beater to mix cake flour because, I feel that doing so makes cupcakes sink. So didn't want to take chance. So use a spatula/wooden spoon to mix the flour until well incorporated.
Spread the batter in the prepared pan and tap it well on the counter to avoid air bubbles.
Bake until golden brown or until a toothpick inserted in the center of the cakes come out clean for 35-40 minutes. Mine was done in 33 minutes itself. You will notice that the cakes starts pulling out from the sides of the pan.
Cool the pan on a wire rack for about 10 minutes. If you use parchment paper to line the pan, 10 minutes should be fine to get the cake out of the pan. If not, then you might have to wait for another 10-15 minutes.
Procedure for Chocolate Frosting:
Beat the butter until it's light and creamy. Then beat in the cocoa powder, confectioner's sugar, vanilla extract and milk until it's nice and smooth and proceed to frost as usual.

Nutrition Facts
Servings: 12
Per Serving
% Daily Value*
Calories

220

Total Fat

8.2g

13%
Saturated Fat

5g

25%
Trans Fat

0g

Cholesterol

21mg

7%
Sodium

256mg

11%
Potassium 112mg
3%
Total Carb

34g

11%
Dietary Fiber

0.6g

2%
Sugars

17.9g

Protein

3.4g

Vitamin A 5% – Vitamin C 0%
Calcium 5% – Iron 6%

Try this recipe, click a pic and hashtag it #egglesscooking - Proudly showcase your creations on Instagram, Facebook & Twitter!