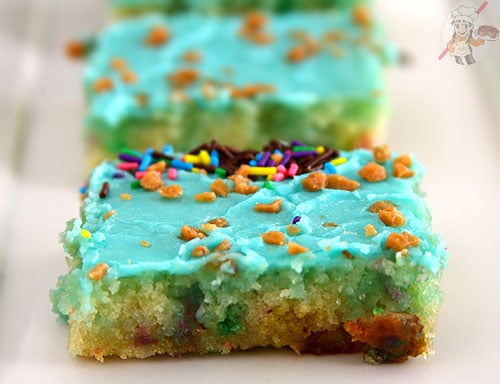 It was my eldest son's birthday last week and had fun baking after quite some time. I didn't bake much during this summer vacation because I was trying to eat clean and sort of accomplished it most of the time. But the birthday celebrations did break my resolute. He wanted red velvet cupcakes for his birthday. Since I already have a recipe for that, I was thinking maybe I should try a different recipe, probably one which used natural coloring instead of food color. So found one such recipe and decided to go with that. But at the back of my mind, the over cautious me was telling why not have another back up if the cupcakes flop.
That's when I remembered that I had bookmarked a this recipe long back. I wanted to bake a white cake because my husband is not a "chocolate" fan. Don't even start with me! Because the red velvet cupcake does have cocoa in it he wouldn't prefer eating it. So I thought if I'm baking a second cake why not a white cake.
Also the frosting was easy and being a sheet cake it would serve quite a crowd too. And I had a very good experience baking a Texas chocolate sheet cake before.
So I baked the cake with my favorite egg substitute, silken tofu and I hoped that it should be okay because I couldn't taste the cake. The frosting was poured over and my little one wanted to help me with the little decorations that can be done by using sprinkles, M&Ms, nuts etc. So he was doing it and the cake did look like one big mess. That's when I started panicking again.
What would the birthday boy think about the messy cake? Would it be okay for him to cut that cake? Started looking for another cake again and found a yellow cake recipe which I thought will be good. Just baked 1 layer and used chocolate frosting because that's his favorite.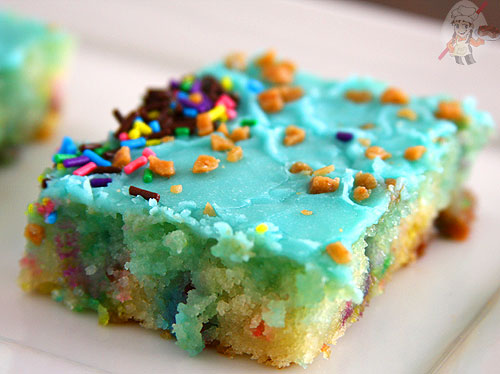 At the end had 3 different cakes and fortunately all the 3 turned out great! The kids and adults loved all the 3. This white sheet cake was the birthday boy's most favorite, so that's what I'm posting first. The other 2 recipes to follow shortly.

| | | |
| --- | --- | --- |
| Eggless White Texas Sheet Cake Recipe | | |
| Prep Time | Cook Time | Makes |
| --- | --- | --- |
| 30 Mins | 20 Mins | 24 Pieces |
| Author | Category | Method |
| Madhuram | Cakes | Baking |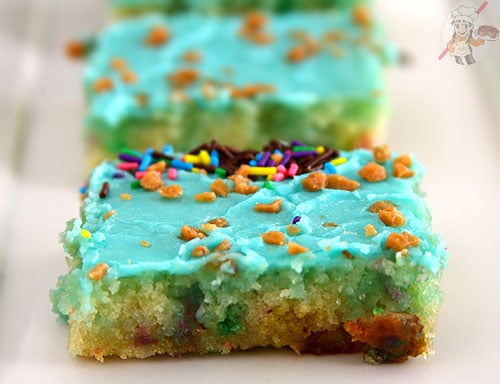 A rich, buttery egg less white sheet cake recipe which is very easy to prepare, especially if you are in a hurry and want to feed a crowd.

Ingredients For Cake:
1 cup

butter, cubed

1 cup

water

2 cups

all-purpose flour

2 cups

white sugar

1/2 cup

silken tofu

1/2 cup

plain yogurt

1/2 teaspoon

salt

1 teaspoon

baking powder

1 teaspoon

almond extract

1/4 teaspoon

baking soda
Ingredients For Frosting:
1/2 cup

butter

1/4 cup

milk

4 cups

confectioner's sugar

1/2 teaspoon

almond extract

1/2 cup

chopped walnuts

1/2 cup

toffee bits
Procedure:
Preheat oven at 375F for 15 min. Grease a jelly roll pan (15x10x1-inch pan) with non-stick cooking spray or butter.
In a large sauce pan, bring the butter and water to a boil and set aside.
Stir in the rest of the ingredients one at a time. The batter must be smooth.
Pour the batter in the prepared pan and bake it for 18-22 minutes or until a toothpick inserted in the center of the cake comes out clean. Mine was done in 20 minutes.
Remove the pan from the oven and let it cool on a wire rack for about 20 minutes.
Procedure for Frosting:
In a large pan, bring the butter and milk to a boil and remove from heat. Stir in the confectioner's sugar, extract, nuts and toffee bits. Add food coloring and stir well, if using and spread over warm cake.
My Notes:
I felt that the cake was a bit too sweet for my taste. I would be cutting back at least 1/4 cup of sugar from the cake recipe when I'm making it again. That's the reason I reduced the quantity of sugar in the frosting recipe. The original recipe had used 4.5 cups of sugar.
I did another mistake of not following the recipe. I did not mix the nuts/toffee bits with the frosting and before spreading it on the cake. I wanted to some decoration on the frosting, so that I can use some sprinkles, M&Ms, nuts, etc on the cake after pouring the frosting. But the frosting started getting harder and the sprinkles were not sticking to it.
I have used 1/2 cup of pureed silken tofu instead of 2 eggs mentioned in the original recipe.

Try this recipe, click a pic and hashtag it #egglesscooking - Proudly showcase your creations on Instagram, Facebook & Twitter!