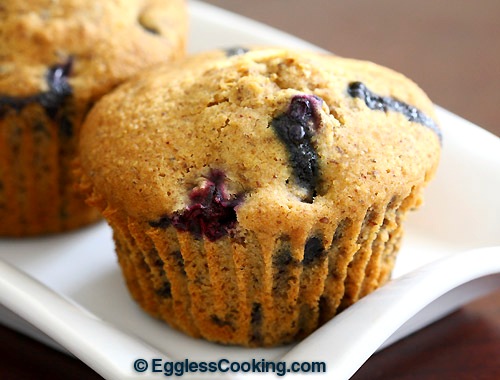 A couple of days back I stumbled upon blueberry muffin recipe using maple syrup instead of sugar. It also used a considerable quantity of whole wheat flour and ground flax seed. I decided to incorporate some of these changes in the already popular vegan blueberry muffins I have in this blog and I was very pleased with the result and decided to share it with you all.
If you have tried the original vegan blueberry muffins I have here, I'm pretty sure that you are going to love this one too because taste wise and texture wise it is pretty much the same but this new version is healthier than the old one. Now who wouldn't love this! I used whole wheat pastry flour instead of a combination of whole wheat flour and all purpose flour. Since I have baked quite a lot with whole wheat pastry flour we didn't miss the white flour in the recipe. The pastry flour gave a nice texture and nutty flavor to the soft and delicate muffins. It wasn't too sweet either. Just perfect.

| | | |
| --- | --- | --- |
| Vegan Whole Wheat Blueberry Muffins Recipe | | |
| Prep Time | Cook Time | Makes |
| --- | --- | --- |
| 15 Mins | 20 Mins | 10 muffins |
| Author | Category | Method |
| Madhuram | Muffins | Baking |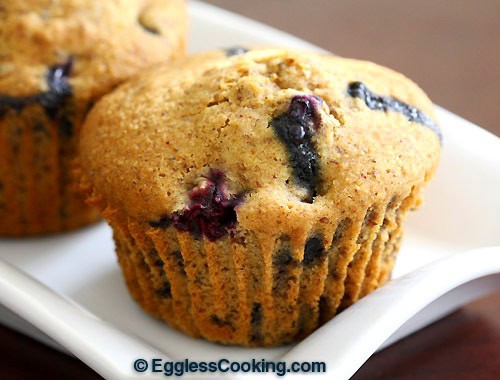 Can whole grain and vegan blueberry muffins be as tasty as its white counterpart? Try this recipe and you will definitely agree with me.

Ingredients:
1/4 cup

Ground Flaxseed

1 and 3/4 cups

Whole Wheat Pastry Flour

1 and 1/2 teaspoons

Baking Soda

1/2 teaspoon

Cinnamon

1/4 teaspoon

Salt

1 cup

Almond Milk

1 tablespoon

Apple Cider Vinegar

1/4 cup

Vegetable Oil

1/2 cup

Maple Syrup

1 teaspoon

Vanilla Extract

2 teaspoons

Orange Zest

1 and 1/2 cups

Blueberries (fresh or frozen)

As needed

Sugar for sprinkling on muffin tops (optional)
Procedure:
Preheat oven to 375F/190C for 15 minutes. Line a muffin tin with paper liners and grease it well with non stick cooking spray.
Mix together the almond milk and vinegar; set aside.
In a large bowl combine together the ground flax seed, flour, baking soda, cinnamon and salt.
In a medium bowl, whisk together the maple syrup, oil, milk mixture, vanilla extract and orange zest.
Make a well in the dry ingredients and stir in the wet ingredients with a rubber spatula until just moistened. Fold in blueberries.
Scoop the batter into the prepared muffin cups; about 3 tablespoons in each. Sprinkle the tops with sugar.
Bake the muffins until the tops are golden brown and a toothpick inserted in the center of the muffins comes out clean which is about 15-20 minutes. I took out mine after 17 minutes.
Transfer the tin to a cooling rack and leave it there for 5 minutes. Then remove the muffins out of the tin and let it cool completely.
My Notes:
If you are not able to find whole wheat pastry flour, then you can use 1 cup of whole wheat flour and 3/4th cup of all purpose flour as mentioned in the original recipe.
If using frozen blueberries, do no thaw it because it will bleed.
I guess you could use any non dairy milk instead of almond milk.
If you are a spice fan you can use up to a teaspoon of cinnamon.
Since we prefer mildly sweet treats, I did not sprinkle sugar on top of the muffins.

Try this recipe, click a pic and hashtag it #egglesscooking - Proudly showcase your creations on Instagram, Facebook & Twitter!

Note: I'm happy to inform you all that egglesscooking.com turned 3 on March 15th 2011. It's just 3 years since I started this blog but for some reason I feel that I have been blogging much longer than that. I don't know if its a good feeling or not. I take this opportunity to thank all my readers for all the support and love you have given me over these years. The emails and feedback I get from you is the sole motivation which keeps me going. A special thanks to my husband too who is tirelessly working to make this blog better in every aspect. We have a lot of things planned to make it more user friendly. So we are open to any constructive suggestions. Please send us an email.