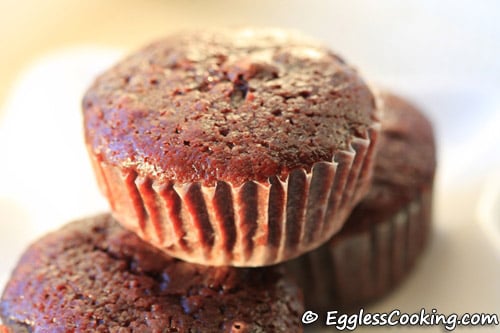 I had mentioned about vegan brownie cupcakes in my previous post and here I'm with the recipe. Actually 2 weeks back it was my son's turn to provide snacks for his classmates in preschool and I was wondering what to bake from the humungous collection of eggless recipes I have now. Since I'm hosting this event, I decided to bake something using flax seed meal. I wanted to bake something simple, which appeals children and that can be easily packed.
I had borrowed "The Joy of Vegan Baking" book from the library and this brownie recipe (the author has actually adapted the recipe from Sinfully Vegan) caught my eye. Do you know the reason? It does not have any added fat like butter/oil etc. Applesauce is replaced for fat in the recipe. I'm aware of the fact that unsweetened applesauce recipe can be used as an egg substitute as well as a fat substitute, but I have tried neither. So I was determined to try this recipe because I will be baking something healthy and who doesn't like brownies, leave alone preschoolers.
If you have baked brownies before you would know that it takes a long time to cool and then you have to cut it. I wanted to bake 35 brownies and the recipe mentioned that it would yield 8-9 brownies, so I would have to bake 4-5 batches, take into account the cooling time, packing etc, which would consume a considerable amount of time. Then only I remembered what I had read a long time back in a magazine.
One of the readers had mentioned that she baked brownies in a muffin tin and they came out very well. I decided to try it and I'm so glad that I tried it because it's such a wonderful/neat idea. I think I'll be baking brownies only in a muffin tin henceforth. Moreover the serving size is also increased to 12 from 8, using a muffin pan instead of a regular baking dish. So I had to bake only 3 batches.

| | | |
| --- | --- | --- |
| Vegan Brownie Cupcakes Recipe | | |
| Prep Time | Cook Time | Makes |
| --- | --- | --- |
| 15 Mins | 23 Mins + Cooling Mins | 12 Cupcakes |
| Author | Category | Method |
| Madhuram | Cupcakes | Baking |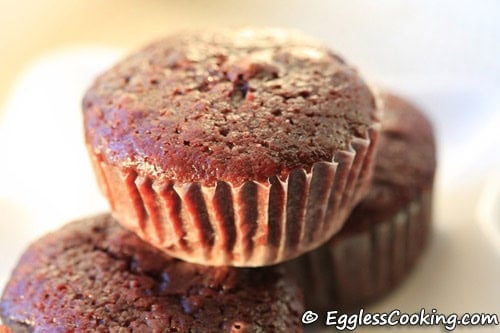 A very simple recipe to bake healthy vegan brownies. But let me assure that it tastes like the regular brownies which are loaded with fat.

Ingredients:
1 And 1/2 Cups

Granulated Sugar Or Sweetener (I Used Regular Sugar)

3/4 Cup

Unsweetened Applesauce (I Used Nature's Promise Organic Applesauce)

2 Tablespoons

Water

2 Teaspoons

Flax Seed Powder

1/2 Cup

Water

2 Teaspoons

Vanilla Extract (I Used Trader Joes Pure Vanilla Flavor Alcohol Free)

1 And 1/3 Cups

All Purpose Flour

3/4 Cup

Cocoa (I Used Hershey's)

1 Cup

Vegan Chocolate Chips (But I Used The Regular Nestle Ones)

1 Cup Optional

Chopped Walnuts (I Omitted)

3/4 Teaspoon

Baking Powder

1/4 Teaspoon

Salt
Procedure:
Preheat oven to 350F/180C for 15 minutes.
Coat an 8×8 inch square baking dish with nonstick cooking spray. If you choose to bake brownie cupcakes, line a 12 muffin tin with muffin liners or coat with nonstick cooking spray itself.
In a medium size bowl, stir together sugar, applesauce and 2 tablespoons water.
Either mix flax seed meal with 1/2 cup water in a small cup or blend it in a blender.
Add the flax seed mixture and vanilla to the applesauce mixture and combine well.
In another small bowl, combine flour, cocoa, baking powder, salt, chocolate chips and walnuts (if using).
Add the wet ingredients to the flour mixture.
Stir just to combine, do not overmix.
Pour into prepare pan. If using a muffin tin, fill each mould 3/4ths full. The given measurement is perfect for 12 muffins, so divide the batter accordingly, which is around 3-4 tablespoons of batter in each cup.
The time given in the original recipe for baking in a brownie pan is 40 minutes for chewy brownies and 45-47 minutes for cake like brownies. But since I used a muffin tin to bake brownies, mine was done exactly at 23 minutes.
Once the cupcakes are out of the oven, leave it in the tin for 2 minutes and then transfer to a wire cooling rack for the brownie cupcakes to cool completely.
Taste:
As for the taste, it was AWESOME. You can never guess that these are healthy brownies. They were so moist. I was not able to get the feedback from the children, but one of the teachers told me that it tasted very good and the children really enjoyed it.
My Notes:
While buying applesauce, check thoroughly the ingredients list. Some brands have very large amount of high fructose corn syrup, which increases the sugar content to 25gms per serving. I think unsweetened applesauce is available only in organic brands. The Nature's Promise brand is made only with organic apples and water. It does not have any additional sweeteners, so 1/2 cup serving has only 9gms sugar which is actually from the apples.
I used muffin liners to line the tin, which made the clean up also very easy. Another advantage of using muffin tins is, they cool in no time.
These brownie cupcakes taste better the next day of baking.

Nutrition Facts
Servings: 12
Per Serving
% Daily Value*
Calories

313

Total Fat

11.9g

18%
Saturated Fat

3.7g

19%
Trans Fat

0g

Cholesterol

3mg

1%
Sodium

64mg

3%
Potassium 300mg
9%
Total Carb

50.4g

17%
Dietary Fiber

3.9g

15%
Sugars

34.1g

Protein

6.3g

Vitamin A 1% – Vitamin C 1%
Calcium 6% – Iron 13%

Try this recipe, click a pic and hashtag it #egglesscooking - Proudly showcase your creations on Instagram, Facebook & Twitter!