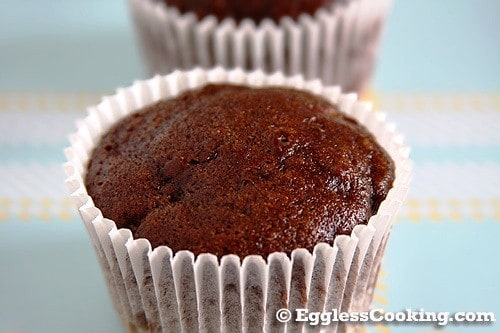 Chocolate and zucchini is a wonderful combination. I have tried this combo in the chocolate zucchini bread and chocolate zucchini cake recipe. I had some leftover zucchini after I made a huge batch of curried zucchini soup. That's when I got this idea of using shredded zucchini instead of apples in this vegan cocoa apple cake recipe. The result was delicious and moist cupcakes. Throw in some vegan chocolate chips to make it even more "chocolaty".

| | | |
| --- | --- | --- |
| Vegan Chocolate Zucchini Cupcakes Recipe | | |
| Prep Time | Cook Time | Makes |
| --- | --- | --- |
| 20 Mins | 16 Mins | 12 Cupcakes |
| Author | Category | Method |
| Madhuram | Cupcakes | Baking |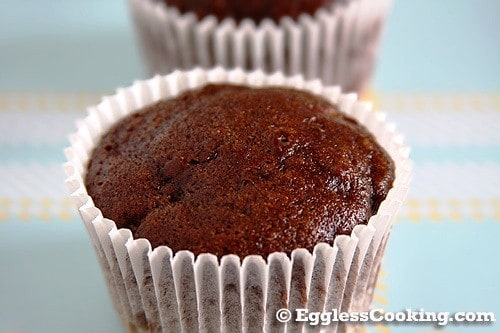 Moist and delicious, these chocolate zucchini cupcakes are very easy to bake with readily available ingredients.

Dry Ingredients:
1 and 1/2 cup

whole wheat pastry flour

1/4 cup

cocoa powder

3/4 cup

white sugar

1 teaspoon

baking soda

1/2 teaspoon

salt
Wet Ingredients:
1 cup

rice milk

1 tablespoon

vinegar

2 tablespoons

coconut oil

2 tablespoons

unsweetened applesauce

1 teaspoon

vanilla extract
Add Ons:
Substitutions:
whole wheat pastry flour – equal parts of all purpose flour and whole wheat flour
rice milk – any other non-dairy milk or dairy milk for non-vegans
coconut oil – any neutral oil of your choice or butter
applesauce – any other pureed fruit or oil
zucchini – apples, carrots or beets
Procedure:
Preheat oven to 350F/180C for 15 minutes. Line a 12 cup muffin tin with paper liners or lightly grease it with non-stick cooking spray. In a liquid measuring mug combine together the milk and vinegar. Let is stand for about 5 minutes or until it curdles.
In a large bowl stir together the measured dry ingredients and make a well.
Now add the curdled milk mixture and the rest of the wet ingredients one by one and stir until just combined.
Fold in the shredded zucchini too.
Divide the batter among 12 cavities of the prepared muffin tin and bake for about 15-20 minutes or until the toothpick inserted in the center of the cupcake comes out clean. Mine was done after 16 minutes itself.
Remove the pan from the oven and cool it on a wire rack for about 5 minutes after which pop out the cupcakes from the tin. Cool it completely on the wire rack before you can frost it.
Taste:
The whole wheat pastry flour I used in this cupcake recipe gave it a nutty flavor and texture. If you are looking to make this recipe for birthdays and special occasions like such, I would recommend using all purpose flour. Also you might want to increase the quantity of sugar by another 2-3 tablespoons if you are not going to frost it. We were fine with the 3/4th cup of sugar but people with sweet tooth might feel that the cupcakes are not sweet enough.
My Notes:
This recipe can also be baked as an 8-inch round or square cake. The baking time would be about 25-30 minutes in that case.
Grated apples, carrots and beets too can be used instead of the zucchini.
I use Spectrum brand's organic, expeller pressed and refined coconut oil. It does not have the coconut flavor and so does not make the baked goods smell and tasty "coconutty".
I have used unsweetened applesauce here as a fat substitute. Check my homemade applesauce recipe or use oil instead of that. Mashed banana is a good substitute too. Since we are just using 2 tablespoons, I'm sure that it's not going to lend its flavor to the cake.

Try this recipe, click a pic and hashtag it #egglesscooking - Proudly showcase your creations on Instagram, Facebook & Twitter!